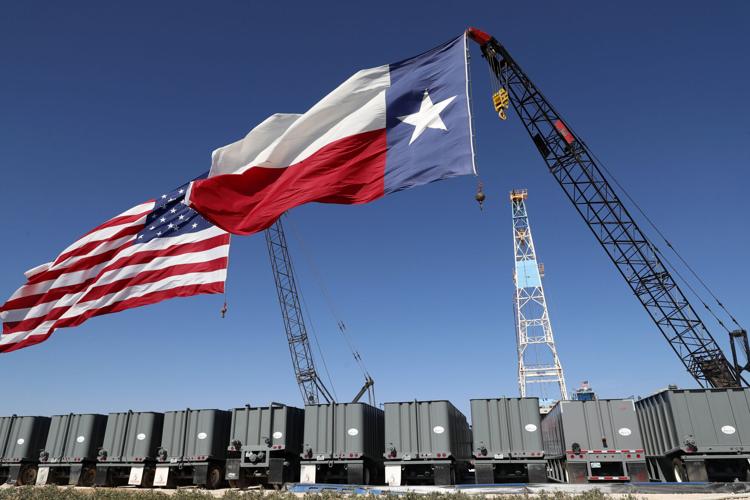 An American and Texas flag fly off the tip of cranes by an oil rig near the Double Eagle Energy Oil Rig in Midland, Texas.
(The Center Square) – The Texas oil and natural gas industry continues to see significant jobs growth, according to the U.S. Bureau of Labor Statistics. State workforce data also points to a strong demand for a talented workforce in the industry.
January 2023 revised BLS data showed 198,100 upstream jobs, including an increase of 1,700 jobs from revised December data. These jobs are primarily in the oil and natural gas extraction sector, which includes some small amount of mining. The sector excludes refining, petrochemicals, fuels wholesaling, oilfield equipment manufacturing, pipelines, and gas utilities, which support hundreds of thousands of other jobs in the Texas oil and natural gas industry.
BLS revisions were announced after the Texas oil and natural gas industry broke records in every category in 2022, including leading the U.S. in oil and natural gas production and lowered emissions and ranking first in industry job growth, wages, payroll and Gross Regional Product (GRP) nationwide.
In 2022, Texas was the top oil producer in America, supplying 1.83 billion barrels of oil to energy markets last year. Texas has also historically led the U.S. in job growth overall, according to BLS data; in January, it broke job growth records for 16 consecutive months.
"Oil and natural gas jobs continue to grow in Texas, a testament to industry's commitment to producing the irreplaceable products that make modern life possible," Todd Staples, president of the Texas Oil & Gas Association, said. "Despite economic headwinds, the oil and natural gas industry remains invested in ensuring that we not only meet our state and nation's energy needs, but keep Texas an energy leader."
Since a low point in September 2020, months of jobs increases in the upstream sector outnumbered months of decrease by 25 to 3, the association notes. Since then, the industry added 41,100 upstream jobs, averaging nearly 1,500 new jobs a month that are among the highest paying wages in Texas, the association notes.
In January, the upstream sector added 24,000 jobs, a 13.4% increase from January 2022, including 1,600 new jobs in oil and natural gas extraction and 22,400 new jobs in the services sector, the Texas Independent Producers and Royalty Owners Association (TIPRO) says.
"There continues to be a strong demand for talent in the Texas oil and natural gas industry in line with growing exploration and production activity in the state and rising demand for our product," TIPRO president Ed Longanecker said. "Our industry is one of the only remaining sectors in the country that provides a pathway for the middle-class to support their families, something we must preserve. Policy decisions being made at the state and federal level should not hinder an industry that is critical to our state, country and allies abroad from an economic and energy security perspective."
Among 17 sectors TIPRO uses to define the Texas oil and natural gas industry, Support Activities for Oil and Gas Operations continued to have the greatest number of available jobs, followed by Gasoline Stations with Convenience Stores and Crude Petroleum Extraction. Houston, Midland and Odessa continue to have the greatest number of available job listings.
Overall, there were 12,478 active unique jobs postings for the Texas oil and natural gas industry in January, including 5,313 new job postings added over the month, TIPRO notes.
Continued job growth is expected as the U.S. Energy Information Administration projects that oil output this month will hit a record 5.68 million barrels per day (bpd) in the Permian Basin in west Texas and reach 1.18 million bpd in the Eagle Ford Shale in south Texas.
The EIA also projects that natural gas output will hit 22.2 billion cubic feet per day (bcf/d) in the Permian and 7.422 bcf/d in the Eagle Ford Shale this month.

Share This:
---
More News Articles