EcoStim downhole tool being wired for deployment
With strong oil and gas price forecasts, technology that can increase existing production can immediately grow profit margins. Typically, this is done by hydraulic refracturing to stimulate a reservoir – but with frac equipment, water and sand all in short supply the market needs more options. Fortunately, propellant fracturing innovations eliminate the need for frac equipment, with no water or sand required.
RocketFrac Cleantech is an energy service provider that has developed two innovations that are advancing propellant fracturing, requiring only a wireline unit on site for the deployment.
Two Innovations
First, RocketFrac Cleantech's downhole tool features patent pending isolation mechanisms at the top and bottom of the tool that trap the propellant gases in the wellbore, forcing them into the targeted section of the formation.
Second, RocketFrac Cleantech has developed a proprietary rocket fuel charge with partner Magellan Aerospace, a world leading manufacturer of rocket fuels. This exclusive chemistry generates a sustained burn, increasing the duration of fracturing relative to conventional propellant fracturing options.
Through this combination, the EcoStim™ process can last over 120 seconds, with pressure peaking over 40,000 psi, where conventional propellant fractures only last seconds.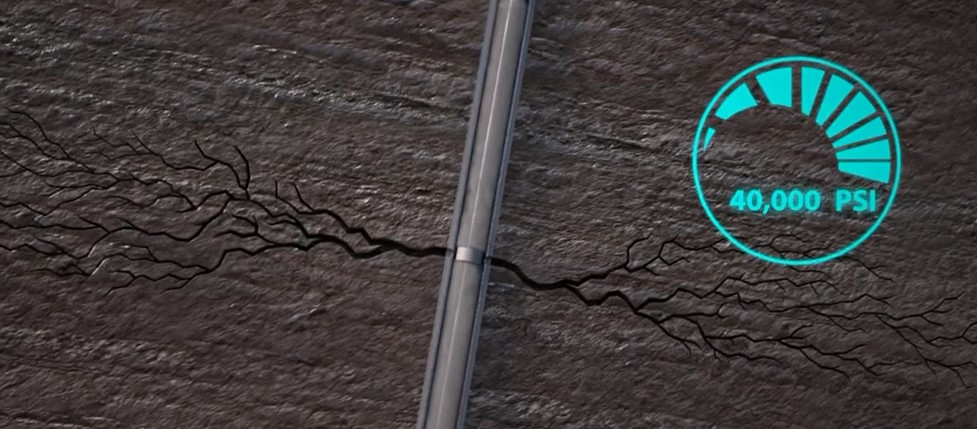 Graphic representation of EcoStim fracturing a formation at depth
Sample Results: Retlaw Case Study
An example deployment of the EcoStim™ process is a gas well near Retlaw, Alberta that had been in declining production from 342 mcf/day in 2003 to 6.7 mcf/day when it was suspended in February, 2017. The producer opted to try the EcoStim™ treatment in November of 2020.
Post-frac data show an abrupt daily gas production increase from 6.7 mcf/day to 26.8 mcf/day following the RocketFrac Cleantech treatment (Fig. 1). Following this initial increase, Figure 1 demonstrates a sustained trend in production rates towards 14.1 mcf/day, more than doubling production for a year. Due to government incentives, the well was ultimately abandoned at this point.
Figure 1 Gas production, pre to post-frac
Additional details are provided at this link to the RocketFrac Cleantech website.
Applications and Benefits
EcoStim™ offers multiple benefits:
Fractures formation in newly drilled, or previously producing oil and gas wells
Removes skin damage
Eliminates water use in the fracturing process
Self-propping, eliminating need for added sand or other proppants
Unique radial fracture pattern compared to linear fractures with hydraulic fracturing
Fractures extend horizontally within the zone interval selected
No seismic activity
Nearly eliminates carbon footprint compared to hydraulic fracturing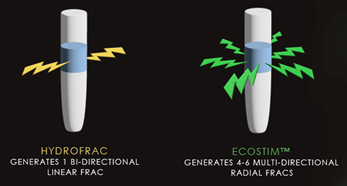 Graphic comparison of hydrofrac and EcoStim fracturing patterns
To learn more about RocketFrac Cleantech's innovative technology, please contact CTO Pavan Elapavuluri, 587-889-6664, [email protected], or visit our website rocketfrac.com.
Share This:
---
More News Articles