Take control of your stuffing box. The FlowPro® bushing is a fresh way to improve performance and lower energy and water expenses.
The FlowPro bushing is custom-made by AR Thomson to your specifications. It improves equipment reliability and eliminates retrofit costs—while cutting installation time.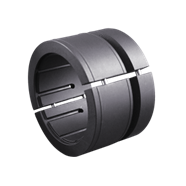 Available in any machinable material: PTFE (Teflon™); Bronze; all grades of stainless steel; as well as radial load-bearing grade material.
Get your calculators out: FlowPro reduces flush water requirements by as much as 70–90%.
Water Consumption:
60 drops*/min = 555 gallons/year
1.0 gallon/min = 525,600 gallons/year
5 gallons/min = 2,628,000 gallons/year
10 gallons/min = 5,256,000 gallons/year
20 gallons/min = 10,512,000 gallons/year
*1 drop = 0.0000176 gallon, 1 year = 365 days
1 US gallon (USG) X 60 mins/hour X 24 hrs per day X days of operation annually. 1 USG X 60 mins X 24 hrs = 1,440 USG per day X 365 days of operation / year = 525,600 gallons per year. Multiplied by every applicable piece of rotating equipment in your plant.
FlowPro engineered solution vs conventional packed stuffing box
Keep it clean. Harmful solids and particulate are prevented from entering the stuffing box as the flush water is forced by the FlowPro bushing's unique design toward the pumped media.
Longer service life. Extends equipment life by protecting the shaft sleeve (non-contact) and isolates packing from media attack.
Lantern Ring position. The FlowPro is a combination bushing and lantern ring that is custom fit so it is always aligned with the flush port. Now you'll never lose the lantern ring position again.
Axially split design installs quickly.  The FlowPro's split design makes it simpler and quicker to install, which helps maximize reliability. It can be easily retrofitted into existing stuffing boxes, typically with no equipment modification required.
Save energy, too. Fewer packing rings mean less frictional drag leading to less energy required. Plus, there's reduced wear on the sleeve or shaft for added radial flexibility.
No packing in the process. Eliminates packing extrusion into the process.
Industries: Pulp & Paper, Water Treatment, Mining, and Cement Plants.
Applications: Agitators/Mixers; Centrifugal Process Pumps; Slurry pumps. Any piece of rotating equipment.
"One customer realized annual savings of 8 million USG—from one application.."
—Dean McClean, Business Manager-Sealing Products, AR Thomson
Talk to your AR Thomson sealing specialist to learn more. Kits include FlowPro bushing, mandrel-cut packing rings or die-formed packing rings and gasket spacers. Plus, removal tools, packing lubricant, and installation instructions.
Teflon™ is a registered trademark of Chemours (formally DuPont).
Share This:
---
More News Articles