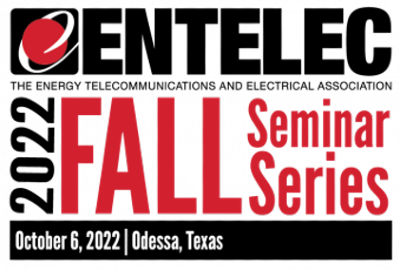 The annual ENTELEC Fall Seminar Series focuses on critical regional topics and pressing industry issues for operations in the Permian Basin. Topics and issues such as digitalization and operational efficiencies, 5G and next gen wireless, SCADA, IIoT, field communications, cybersecurity and regulatory developments.
The Fall Seminar, a one-day conference with a format designed to fit busy schedules and any budget, will focus on providing in-depth technical education and industry training. As the need for operational efficiencies continue to escalate, the ENTELEC Fall Seminar is your opportunity to take advantage of open discussions and exchange of ideas with colleagues and industry leaders working to overcome the same challenges.
Technical education, industry training, regulatory updates and networking, condensed into an efficient and cost effective schedule for you and your team. Plan today to be a part of the ENTELEC 2022 Fall Seminar in Odessa, Texas!

SCHEDULE
Wednesday, October 5, 2022
5:00 AM – 6:30 PM………….Casual Networking Mixer
Thursday, October 6, 2022
7:00 AM – 3:45 PM………….Registration Open
7:30 AM – 8:45 AM…………Welcome Breakfast & Announcements (ENTELEC Innovation Lab Introduction & Sponsor Presentations)
9:00 AM – 10:00 AM…………Breakout Sessions
9:00AM -11:15 AM…………..Training Sessions
10:15AM -11:15 AM…………..Breakout Sessions
11:30 AM – 1:00 PM………….Luncheon (ENTELEC Regulatory Update,  Washington Report &Sponsor Presentations)
1:15 PM – 2:15 PM………….Breakout Sessions
1:15 PM – 3:15 PM………….Training Sessions
2:30 PM – 3:30 PM………….Breakout Sessions
3:45 PM – 4:45 PM…………..Panel Discussion
4:45 PM – 5:45PM…………..Closing Networking Reception with Sponsors
REGISTRATION
Corporate Member Rate*: $95.00 (Onsite: $100.00)
Corporate Nonmember Rate**: $195.00 (Onsite: $225.00)
Associate Member/Non-Sponsor Rate*: $185.00 (Onsite: $190.00)
Each registration includes:
Breakfast
Lunch
Technical Education Sessions
Training Sessions
Closing Networking Reception
*Login to the Member's Only Section of the ENTELEC required to access this registration type. https://www.entelec.org/my-account/
**Nonmember Associate (Vendors/Mfg./Supplier/Distributor) companies are not allowed to attend unless they are a sponsor of the 2022 Fall Seminar. Registrations that are not valid will be voided and no refunds will be given.
ENTELEC Fall Seminar Online Registration Closes At 5:00 pm on Monday, October 3, 2022. 
REFUND POLICY:
Cancellations prior to September 16, 2022 will receive a 50% refund.
There are no refunds for cancellations after September 16, 2022.
All requests for refunds must be made in writing to Christi Jones at 

[email protected]

c.org and are subject to $35 processing fee.
Alternate attendees may be named until October 1, 2022.
About ENTELEC:
ENTELEC is a user association focused on the convergence of telecom and IT including digitization, IIoT, automation, cyber security, AI, cloud and edge computing, specific to the Oil & Gas and Electric Utility industries.
The association's primary goal is to facilitate education and training for its members. To achieve this goal, ENTELEC provides an educational platform for these industries including technical presentations, equipment exhibits and networking opportunities through social events, seminars, web-events and the annual Spring Conference & Expo.
Share This:
---
More News Articles