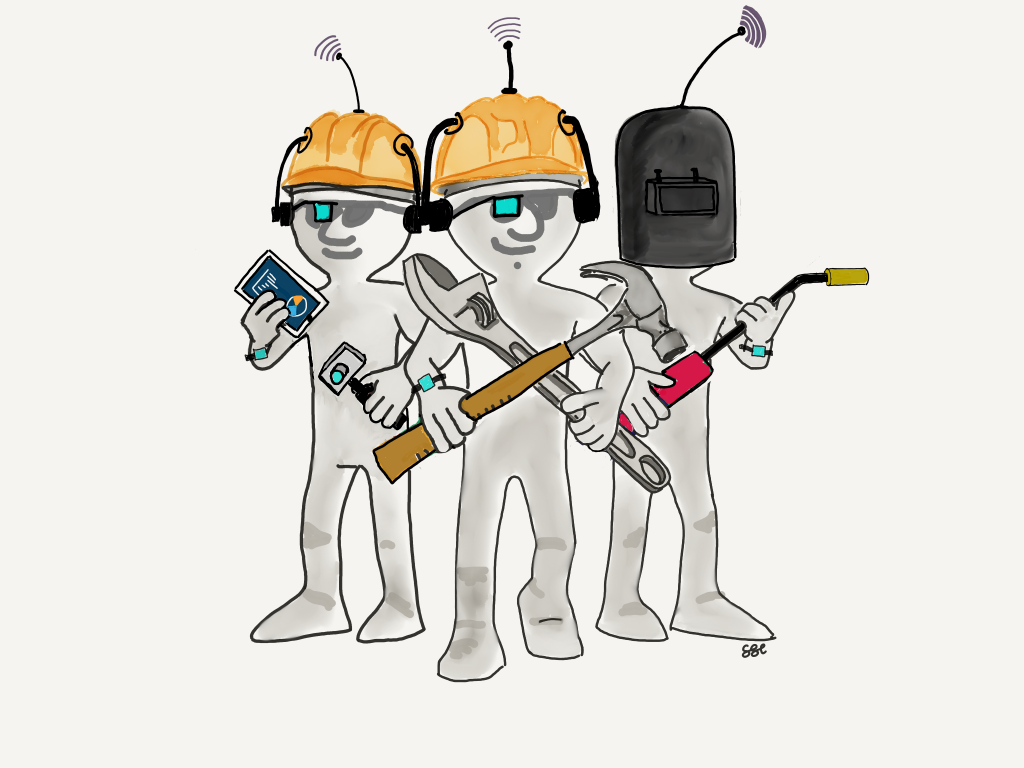 By Geoffrey Cann
The world is at the start of a golden age of energy infrastructure development. It is time bring all aspects of the energy asset build life cycle into the digital era by adopting the digital tools that have transformed so many other sectors.
---
I've reached into the archives for this article, which was originally published on May 17, 2021.
Energy Infrastructure Growth
The looming investment in energy infrastructure is staggering in its scale and scope. Major economies including China, Japan, Korea, and the entire EU have declared their intentions to become carbon neutral economies between 2030 and 2060. To achieve these goals, they will diversify their energy systems towards new renewable energy sources, abandon and remediate petroleum infrastructure, retrofit energy consuming systems, and electrify transportation.
To give you a sense as to the amount of investment, consider this one little example. From 2012 to 2016, I was living in Brisbane Australia and focused on the development of the new national liquefied natural gas (LNG) export industry. A Japanese company asked me to compare the LNG and coal industries—how much of the coal being imported into China for power generation is potentially displaced by the tankers of LNG being shipped from Australia.
This is a twisty problem to solve, because coal is not uniform in terms of its energy output. Cheap brown coal produces much less heat than high quality coal from the best colliers. But using some useful back of envelop assumptions, we calculated the caloric value of a unit of methane used to generate steam, and compared it to an average caloric value of a unit of coal.
To displace just 4% of China's coal consumption for power generation with natural gas would require the entire output of all of Australia's 10 LNG projects. These projects took at least a decade to construct, a couple hundred billion in investment, and have a projected life of just 30 years, at which point they retire and need to be replaced.
And that's just supply side. China needs to build special cryogenic ships, gas importing infrastructure, pipelines to move gas to the power plants, and retrofitted boilers, and then dismantle all the coal importing infrastructure (ports, rail, storage).
Australia ships about 80m tons of LNG production per year, suggesting China could import another 800m tons to displace just half their coal need.
The delivery of the amount of capital to be invested is without question the greatest prize of the next generation. Unbelievable fortunes will be made. I don't believe our world has ever considered and embarked on such a massive shift in energy systems deliberately and in such a coordinated manner, over such a short time frame.
Getting it right is going to be very challenging. The recent Colonial Pipeline ransomware attack last week brought into sharp relief just how taut our energy systems truly are. Within hours of the pipeline shutdown, lineups appeared at gas stations all over the eastern US as consumers rushed to purchase supplies.
Finally, there is no time to waste because we are perilously close if not already beyond the 2 degree threshold for cumulative CO2 impacts. With governments struggling under the fiscal burdens put in place to deal with the pandemic, and with the global economy struggling with a synchronized recession, there is little room and appetite to mismanage the delivery.
Construction Is Ripe for Digital
Technology entrepreneurs are alert to those sectors of our society that have lagged behind in the adoption of modern tools and technologies. In the Digital Vortex, a book researched and published by The Global Center for Digital Business TransformationThe Global Center for Digital Business Transformation, oil and gas, and utilities occupied almost dead last (positions 10 and 11), out of 12 sectors reviewed.
The energy sector (oil and gas, power generation) has been widely viewed as a digital laggard. These industries are dangerous, highly regulated, fragmented, complex, and in continuous operation, limiting their ability enact change. Owners and managers are subsequently risk averse and adopt change only when it becomes absolutely necessary, as during the pandemic when social distancing forced the industry to embrace teleworking and distance training. To quote one industry executive, the sector achieved 20 years of change in just 12 months.
In a typical year, oil and gas invests half a trillion dollars in new capital to supply growth and to replace depleted resources. A portion will be spent in prospecting for new resources, securing underground assets, and maintaining production on existing assets. But a portion will also be invested in building new infrastructure, such as gas plants, refineries, LNG facilities, ports, tankers, and pipelines, to bring new greenfield oil and gas fields to market, creating a dependency on the construction sector.
Relative to other sectors, the construction sector is itself dramatically underserved by new technology. By 2018, the venture capital sector had injected only $1.5b in venture funding for technology-enabled transformation of this massive $12T sector.
This is a pittance compared to the mobility industry that has attracted hundreds of billions in venture capital aimed at creating self driving vehicles.
Or it's an opportunity. In 2018, South Korea had over 69,000 startups focused on the construction industry, many of which were technology-based, which was up by 21.5% from 2015.
Problems Only Digital Can Solve
There are many systemic challenges that are frustratingly embedded in today's underlying business models of construction. For instance, the economic benefits of investment to improve the quality of asset build frequently do not accrue to the investor, but migrate to someone else in the supply chain in the form of lower pricing. Suppliers may be motivated to maintain access to lucrative change orders tied to shoddy product quality. Overhauling regulations that require physical stamps and signatures on paper as proof of work require political support.
The taxi industry had similar systemic features, until Uber came along.
It will be digital tools that break these models and transform the sector. For example, a company specializing in augmented reality applications for design reviews in oil and gas, estimates that 30% of capital spent on physical assets requires field rework, typically because of errors that pass all the way through from design engineering to the field, even though the vast majority of the errors are detectable early.
Field remediation is enormously costly because of the incremental costs of mobilizing workers, tools and equipment to site. Schedules are impacted. Asset quality suffers. And some suppliers feast on the systemic inefficiency.
To improve and accelerate capital projects, asset owners are rapidly embracing modular design and build techniques, and with it the opportunity to globalize the construction sector. Building modules in manufacturing facilities brings the efficiencies from assembly line thinking into construction. Faster builds pull asset value forward in time, reducing capital risk, minimizing emissions, and improving returns. Distributing fabrication globally also shares risk and helps nurture competitive supply chains.
But globally distributed modular designs and builds are then highly dependent on the quality of data about the assets under construction, particularly in a pandemic when it is impossible to send inspectors and company representatives to shops and work sites.
The Digital Twin That Isn't
Owners of these industrial assets (oil and gas companies, power utilities) have invested extensively in asset information systems that provide digital twins of their physical assets. These systems help keep their assets evergreen and in compliance with strict regulations. Engineering firms have also invested for many years in developing the kinds of clever design tools to allow for ever more creative designs. Virtually all design work is carried out using tools such as autoCAD and Solidworks.
Yet the asset build value chain (owner, designer, fabricator, subcontractor) is broken, particularly between the engineering firms and their supply chains. For example, some in the big EPC firms cling to a 1950s view of their fabrication suppliers as low tech, underpowered and backward. Paper-based record keeping is dominant, expected and required. 3D designs from the EPC desktop are sent as rendered 2D designs to the fabricator shop who then converts them back to 3D. Costly quality and compliance measurements are completed using step ladders, tape measures, set squares, bubble levels, pencils and high school trigonometry (tools principally invented by the builders of the pyramids). Proof of work is ink stamps and paper signatures.
Compliance books may be PDFs, but in reality their contents are hand-annotated papers scanned from clipboards.
In From The Cold
If the energy industry is to deliver the capital to transform our global energy systems quickly and cost effectively, it must embrace digital tools throughout the entire asset build value chain, not just at the front. Fabricators must invest in data capabilities to improve their quality of service. Owners should insist on it. EPC firms should raise the bar. All parties will win, it turns out, by delivery of a true full digital twin of the asset.
For a look at how leading companies are tackling the gap between design and fabrication, check out Glove Systems and their clever technology that helps eliminate rework, lower costs, and accelerate asset delivery.
---
Share This:
---
More News Articles