Oil clawed back some of its weekly decline, with President Joe Biden's trip to Saudi Arabia set to yield no announcement on oil.West Texas Intermediate rose as much as 2.9%, capping another hugely volatile week of trading, which saw prices at one point wipe out all of their gains since Russia invaded Ukraine.

Biden is scheduled to touch down in Saudi Arabia on Friday as part of a Middle East tour, just days after a report showed US inflation surged to a four-decade high last month, much of it driven by energy costs. He is expected to leave the region without a public announcement on increasing oil supply though, people familiar with the matter said. Attention will turn to OPEC+'s next production moves in early August.

"With those anticipating the US president's trip to the Middle East resulting in higher OPEC oil production getting disappointed, oil prices have moved higher," said Giovanni Staunovo, a commodity analyst at UBS Group AG. "All decisions of future production will be taken at the next OPEC+ meeting in early August."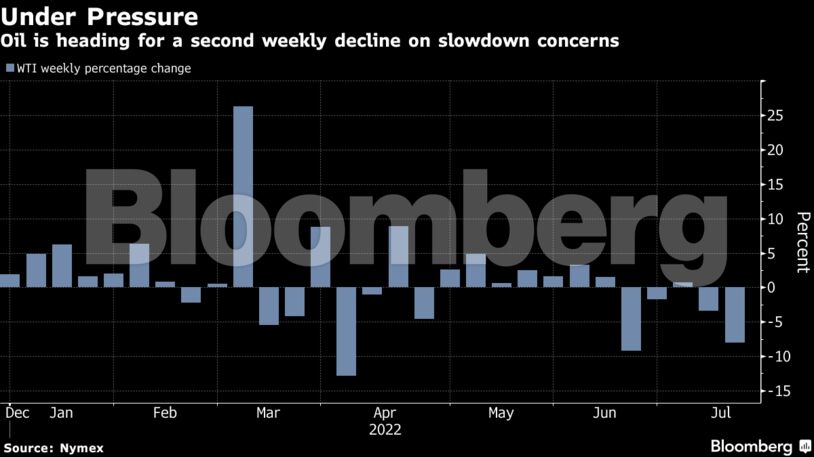 In Libya, the country's new oil chief said output will be quickly and sharply restored. The country's production has plunged amid domestic unrest.
Prices
WTI for August delivery rose 2.6% to $98.22 a barrel at 8:49 a.m. in New York.

Prices are down 6.3% this week

Brent for September settlement rose 3.1% to $102.18 a barrel.
A stronger dollar and Covid-19 outbreaks in China have added to pressure on oil this week. Shanghai's flareup appears to be stabilizing, but authorities are still locking down parts of the city and housing compounds. Still, data Friday showed Chinese growth at the slowest pace since the country's first Covid outbreak.
Brent is "likely to continue sliding given that the recession fears will presumably not abate for the time being," Commerzbank AG analysts including Carsten Fritsch and Barbara Lambrecht said in a note to clients.
Share This:
---
More News Articles