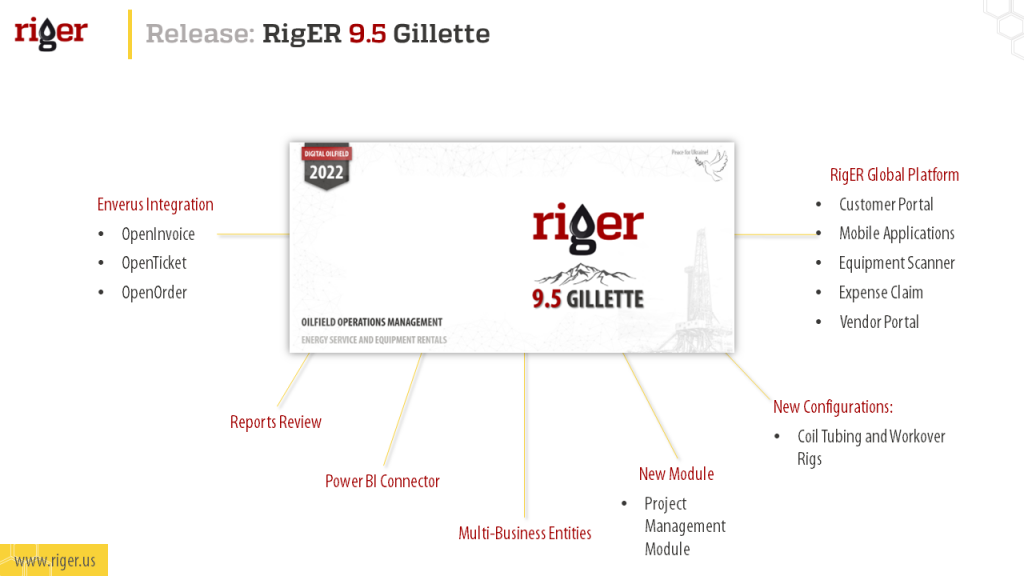 Gillette, WY, June 23, 2022 – RigER Inc., a leading oil and gas software provider, announced a major update to its oilfield services software with significant enhancements – RigER 9.5 Gillette.
What is RigER?
RigER oil and gas software allows supervisors, administrators, field workers, and office staff to manage oilfield assets easily. RigER oilfield software solution delivers a robust package of features that begins with the first client call all the way through invoicing. RigER software includes modules to handle all aspects of asset management. The main features of RigER include:
Sales
Pricing
Oilfield Services
Safety
Purchases
Internal Operations
Oilfield Rentals
General Rentals
Human Resources
Sub-rentals
Rework
Repairs
Maintenance
Inspections
Business Analytics
Reservations
Job Costing
Mobile Operations
Service Calls
Integrations
Energy companies rely on RigER as a trusted digital oilfield solution to create quotes and rental agreements, schedule jobs, manage fleet rentals, monitor oilfield calendars, create field tickets, track assets, create management reports, review analytics, and more.
RigER 9.5 Gillette Feature Update
RigER Inc. is proud to announce that they have updated their operations management software with even more features to help energy service and equipment rental companies manage their assets more efficiently. The new features include:
New Integration: Enverus – OpenInvoice, OpenTicket, OpenOrder
New Module: Project Management Module
Repairs, Inspections and Maintenance (RIM) Modules Update
Power BI Connector
New Configuration: RigER for Coil Tubing and Workover Rigs
RigER Global Platform (customer portal, mobile applications, equipment scanner, expense claim, vendor portal)
The enhancements provide additional integrations to use RigER with third-party invoicing solutions and a new project management module. Customers will be able to track projects from inception to completion all within one system. RigER is also pleased to announce the new RigER Global Platform that includes a customer portal, mobile applications, equipment scanner, expense claim functionality, and a vendor portal!
These new features will expand RigER's capabilities to create an even more complete digital oilfield solution. Regarding operations management software, RigER is a leader in the industry, and this latest update will further solidify its market share.
About the Company
RigER is an oilfield operations management software for energy service and equipment rental companies.
Founded in 2012, RigER has been helping oilfield workers deliver energy worldwide.
As an innovative cloud-to-mobile solutions provider, RigER improves operations by converting traditional paper and whiteboard-based information management processes into a user-friendly digital system, allowing for operational efficiency and cost optimization for oilfield rental and services companies.
By bringing next-generation technology to oilfield services, RigER hopes to revolutionize one of the world's most essential industries through process optimization, automation, paperless document processes, digitalization of operations, and remote work.
RigER software makes oilfield service and rentals simple to manage from the first client call to the final invoice, including quote and rental agreement, job scheduling, rental fleet management, oilfield calendar monitoring, field tickets, delivery tickets, and asset tracking, management reports, analytics and more.
Contacts
Nikolai Korniyuk
1.432.203.9970
nikolai.korniyuk (at) riger.us
Share This:
---
More News Articles