(Bloomberg) 

Oil fell as financial markets were pressured by stubbornly high US inflation, bolstering the case for Federal Reserve interest rate hikes.

West Texas Intermediate futures have whipsawed wildly this week, and were down about 2% on Thursday. European equities slid, along with US futures, while the dollar rose, making commodities priced in the currency less attractive.

As oil markets continue to wrestle with the ever-changing outlook for China's virus lockdowns and uncertainty about the European Union's proposed ban on Russian oil imports, stockpiles of refined fuels are continuing to decline. On Thursday the International Energy Agency said that there is currently an "almost universal product shortage" and low Russian exports are worsening the tightness.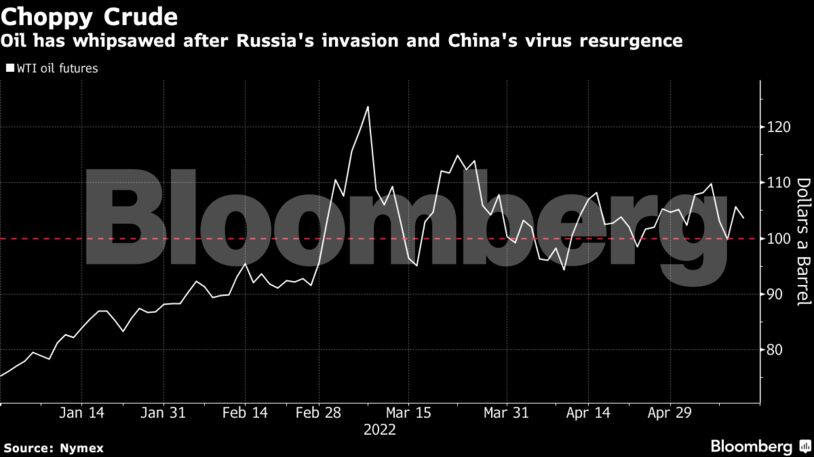 "Amid the widening supply and demand uncertainties, oil-market volatility remains rife," the IEA said in its monthly report. "But prices are trading in a lower and narrower $10 a barrel range above $100."
Oil jumped about 6% on Wednesday after tumbling around 9% over the previous two sessions. US distillate stockpiles — a category that includes diesel — fell to the lowest level since 2005 last week, while gasoline supplies declined for a sixth week, according to the Energy Information Administration. The IEA says diesel inventories in the OECD are the lowest since 2008.
Prices
WTI for June delivery fell 1.2% to $104.44 a barrel at 8:40 a.m. in New York.
Brent for July settlement dropped 1.3% to $106.11.
With concerns growing about dwindling fuel stockpiles, Bank of America this week said that oil product cracks — the profits from turning crude into fuels — will continue to rise in the near-term as refiners try to meet summer travel demand. It sees US gasoline trading at a $34 premium to Brent for the rest of the year.
In China, however, demand remains pressured by a virus outbreak. State refiners may process less oil in May versus April according to OilChem.
Share This:
---
More News Articles