DeReader allows you to store and share information with anyone no matter the distance. This mobile and desktop app offers a complete solution to on-site fieldwork and more. Eliminate paperwork from your life. Connect your physical assets to any accompanying documentation. Share it with anyone, anywhere.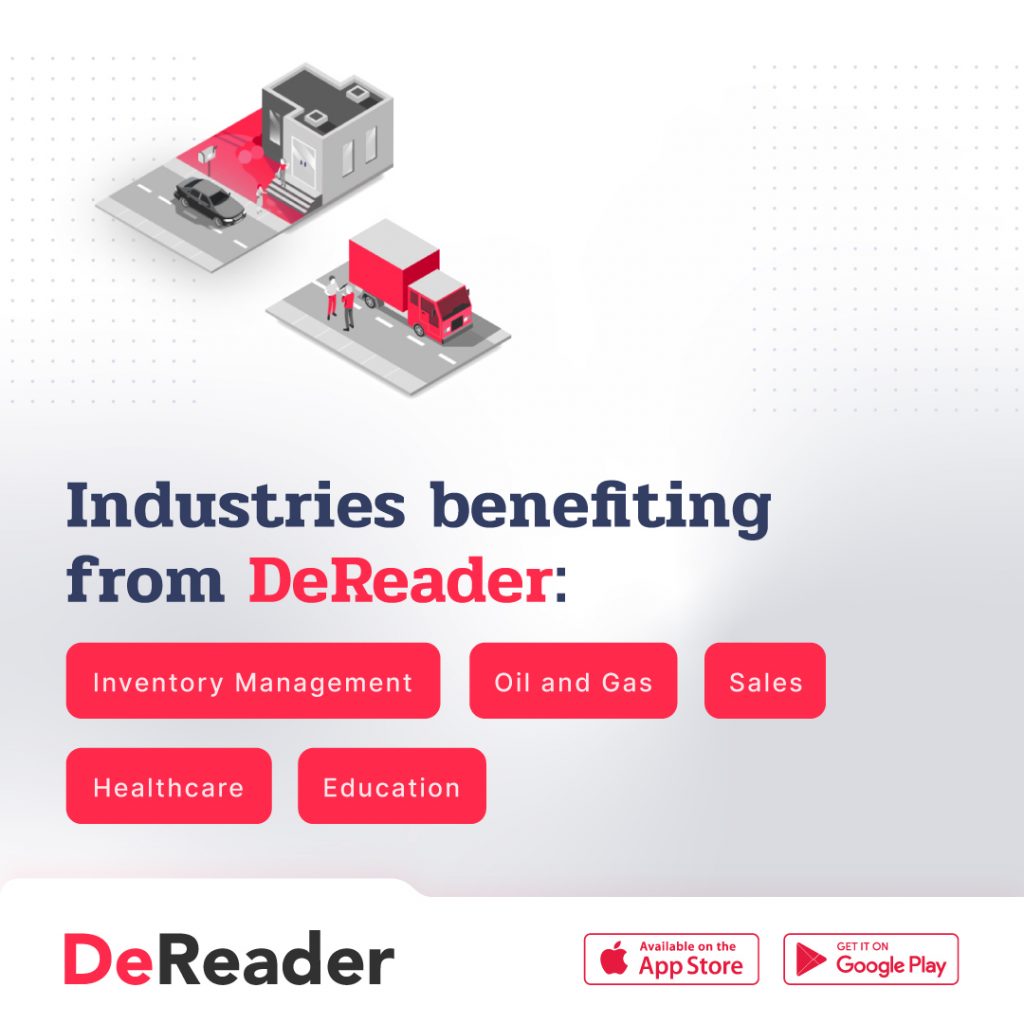 Construction and Oil and Gas
DeReader was specially designed around a very real issue oil and gas professionals face. Working on-site in remote areas can be difficult when you lack the necessary paperwork you need to complete a project. The DeReader team created the app to eliminate this issue!
All documentation can be stored and modified in one QR Code. This code can be shared online or in person. If you have assets stored in remote areas like in a warehouse, shop storage or in the oil fields, DeReader is the perfect tool for you! Attach the QR Code to your pressure test heads or pig barrel extensions and add all necessary information to the code. All the traceable documents can be housed in one single convenient location, then when you need them simply point, scan and retrieve them. Eliminate wait times, get the information you need and remove geographical barriers with DeReader.
Event Management
Event management can be very stressful, one of the key elements to ensuring an event runs smoothly and successfully is internal and external communication. DeReader has helped event organizers seamlessly connect with their team. One of the most common barriers to communication is distance, with many larger events teams are spread out making communication difficult.
Event organizers have to rely on tools like DeReader to overcome these barriers. With DeReader all you need is a phone, there is no need to purchase new equipment. Simply add the DeReader QR Code to staff packages to assign tasks or on equipment for set-up guides. DeReader's QR Codes can also be modified, so any changes to the event can be made within minutes and your team will be notified within seconds.
This app can also be used externally, so you can connect your guests to what is happening at your event. Attach your code on signage so guests can look up the event schedule, map or menu. Add the QR Code onto brochures or thank you cards so guests can download notes from speakers or download other memorable assets like videos or pictures to remember a special occasion!
Customer Oriented Fields
As E-Commerce has gained popularity so have new forms of customer service and communication. DeReader has helped various E-Commerce and brick-and-mortar businesses tackle the everchanging consumer landscape with their mobile and desktop app.
Online stores can add the QR Code onto delivery packages, on their website or on specific products in order to better inform and educate customers on certain products or brands they carry. Since staff and customer service representatives aren't available 24/7 for assistance, the information on the codes will be highly beneficial. Similarly, brick-and-mortar stores can add QR Codes to their storefront, inside the store and on products to provide more information, promote what new items they have, or even inform customers on new store policies, regulations or hours of operation.
How your company can benefit from DeReader
Over the last decade, businesses have relied heavily on communication tools to help us connect with employees, customers and stakeholders. Within the last two years, workplace protocols have drastically changed with the shift to hybrid work models. DeReader is a highly-effective communications tool that has helped many companies navigate through this change!
Custom Made Codes – DeReader's QR Codes are unique, they can only be viewed and scanned through the DeReader App. You own the QR Code and have full control of what is shared, the information on these custom QR Codes can be changed anytime based on your needs.
Time and cost savings– With DeReader, you can save time and money by eliminating the need for paperwork, all files can be stored in a QR Code that can easily be shared online or in person.
Increase productivity– Seamlessly connect with your peers and increase workplace productivity with our easy-to-use point and scan system, receive documentation within seconds using the mobile app.
Modernize and prepare for the future– The state-of-the-art app has also aided in workplace efficiency, once the QR Code is created it can be modified and updated anytime. The DeReader Code provides you with the flexibility to change your content whenever you need to. As your company evolves and changes so can the information and documentation in the DeReader QR Code.
How it works:
Save time and money, increase productivity and modernize your business with DeReader. The easy-to-use mobile and desktop app can seamlessly be incorporated into your business and across various industries.
Download DeReader through Apple's App Store or on Google Play today:



Lisa Balash
Title: Co-Founder
Phone: 403-575-0027
Email: [email protected]
Jim Williams
Title: Co-Founder
Phone: 403-575-0027
Email: [email protected]
Share This:
---
More News Articles