The consequences of non-compliance in regulated sector, especially the energy sector, can be catastrophic, especially in considering the potential impact on people and communities.
Compliance is complicated. It is complicated to define. It is complicated to manage. It is complicated to achieve.
Conventional thinking about compliance is rapidly changing largely due to complex regulation (regulations change every 12 minutes in North America), enforcement related to regulations and emerging issues that blend regulations and business practices more comprehensively.
Environment, social and governance issues are the best example of the blend of regulations and compliance matters. ESG compliance is an emerging operating consideration that is evaluated with an ever-decreasing range of tools and frameworks. This is a challenge given that the  factors used to measure the non-financial and non-regulated impacts of environmental, social and governance factors facing every organization.
The ESG phenomenon is pervasive in global capital markets and has driven organizations to implement and manage an appropriate ESG approach to operations and reporting capabilities to identify any vulnerabilities to corporate risks, especially those risks that could damage reputation.
An explicit corporate approach to ESG provides a range of business and investment opportunities. Such an approach establishes procedures to determine whether the company's actions match its stated ESG goals, the standards set by industry leaders and the accepted and adopted frameworks used to measure ESG performance and outcomes in related to both industry peers and other organizations.
Organizations face a number of challenges in implementing compliance programs and initiatives. There are myriad stakeholders, data, documents, processes, locations, assets etc. that need to be included in the compliance discussion. Ideally, compliance programs – both regulated and ESG issues – have become more unified. Still, implementation of these programs typically stall as organizations face the issues related to collaboration, collection and management of the wide range of information that needs to be assessed: how do we manage the information?
CONFORMII HELPS ITS ENERGY CLIENTS ACHIEVE COMPLIANCE
conformii delivers a consistently efficient regulatory, TCFD, CDP and ESG compliance management process by streamlining collaborator workflows and equipping teams and stakeholders through comprehensive monitoring, reporting, and actional information.

conformii consolidates compliance by addressing each of the most persistent barriers to a streamlined, collaborative, regulatory, and ESG workflow:
Digitize documents and legislation to enable quality data collection
Define, standardize and automate compliance workflows for measuring and reporting ESG data
Internal organization-specific compliance documents and reports
Simplify cross-functional subject matter collaboration
Monitor the effectiveness of controls and updates
Minimize potential risks and gaps
COMPLIANCE MANAGEMENT MADE SIMPLE
conformii began its compliance management journey with a focus on the regulated energy sector. Today, conformii serves clients who need to manage thousands of regulatory and ESG documents.
Bridge the gap between traditional reporting and disclosure functions with the comprehensive updates and insights needed to identify and address compliance risks to drive business success.
Visit conformii.com or reach out to our team to learn how to transform the way you manage compliance.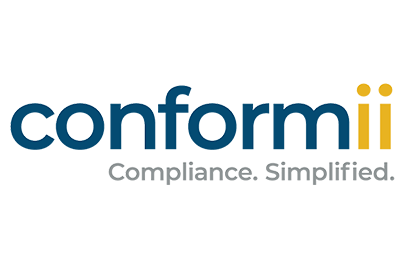 Share This:
---
More News Articles