(Bloomberg) 

Oil swung between gains and losses after the Kremlin hinted at progress in peace negotiations.Futures in London fell as much as 1.7% to near $98 a barrel, after earlier rallying close to $104. Russia said a Ukrainian proposal to become a neutral country but retain its own armed forces could be viewed as a compromise.

The comments came after the International Energy Agency said Russian output could fall by a quarter next month. That assessment of reduced supply came alongside sharp reductions to the agency's oil demand estimates for this year as a result of high prices. China is battling a new Covid wave and traffic in Shanghai is less congested in just one sign of the looming hit to the country's demand.

"Right now the volatility is so great, the moves are so dramatic, it makes it very difficult to take any kind of position in the market," said Gary Ross, a veteran oil consultant turned hedge fund manager at Black Gold Investors LLC. "We could have very tight markets in a month's time which is going to feel a lot different to how it feels today."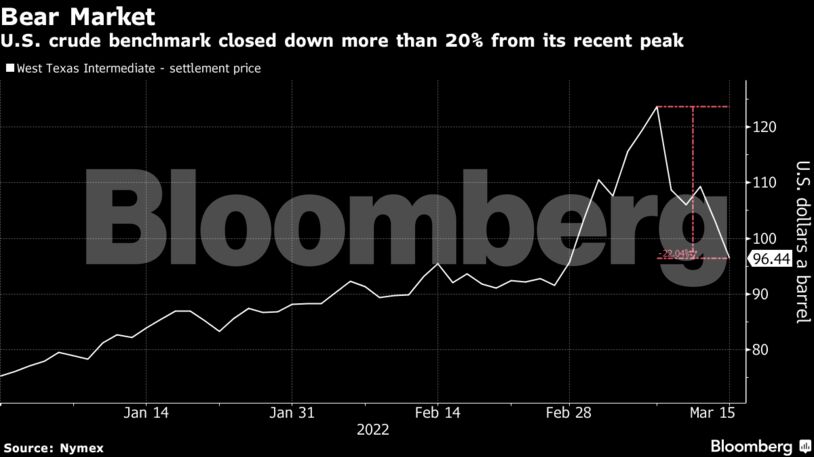 Oil has experienced one of its most tumultuous trading periods ever as rapid developments around the war in Ukraine and the ensuing sanctions drove wild price fluctuations that pushed volatility to historic levels. The conflict is raging on despite efforts for a cease-fire, while the market keeps a keen eye on the worst coronavirus outbreak in China since the pandemic began.
The extent of the liquidation in the market shows up in open interest figures. Holdings in oil futures have fallen to the lowest since 2015, across the main Brent and WTI contracts.
Russia's foreign minister Sergei Lavrov said there's hope to reach an agreement in negotiations with Ukraine, though they are not going easily. That came after Russian President Vladimir Putin told European Council President Charles Michel that Ukraine "is not showing a serious attitude toward finding mutually acceptable solutions" in talks on ending the fighting, the Kremlin said.
Prices:
Brent for May settlement fell 0.3% to $99.65 a barrel at 10:38 a.m. in London
West Texas Intermediate for April delivery lost 0.3% to $96.17 a barrel
Since Wuhan two years ago, China has had relative success in minimizing disruption by bringing virus cases quickly under control. Now, the geographic spread of infections and the higher transmissibility of omicron is challenging its Covid Zero strategy. The Federal Reserve, meanwhile, is expected to start tightening monetary policy on Wednesday, adding to the bearish sentiment.
Separately, the American Petroleum Institute reported U.S. crude stockpiles rose by 3.75 million barrels last week, while Cushing inventories climbed by 2.3 million barrels, according to people familiar with the figures. The Energy Information Administration will report official data on Wednesday.
Share This:
---
More News Articles