(Bloomberg) 

European natural gas surged to a record as supply fears were compounded by traders trying to avoid exposure to a key Russian player in the market.

Benchmark futures rose as much as 60%, before easing. Gas and power traders are backing away from new deals with Gazprom Marketing & Trading Ltd., according to people familiar with the matter. There's a further risk that previously agreed contracts start unwinding or clearing houses decide to stop doing business with the Russian company, liquidating their positions. Gazprom M&T denied that firms are cutting trading with them.

The war has sent commodity prices soaring — with Brent crude nearing $114 a barrel on Wednesday — as buyers, traders and shippers remain wary of dealing with Russian supplies. With the fighting entering a more brutal phase, damage to infrastructure in Ukraine could disrupt gas flows, while there also concerns sanctions could eventually extend to energy.

But for now Russian flows continue, and have even increased since the invasion of Ukraine last week. Shipments arriving at the key European entry point of Velke Kapusany in Slovakia have rebounded to normal levels and gas flowed to Germany via the Yamal-Europe pipeline overnight, with more capacity booked for later on Wednesday.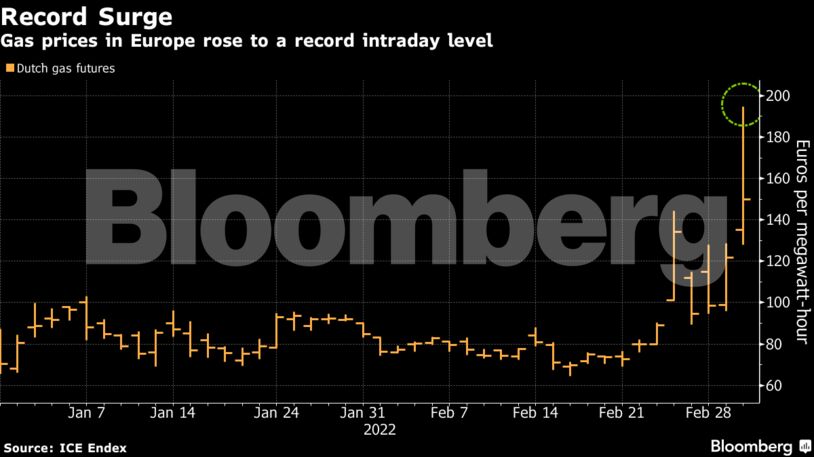 Dutch front-month gas futures rose to above 194 euros a megawatt-hour, a record high, and were 39% higher at 169.18 euros at 2:25 p.m. in Amsterdam. The U.K. equivalent contract climbed 41%.
"The market is likely repositioning itself and participants are unwinding from Gazprom and affiliates in short and mid-term contracts where possible," said Tom Marzec-Manser, an analyst at ICIS. He said earlier that Wednesday's price spike is similar to when gas rose to a then record high on Dec. 21, which was assumed to be because of "participants covering positions."
Halting dealings with Gazprom M&T, which is also involved in power and liquefied natural gas trading, could send ripples through the energy market. The company's retail unit supplied gas to more than 177,000 industrial and commercial sites in the U.K. in 2020, according to the trader's annual report. It also had agreements to ship gas to end-users in France and the Netherlands.
Europe relies on Russia for about a third of its gas, and any disruption could keep prices high for longer, making it difficult to refill storage facilities over the summer, and prolonging the energy crunch. Governments in the region are looking to boost LNG imports, which puts them in competition with Asian buyers also starting to replenish their stocks from March onwards.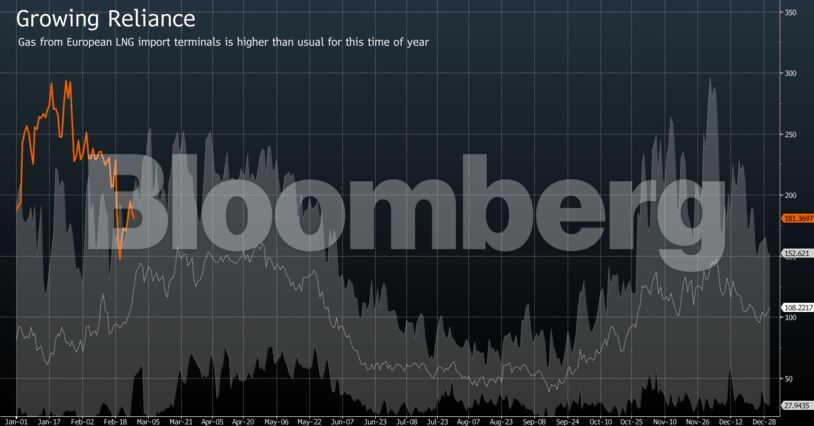 Share This:
---
More News Articles