(Bloomberg)
Russian military vehicles breached the Kyiv region from Belarus to the north, Ukrainian officials said, after tanks reportedly rolled earlier into Ukraine from Crimea.
A senior Russian lawmaker said Russia aims to ensure a pro-Moscow government in Kyiv, pushing out U.S. influence. President Vladimir Putin has summoned tycoons to the Kremlin.
The government in Kyiv called Russia's actions a "full-scale invasion" as it declared martial law and called for international support including harsher sanctions. Moscow said it had taken out military facilities, including airbases, Interfax reported.
Putin's military moves upended markets, with the ruble and Russian stocks sinking while oil and gold soared. European gas prices surged as the attacks put fuel supplies in Europe — already in the midst of an energy crunch — at further risk.
Russia was condemned by Western leaders including U.S. President Joe Biden, who said more sanctions would follow. The European Union will hold an emergency summit in Brussels on Thursday and the U.K. said it intended further economic penalties on Moscow. China called for restraint but didn't rebuke Moscow.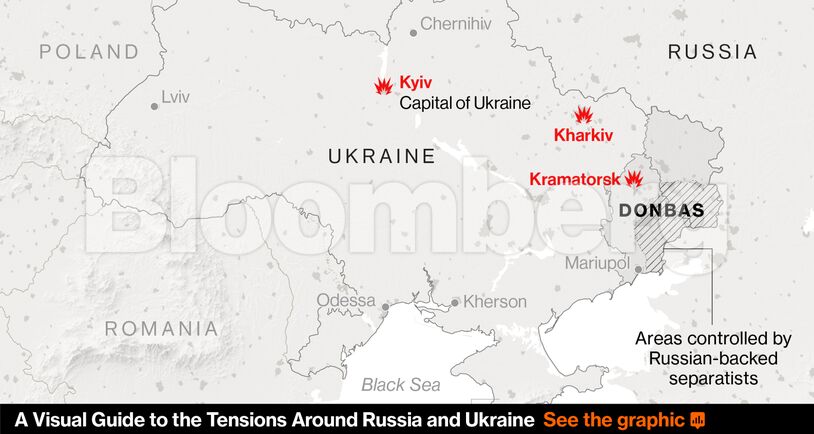 All times CET:
Russia Aims for 'Blitz Krieg' Destruction of Ukraine Forces (2:02 p.m.)
Russia's invasion of Ukraine is following an early progression many military analysts had predicted, with an intense barrage of missile attacks launched from afar to destroy Ukraine's airfields, air defenses and control systems.
It appears that Putin has opted for a large campaign aimed at achieving regime change, rather than a more limited take over of the separatist Donbas territories he has recognized as independent.
Yet taking — rather than merely threatening — Kyiv, a city of 2.8 million, would risk months of urban warfare and require all the manpower Russia has available.
Top Officials to Brief U.S. Lawmakers (1:58 p.m)
Secretary of State Antony Blinken, Treasury Secretary Janet Yellen, Pentagon chief Lloyd Austin, and Joint Chiefs of Staff Chairman General Mark Milley are expected to brief all House members via call at 6:30pm in Washington, according to a person familiar with a plan.
Macron Says Sanctions Will Match Russia's Actions (1:45 p.m.)
French President Emmanuel Macron said that sanctions against Russia "will match the aggression of which it is guilty."
Those penalties will be military and economic, and will touch on energy, Macron said in a televised speech, adding that decisions will be taken after talks with allies at the upcoming Group of Seven, European Union and NATO summits.
"We will respond without weakness, with cool heads and determination and unity," he said. Macron said the nation would hear from him again in the coming hours, and that he'd deliver a message to the French parliament on Friday.
Ukraine Reports Heavy Fighting at Airport Near Kyiv (1:32 p.m.)
There's heavy fighting at Hostomel airport, about 35 km (21 miles) northwest of the capital, Kyiv, Ukrainian presidential adviser Mykhaylo Podolyak said.
Russia's attack on the airport may be aimed at bringing in airborne troops and an assault on the government administration, he added.
One of Russia's goals "is to remove top authorities," Podolyak said, advising journalists to leave the presidential office in downtown Kyiv.
U.S. Suspends Diplomatic Presence in Ukraine (1:13 p.m.)
The U.S. has removed all State Department personnel from Ukraine and suspended its diplomatic presence and consular operations in the country, a U.S. official said. Several other countries, including Croatia, said they plan to keep some embassy staff in Kyiv.
U.K. Aims to "Hobble Russian Economy," Johnson Says (1:06 p.m.)
Prime Minister Boris Johnson said the U.K. will set out "a massive package of economic sanctions designed to hobble the Russian economy" as he condemned Moscow's full-scale invasion of Ukraine.
Speaking in a televised address, Johnson said "I don't believe that the Russian dictator will ever subdue the national feeling of the Ukrainians and their passionate belief that their country should be free."
Tanker Owners Avoid Russian Crude (12:55 p.m.)
Oil tanker owners immediately became reluctant to ship Russian crude while they wait to see what sanctions the West might impose.
Russia relies on tankers to handle about two thirds of its crude exports, meaning that any prolonged disruption to shipping would be more serious.
Russian Military Advances Into Kyiv Region, Ukraine Says (12:30 p.m.)
Russian military vehicles breached Ukraine's Kyiv region, the Ukrainian border guard service said. The Russians crossed into the region via the border with Belarus, about 100 miles (160 km) from the Ukrainian capital, Kyiv.
"Border guards and soldiers are fighting," according to the Ukrainian statement. The service said its units were also being shelled by multiple rocket launcher systems in the Zhytomyr region west of Kyiv.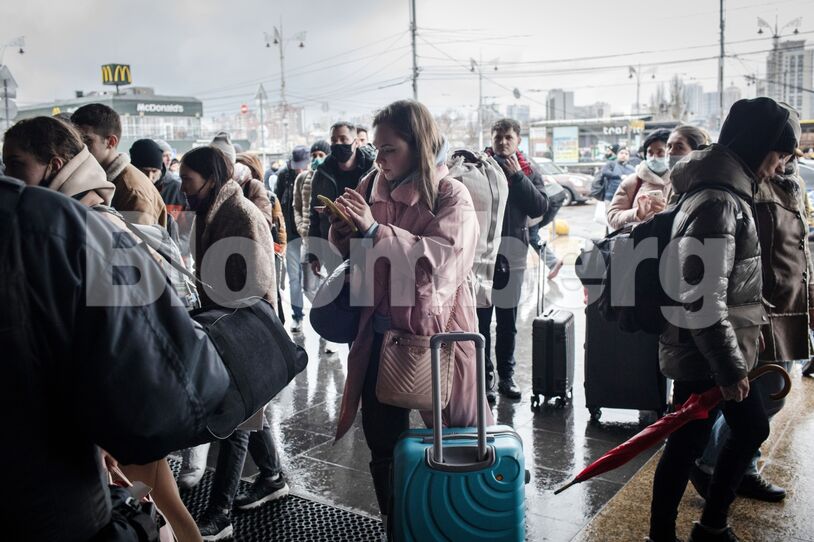 Kremlin Won't Comment on Timing, Goals (12:05 p.m. CET)
Kremlin spokesman Dmitry Peskov declined to comment on key questions about the Russia's operation in Ukraine. He refused to elaborate on how long it will last, whether Russian troops will move into the entire country, and whether Moscow aims to install a new government.
On his daily news call, Peskov said only that Russia's aims are to "liberate Ukraine and neutralize its military potential."
Asked about potential international isolation resulting from the move, Peskov said it was "impossible to close off a country like Russia with an Iron Curtain." The current "emotional" reaction on financial markets will stabilize soon, he said.
Oil Jumps Above $105 Over Fears of Disruption (11:55 a.m.)
Oil in London surged above $105 a barrel for the first time since 2014 while contracts in New York topped $100 on mounting fears of disruption to Russian exports at a time of already tight supplies. Russia is a key producer of both crude and refined products, with Europe relying on the nation for about a quarter of its oil.
OPEC and its allies have a regular meeting scheduled on March 2 to decide on output levels for April. As of Wednesday, delegates from some of the biggest members were saying that triple-digit oil wouldn't cause them to pump faster. But the group will be under pressure to ensure that prices don't rise to levels that will start destroying demand.
NATO to Discuss Reaction at Friday Summit (11:46 a.m.)
NATO leaders will hold a virtual summit on Friday to discuss the alliance's reaction to the invasion, an official said.
The alliance said it continues to deploy additional land and air forces to member countries near Ukraine, along with more naval assets, to bolster defense and deterrence.
"We have increased the readiness of our forces to respond to all contingencies," the alliance said in a statement. The Baltic nations and Poland had asked NATO for additional support in the wake of Russia's invasion of Ukraine.
Putin Summons Russian Tycoons to Kremlin (11:13 a.m.)
With asset prices swooning, President Vladimir Putin has called major shareholders and the leaders of Russia's biggest companies to the Kremlin to discuss the situation in Ukraine, people familiar with the situation said, asking not to be identified because the information isn't public.
The meeting may happen around 4 p.m. in Moscow, they said. Kremlin spokesman Dmitry Peskov didn't immediately respond to a request for comment.
Russian opposition and Western politicians have urged extending sanctions to more of Russia's richest people, many of whom are seen as facilitating Putin's regime.
Ukraine Breaks Ties With Russia as Casualties Mount (11:12 a.m.)
Ukraine has cut diplomatic ties with Russia and will not give up its independence, President Volodymyr Zelenskiy said in a televised briefing from Kyiv.
Zelenskiy said Ukrainian forces were defending themselves, and Russia was unable to break through the line of contact in Ukraine's east.
Battles are taking place inside Ukraine, including near the second-largest city, Kharkiv, and near Kherson in the south, according to the president's spokesman, Oleksiy Arestovych, who added that several dozen Ukrainian soldiers had been killed, and the government will arm anyone prepared to defend the country.
EU Envoys Agree to Finalize New Russia Sanctions (11:07 a.m.)
EU ambassadors unanimously backed a broad Russia sanctions package that had been drafted in the event of a Ukraine invasion, a senior diplomat told Bloomberg News. European leaders will discuss ways to toughen the package when they meet Thursday evening.
The measures include sanctions targeting Russia's economy and financial sector, restrictions on exports of tech goods and a curb issuing Russian diplomatic visas, the diplomat said.
Russian Assets Nosedive (11:02 a.m.)
European stocks tumbled, with a benchmark index set to enter a technical correction. The Stoxx Europe 600 was down more than 2%, bringing the decline from a record high in January to 10%. In the U.S., futures tracking the Nasdaq 100 Index signaled the equity gauge is poised to fall into a bear market on Thursday for the first time since the depths of the pandemic selloff.
Russian assets nosedived as military attacks across Ukraine prompted emergency central bank action and investors braced for the toughest round of Western sanctions yet, wiping out more than $250 billion in stock market value. The ruble sank to a record low and stocks collapsed 45% — their biggest-ever retreat. Russian Eurobonds plummeted, pushing some into distressed territory.
Ukraine's 2033 dollar debt dived, lifting the yield to 88%, while the local currency market was suspended and limits were imposed on daily cash withdrawals.
Russian Forces Cross Into Ukraine From Crimea (10:18 a.m.)
Security camera footage shows a line of Russian military vehicles crossing into Ukraine from Russian-annexed Crimea, AP reported.
The movement came as Russian media reported Sergei Aksenov, the head of Crimea, ordered his government to prepare to reopen the Northern Crimean Canal. Ukraine cut the waterway off after Russia annexed Crimea in 2014, causing severe water shortages for the territory's agriculture.
Ukraine's border service also said attackers are trying to seize Ukraine's Zmiinyi island on the Black Sea, roughly 100 km (60 miles) from Odessa, and are calling on Ukrainian trooops to surrender.
EU May Consider Sanctioning Putin Personally (10:00 a.m.)
The EU may discuss measures to sanction Vladimir Putin individually as a way to toughen the measures being considered, said diplomats who declined to be named on confidential preparations.
Such a move would be mostly symbolic, since Putin's wealth is something of a mystery. Officially, he owns hardly any assets. His annual income is about 10 million rubles ($116,400) and he owns three cars and an apartment, according to his latest financial disclosure.
The option of targeting Putin individually isn't in the package already prepared by the EU, but could materialize if there's enough political agreement, one of the diplomats said.
Russia Seeks Pro-Moscow Govt in Ukraine: Legislator (9:45 am CET)
Russia aims to ensure that a new government in Ukraine is friendly to Moscow and free of U.S. influence, according to a senior legislator from the ruling party.
"We will insist that the government that comes to power will be one that stands for constructive relations with our country," Vyacheslav Nikonov, first deputy chairman of the International Affairs Committee in the State Duma, told state television. "Everything necessary for that will be done."
U.S. influence in Kyiv, under which he said the country had become "anti-Russia," will be removed, Nikonov said.
Nord Stream 2 Opening 'Unlikely in Medium Term' (8:25 a.m.)
German Economy Minister Robert Habeck said he can't see the Nord Stream 2 gas pipeline going into operation "in the medium term."
Germany this week suspended the certification process for the link, which was built to transport Russian gas to Germany's north coast alongside an existing pipeline. The U.S. — which has warned Europe about being too dependent on Russia for energy supplies — also imposed sanctions on Nord Stream 2 and its executives.
'Massive' EU Sanctions Proposal to Cut Off Russian Banks (9:06 a.m)
EU leaders will discuss "a package of massive, targeted sanctions" that will target Russian banks, among other steps, Ursula von der Leyen, head of the European Commission, told reporters.
"We will target strategic sectors of the Russian economy by blocking their access to technologies and markets that are key for Russia," Von der Leyen said. "We will weaken Russia's economic base and its capacity to modernize. In addition we will freeze Russian assets in the European Union and stop the access of Russian banks to European financial markets."
European Gas Jumps 41% After Attack (9:01 a.m.)
European energy prices soared with benchmark Dutch futures gaining as much as 41% in their fourth-straight daily advance. German power for March soared as much as 31%. Brent crude oil surged above $100 a barrel. Russia is a key exporter of commodities, with Europe relying on the nation for about a quarter of its oil and a third of its gas.
Aluminum rallied to a record in London as the deepening crisis added to supply risks in a market already seeing critical shortages of the most widely-used base metal. Gold advanced on haven demand along with other metals including platinum.
Wheat prices soared to the highest since 2012, further fueling inflation concerns stoked by price increases for other grains and edible oils. Ukraine and Russia account for about a quarter of the global trade in wheat, a fifth of corn sales, and 80% of worldwide sunflower oil exports.
China Doesn't Condemn Attack, Calls for Restraint (8:58 a.m.)
Beijing urged restraint by "all parties" and repeated criticism that the U.S. was to blame for "hyping" the prospect of war in Eastern Europe.
China didn't wish to see what happened and urged all parties to give peace a chance, Foreign Ministry spokesperson Hua Chunying said at a regular briefing. Still, she noted that Russia's Defense Ministry said it will not attack any cities while adding that Russia is independent and can set strategy based on its own interests.
Hua also reiterated that China and Russia were strategic partners, and trade would continue as normal.
Russia's MOEX Stock Index Falls Most on Record (8:45 a.m.)
Russia's MOEX stock index slumped as much as 28%, the most on record, as local markets reopened for trading Thursday. The ruble tumbled as much as 10% to a record low before paring the decline. The Moscow Exchange had earlier suspended trading as the currency plunged.
Elsewhere, equity futures and global stocks sank, while bonds and oil soared. S&P 500 and Nasdaq 100 contracts slid about 2.5% and 3% respectively, signaling the latter, tech-heavy gauge may end up in a bear market. Brent crude scaled $100 a barrel and European natural gas prices surged as much as 41%.
The flight to safety saw the U.S. 10-year Treasury yield fall below 1.90%. Gold hit the highest since early 2021.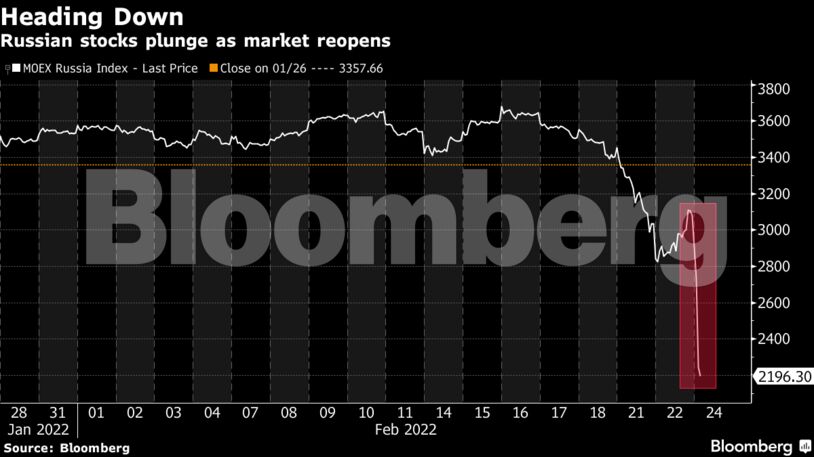 Russia Claims It Knocked Out Airbases (8:10 a.m.)
Russia subdued Ukrainian air defenses and knocked out the country's military airbases, Interfax reported, citing the Defense Ministry.
Ukraine Says Gas Flowing Normally Despite Crisis (7:55 a.m)
Ukrainian state company Naftogaz says all the facilities of its gas transportation system are operating as usual so far and that natural gas is being supplied in the required amounts. Oil transportation pipelines are also operating as normal.
Ukraine Imposes Martial Law as Russia Attacks: President (6:15 a.m.)
"Russia has attacked our military infrastructure and our border guards," Zelenskiy said in a video posted on his telegram channel. "In many cities explosions were heard. We are imposing martial law across the entire territory of our state."
The Ukrainian leader urged people to stay calm and remain at home if possible, saying "we are working, the army is working."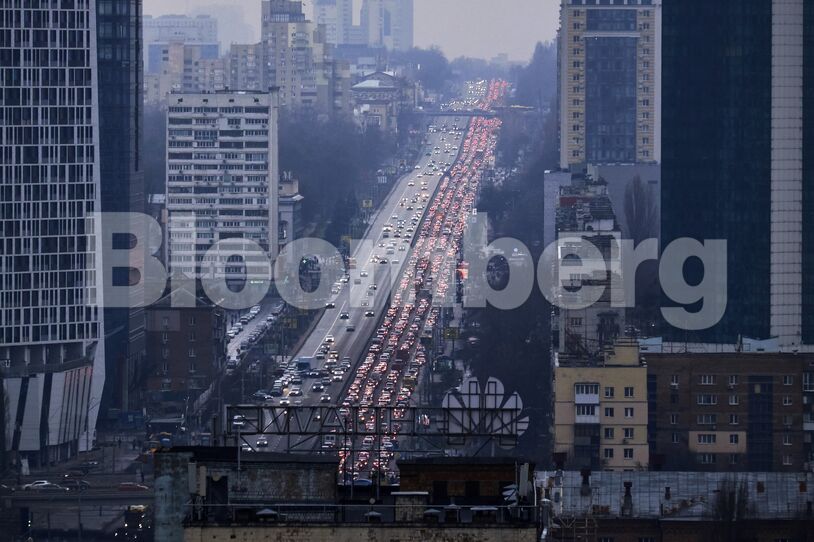 Russia Says Targets Ukraine Military Infrastructure: Tass (5:59 a.m.)
Russia's Defense Ministry said it's using "high-precision" weapons to target Ukrainian military infrastructure, Tass reported.
Russian forces are using aircraft, artillery and missiles to destroy Ukraine's air force, military airfields and anti-aircraft systems, the ministry said, in the first official Russian confirmation that its operations extend beyond Donbas.
The Defense Ministry said it's not targeting cities and civilians in Ukraine have "nothing to fear," Tass reported, even as explosions were reported across the country.
Ukraine says Says Russia Launched 'Full-Scale Invasion' (5:07 a.m.)
Foreign Minister Dmytro Kuleba said in a tweet that Putin has "launched a full-scale invasion of Ukraine" and cities are under airstrikes.
"This is a war of aggression. Ukraine will defend itself and will win," he said. Kuleba said the world can and must stop Putin, adding "the time to act is now."
Share This:
---
More News Articles