(Bloomberg) 

Oil gained as investors turned their attention to a key OPEC+ meeting, with the group facing calls from consumers to pump more crude.

Futures in New York rose back above $81 a barrel, with the alliance expected to stick to its planned 400,000-barrel-a-day hike for December. The U.S. is urging OPEC+ to raise output by as much as 800,000 barrels a day, according to delegates and diplomats, but so far there's little indication it'll change course.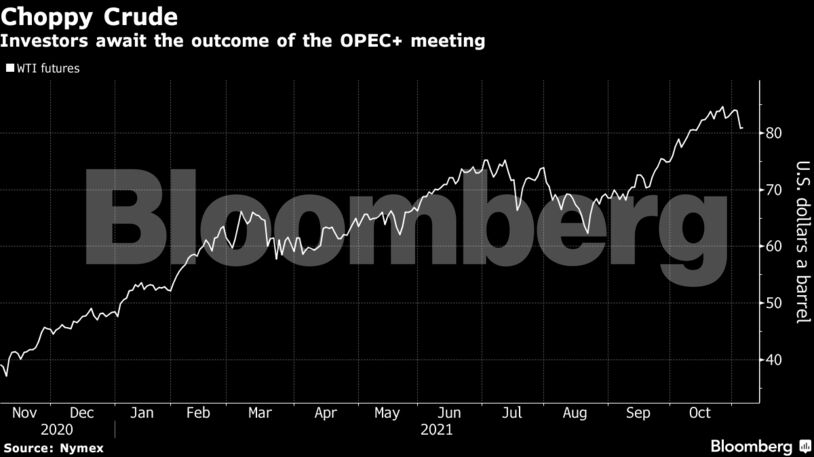 Oil recently rallied to the highest since 2014 as an economic rebound from the pandemic combined with a supply crunch across the energy industry to drive up demand for crude. U.S. President Joe Biden has led calls from major consumers for higher OPEC+ production, but Saudi Arabia and others in the alliance have pushed back, saying coronavirus outbreaks continue to threaten the market.
OPEC+ has been pursuing a gradual revival of output halted during the Covid crisis, targeting a ramp-up of 400,000 barrels a day each month, though some members have struggled to boost their supply. The producer group will meet later on Thursday, and if it sticks to its current plan, the consuming countries will likely respond — potentially by releasing crude from strategic stockpiles.
Oil Strategy: Strategic Global Release of Crude Hangs Over OPEC+
"The pressure is building, but at the same time the arguments to remain vigilant are still in place," said Hans Van Cleef, senior energy economist at ABN Amro. "A 400,000-barrel-a-day increase is fully priced in; a bigger increase will trigger some more profit-taking and would push prices lower."
Prices
West Texas Intermediate rose 1.3% to $81.90 a barrel at 10:25 a.m. London time, after losing almost 4% over the past two days
Brent gained 1.6% to $83.26 a barrel
While the global market is currently tight, the balance is expected to shift back into surplus early in 2022. If the resumption of nuclear talks between Iran and other world powers later this month results in a deal to lift sanctions, even more crude could flow onto the market next year.
Other market news:
Iran said its Islamic Revolutionary Guard Corps seized an oil tanker in the Gulf of Oman last month as part of an operation to foil a U.S. attempt to take control of a shipment of Iranian crude.
Kuwait will nominate Haitham Al-Ghais to be OPEC's next secretary-general, according to a person familiar with the matter.
Natural gas prices are so high that Norwegian energy giant Equinor ASA is bolstering output of the fuel with the addition of very light petroleum products.
Share This:
---
More News Articles