(Bloomberg) 

Oil rose after a U.S. government report forecast oversupply next year, cooling expectations for an emergency stockpiles release.

West Texas Intermediate edged up 0.3%. The White House didn't announce an SPR release on Tuesday and said it continues to look at all the tools it has available to limit the impact of high prices on consumers. That decision was influenced by a forecast for the global market to return to a surplus as soon as the first quarter of next year, potentially cooling the current rally.

Biden is under pressure from his own party to act. A letter dated Nov. 8 from key Democrats asked the President to consider an SPR release or a ban on U.S. crude exports. Among the key senators to sign the letter were Elizabeth Warren and Edward Markey.

There was speculation the U.S. might coordinate reserve releases with other nations including Japan, which has also been pressing OPEC+. Hikariko Ono, director general of the Economic Affairs Bureau, held a video conference with the head of the International Energy Agency to register concern over prices. On the call, the IEA's Fatih Birol expressed a willingness to work with members and producers to stabilize the market.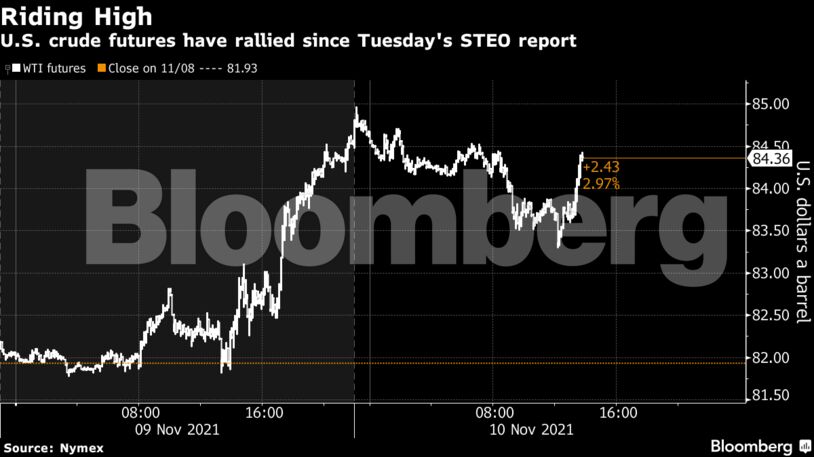 Oil surged to a seven-year high last month as economies recovered from the coronavirus pandemic and a global energy crisis aided demand, boosting U.S. gasoline prices and fanning inflation. The surge prompted President Joe Biden to weigh the merits of an emergency crude release with the Organization of Petroleum Exporting Countries and its allies refusing to increase output at a faster clip. Tuesday's report appears to have made that less likely in the short-term, with supply-demand balances looking weaker for next year.
"Releasing the SPR is only a short-term fix and does not deal with the long-term fundamental issue of supply," said Marc Rowell, senior energy broker at Britannia Global Markets.
Prices:
WTI for December delivery rose by 0.3% to $84.37 a barrel at 8:52 a.m. in New York
Brent for January settlement increased 0.3% to $85.03
Separately, the industry-funded American Petroleum Institute reported nationwide crude holdings fell by about 2.5 million barrels last week, though there was an increase at the key storage hub at Cushing, Oklahoma, according to people familiar with the data. An official tally comes later on Wednesday.
Related coverage:
The White House pledged to discuss a key pipeline that carries Canadian crude through Michigan with its northern neighbor, stressing the U.S. isn't considering a shutdown.
President Joe Biden's administration is targeting a plan that calls for the U.S. aviation sector to reach net-zero emissions by 2050.
Share This:
---
More News Articles