(Bloomberg) 

Energy Day at COP26 produced a couple of deals meant to phase out fossil fuels and bring in clean energy. But the agreements — crafted as part of the U.K.'s effort to "consign coal to history" — were soon looking a bit thin.The coal pact didn't include the U.S. or China. It did include Indonesia, but that country got an opt-out from the most important bit: the clause on not building new plants. Poland, touted as one of the key signatories, said it hadn't agreed to anything new.An accord on foreign fossil fuel funding also had some big omissions — even if Italy came onboard at the last minute. And by the end of the day the big backer — the U.S. — was emphasizing where the exemptions lay.Greta Thunberg said it was all "blah blah blah."
Key developments:
(All timestamps Glasgow, Scotland)
Carbon Market Negotiations Stumble (6:17 p.m.)
Talks at COP26 on international carbon markets are running into an obstacle: a row over how big a share of revenues from trading should be funneled toward countries that need money to adapt to climate change. It's one of the key issues in Glasgow and one of the last parts of the Paris Agreement to be hashed out.
Here's the debate: Developing countries want a percentage of the proceeds from trading all types of carbon credits to be channeled to poor nations. That sort of transaction tax already applied to a previous United Nations offset program and is widely expected to continue in any new market.
But they also say it should apply to the exchange of carbon credits between countries. And that's a red line for the European Union.
U.S. Sees Some Exceptions to Fossil Fuel Funding Pledge (5:52 p.m.)
More than 20 countries have signed a pledge to halt funding for foreign oil, gas and coal projects — "except in limited and clearly defined circumstances that are consistent with the 1.5 degrees Celsius warming limit and the goals of the Paris Agreement." That exception language was critical for some nations to sign on, and the U.S. was singling out its importance Thursday.
A State Department spokesperson stressed that "limited exemptions will be necessary" including "in cases where there are national security implications or severe access concerns."
Agencies across the U.S. government have been developing an implementation plan for its international energy engagement, with more details to share soon, according to the department. "No one should doubt the direction in which we are headed — toward a clean energy future."
Small Print Gives Indonesia a Way Out of Coal Pledge (5:28 p.m.)
Indonesia signed up to a pledge aimed at ending coal use at COP26. But a closer look at the terms shows it will be able to continue building coal plants at home.
Signatories of the U.K.-led agreement had the option to sign four different clauses. The first two committed to scaling up clean energy; the second two were designed to power down coal. Indonesia — the world's biggest coal exporter — didn't back the clause calling for an end to building and financing new unabated coal, according to a statement from COP organizers.
It will "consider accelerating coal phase out into the 2040s," if there's additional international financing to do so, the document shows.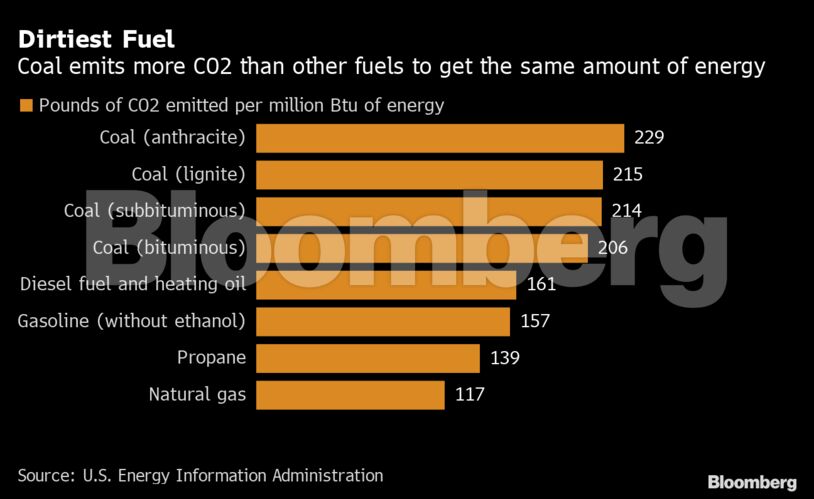 Poland Coal Commitment Underwhelms (4:30 p.m.)
The U.K. presented an agreement coal on Thursday as a big success, with countries agreeing to phase out the most polluting fossil fuel. EU-member Poland was one of the countries headlining the deal. But Warsaw said it won't phase out coal until the 2040s — the same timescale it was already planning — casting doubt on how much value the new accord adds.
"By signing the British declaration at COP26, Poland committed not to invest in the construction of new coal-fired power plants and to abandon the use of coal for electricity production in the 2040s or as soon as possible after that date," the Climate Ministry said.
Greta Thunberg Weighs In Again (4:30 p.m.)
After appearing at a brief protest at the summit venue on Wednesday, the Swedish activist popped up on Twitter to slam the meeting as a "greenwash festival."
Green Hydrogen Companies Raise Target (3:50 p.m.)
A coalition of companies that aim to produce and use hydrogen made from renewable energy committed to commission 45,000 megawatts of electrolyzers by 2027, an increase from their previous target of 25,000 megawatts by 2026. The group, known as the Green Hydrogen Catapult, includes ACWA Power International in Saudi Arabia, Iberdrola SA, Snam SpA and Yara International ASA. Delivering on their new goal would be a massive ramp up from the 400 megawatts of electrolyzers that analysts at BloombergNEF expect to be installed this year.
Scaling up production of the electric machines that split hydrogen from water is key to bring down the cost of a technology that would store energy from wind parks and solar farms and use it to cut emissions from polluting industries. The Green Hydrogen Catapult aims for the increase in capacity to help bring the cost of the clean-burning gas below $2 per kilogram.
U.K. COP26 Plan Fails to Consign Much Coal to History: BNEF
EU Injects Note of Caution on COP Commitments (3.45 p.m.)
The EU is skeptical that revised emissions-cutting plans will put the planet on a significantly different trajectory than the 2.7 degree pathway the UN highlighted before the COP26 summit began.
While commitments to net-zero by the middle of the century and beyond could see the expected temperature rise reduced, the new targets show the need for countries to finalize the Paris Rulebook to make sure everyone stays on track, the bloc's climate negotiator, Jacob Werksman, told reporters.
Trusting countries to meet their targets otherwise would be a "very significant assumption," he said. Otherwise, talks had got off to a good start so far, with few disagreements on the agenda, he added.
COP26 Fossil-Fuel Deal Lacks Clout to Make Big Mark: BNEF
Global Shipping Industry Agrees to Clean Fuels Targets (3.30 p.m.)
Multiple firms involved in the shipping industry have agreed to a minimum usage of zero-emission fuels by the end of the decade, according to a statement from the Global Maritime Forum.
Under the deal, carriers have pledged that at least 5% of deep-sea shipping will be powered by zero-emission fuels by 2030. For cargo owners, at least 10% of the volume of goods shipped internationally will be on vessels using such fuels by the same deadline — with a goal of 100% by 2040. The commitments are part of the start of the First Movers Coalition, a partnership between the World Economic Forum and the office of U.S. climate envoy John Kerry. Companies involved include Trafigura Group and A.P. Moller-Maersk.
OPEC+ Rejects Biden's Plea to Step It Up (2:30 p.m.)
OPEC and its allies will hold to their current pace of gradual production increases, disregarding Biden's demand to step it up.
The group took only a brief meeting to approve a 400,000 barrel-a-day supply increase for December, a delegate said. Major consumers say that pace is too slow to sustain the economic recovery, contributing to an increase in crude prices of about 30% since August.
Brent crude pare earlier gains to drop below $83 a barrel.
U.S. to Learn From Denmark as It Builds Out Wind Power (2 p.m.)
U.S. Interior Secretary Deb Haaland extolled the nation's plan to deploy 30 gigawatts of offshore wind energy by the end of the decade and challenged other coastal countries to set their own more aggressive targets. "Join us in setting ambitious offshore wind energy commitments. Whatever steps you can take, push the limits, but make sure your goals are ambitious" and commit the political will and resources to get things done," Haaland said in a speech at COP26 Thursday.
The U.S. is still racing to catch up with China, Germany, the U.K. and other countries in generating power from strong, steady gusts at sea. Existing wind farms along the U.S. provide less than 100 megawatts of generation capacity today. The irony clearly wasn't lost on Haaland.
"Compared to our friends in the U.K. or Denmark, our wind plan is fairly new," she said. But that means the U.S. can "learn from their experience and share lessons on developing energy resources safely and efficiently."
At least 16 proposed wind projects on offshore leases sold before President Joe Biden took office are pending review at the Interior Department; if approved and constructed, they would represent more than 19 gigawatts of emission-free energy, the agency says. Interior is also moving to sell new leases across almost all U.S. coasts, from the Carolinas to California.
Covid Cases 'Significantly Lower' Than Outside COP: Sharma (1:40 p.m.)
"We have been made aware of a few cases," James Grabert, head of the mitigation division at the UNFCCC, told reporters when asked about incidences of Covid-19 at the summit. However, he said that the numbers were not being made public.
"Based on the numbers I have seen, the Covid case rate in the Blue Zone is significantly lower than the general public in Scotland," COP26 President Alok Sharma said. "I hope when you see the numbers come forward you will be encouraged, positively," he added. "Overall, I do feel that we're managing this in a good way."
Iberdrola Chief Says Coal Plants Must Be Demolished (1:30 p.m.)
Reacting to the apparent watering down of the global agreement on phasing out coal power, Ignacio Galan, Chairman and Chief Executive of Iberdrola, one of the largest clean energy companies in the world, said:
"We need to close down coal completely, and demolish those stations. Otherwise, when we have short-term market issues, there is always a temptation to run them again. There is no place for coal in a modern energy system."
China Touts Carbon Capture Over Coal Reduction (12:30 p.m.)
A member of China's COP26 delegation is talking up the benefits of carbon capture and storage technology.
Sun Zhen, who is also the head of the climate change department at China's environmental ministry, said that "instead of focusing on reducing the use of coal, we should focus on how to reduce the emission of the coal" with the help of CCUS technology.
Sun stressed that such technologies will help China to reach its climate goals, noting that President Xi Jinping visited a CCUS trial site recently. He added that the price of wind and solar dropped significantly in the past 10 years and hopes "the same story will happen with CCUS."
U.S., EU Metals Deal Set to Ruffle Feathers: BNEF (11:39 a.m.)
The U.S. and European Union's deal last weekend to scrap tariffs on steel and aluminum has implications beyond freeing up trade, according to BloombergNEF. Brussels and Washington have pledged to collaborate on limiting steel imports from countries with production deemed to be "dirty" or contributing to global oversupply.
This could be challenging for the Asian steel industry, for example, because it has higher emissions per unit of production than its peers. The deal could therefore do little to lubricate discussions at COP26. It doesn't help that a White House communique explicitly framed the deal as a response to the 'flood of cheap steel' from China.
UN Climate Chief Rebukes World Bank (11:37 a.m.)
Selwin Hart, who advises the UN Secretary-General on climate action, says that — six years after the Paris Agreement — it's "shocking and deeply disappointing" that the World Bank and similar organizations haven't done enough to limit climate change.
Multilateral development banks this week issued a joint statement updating progress toward their joint commitment to being aligned with the Paris goals, though it provided few new details on how they would step up.
Hart said it wasn't good enough. They are "fiddling while the developing world burns," he said, singling out out the World Bank "as an ongoing under-performer." He called on shareholders need to step up and "change the direction" of these institutions.
Italy Joins Deal to End Overseas Fossil Fuel Funding (11:30 a.m.)
The U.K. has corralled about 20 nations including the U.S. and Canada to pledge to stop funding foreign fossil fuel projects. China and Japan haven't signed.
Italy, which is co-hosting the talks, joined on Thursday morning at the last minute. On Wednesday night, Italy had told the U.K. it wouldn't sign the pledge, according to two people familiar with the matter.
"We're delighted to have just heard that our COP26 hosting partner Italy has also just signed this statement. Breaking news here from the U.K. pavilion," Greg Hands, U.K. energy and climate minister, said at the event.
A spokeswoman for Italian Ecological Transition Minister Roberto Cingolani said Italy had signed the deal, and that negotiators were working toward that last night.
The pledge allows for some exemptions, and isn't binding, but it does add to the squeeze on public international fossil fuel financing.
China, EU Announce Common Sustainable Finance Taxonomy (10:25 a.m.)
China and the European Union have agreed upon a common classification system that market participants can use to issue green finance products, according to a statement from the People's Bank of China. The agreement covers energy, manufacturing, construction, solid waste and forestry.
BlackRock Unveils Climate Finance Metric (10:04 a.m.)
BlackRock Inc., the world's largest asset manager, intends to add a new metric across its portfolios that will allow clients to track the temperature scores of its investments, according to Paul Bodnar, its global head of sustainable investing.
The plan is to have the new metric in place by the end of the year. "We are reporting for our clients by end of year the temperature rise — a temperature score for a portfolio that shows if this was the global economy, how much warming would it cause," Bodnar said at a COP26 panel.
IEA Sees Net-Zero Pledges Limiting Warming to 1.8-Degrees Celsius (10 a.m.)
Net-zero climate pledges made by countries at COP26 — combined with the Global Methane Pledge — mean that it's possible to limit the increase in global warming to 1.8-degrees Celsius, compared to pre-industrial levels. That's the latest from an International Energy Agency analysis.
"A big step forward, but much more need," IEA Executive Director Fatih Birol said on Twitter. The Paris Agreement of 2015 aimed to limit the temperature increase to 1.5-degrees.
Africa Calls for $1.3 Trillion in Climate Finance Per Year (9:23 a.m.)
One of the key issues to be discussed at COP26 is how much rich countries should provide in climate finance after 2025, even with the previous $100 billion-per-year target being repeatedly missed. The African Group of Negotiators on Climate Change wants to see a 13-fold increase to help compensate for the "real cost of climate change," according to Tanguy Gahouma-Bekale, the group's chair.
It highlights the growing irritation on the part of poorer nations that have contributed the least to global warming, yet face some of the most dire consequences. "It's absurd," that the prior goal had not been reached, Gahouma-Bekale said in an interview with Bloomberg.
Thousands of Demonstrators Prepare to Descend on Glasgow (8:43 a.m.)
Tens of thousands of demonstrators are set to march in Glasgow in the coming days, according to the COP26 Coalition, which is organizing the protests. It's part of more than 200 related events taking place worldwide, with more than 100 in the U.K. alone, the group said in a statement. Expected speakers in Glasgow include climate activist Greta Thunberg.
"We are taking to the streets across the world this weekend to push governments from climate inaction to climate justice," said COP Coalition spokesperson Asad Rehman in a statement. "This has been the least accessible climate summit ever — with so many people sidelined at the talks or not able to make it in the first place. Today, those people are having their voices heard."
Local authorities are already starting to prepare for the protests and plan to close off roads in the center of Glasgow on Friday and Saturday.
Study Sees Potential to Keep Warming in Check (7:29 a.m.)
There's still a chance to keep global warming under a 2-degrees Celsius increase — if all countries honor their commitments to reduce emissions — according to a new study from University of Melbourne researchers. That includes plans by China and India to reach net-zero by 2060 and 2070, respectively.
The best-estimate warming peak of 1.9-degrees "is still a far stretch" from halting warming around 1.5-degrees, but it's much better than projections a few weeks ago, the study said.
Natural Gas Key to Africa's Energy Security, Says AfDB's Adesina (6:45 a.m.)
Natural gas remains key to Africa's energy security and economic prosperity, even as political pressure grows to speed up the transition away from fossil fuels, according to the continent's biggest development bank.
"Gas is fundamental to Africa's energy system," African Development Bank President Akinwumi Adesina said in an interview with Bloomberg News on Wednesday. "We've got to make sure that we're pragmatic" and that a system is created to support long-term development, he said.
Extreme Weather Seen Spurring Divergence in European Ratings (6 a.m.)
Sovereign creditworthiness in Europe could diverge further unless governments in countries more vulnerable to climate change pay more attention to extreme weather risks, according to Scope Ratings.
Costs related to the weather are becoming more material for sovereign risk and this will accelerate as destructive events become increasingly frequent and severe, Scope analysts said in a report. That puts the most exposed countries — typically in southern Europe — at risk, especially as they are not spending the most to build resilience.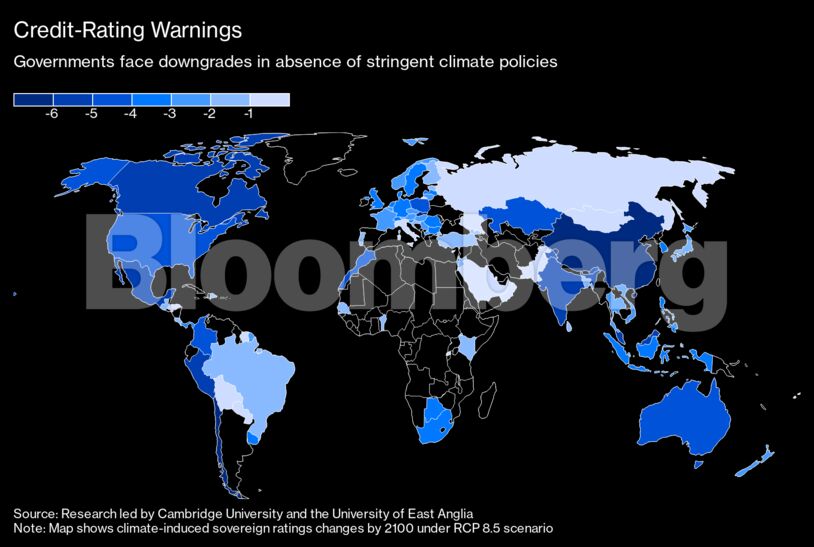 100-Seat Electric Plane Seen by 2027 (5 a.m.)
An all-electric plane capable of carrying 100 people may be available within six years, significantly accelerating the timeline for the introduction of a non-kerosene powered commercial airliner.
U.S. startup Wright Electric Inc. plans to retrofit electric motors into a BAe 146 regional aircraft originally manufactured by BAE Systems Plc, replacing its four jet engines and transforming it into a zero-emissions model. Chief Executive Officer Jeffrey Engler spoke with Bloomberg.
Go Inside COP26
See what it's like to attend the world's biggest climate conference. Bloomberg reporter Jess Shankleman takes us inside during finance day on Wednesday.
(Michael Bloomberg, the founder and majority owner of Bloomberg LP, the parent company of Bloomberg News, is funding efforts to close a quarter of the world's remaining coal plants and cancel all new proposed projects globally by 2025.)
–With assistance from Emma Ross-Thomas, Jessica Shankleman, Charlotte Ryan, Rakteem Katakey, Jennifer A. Dlouhy, Alberto Nardelli, Rachel Morison, Greg Ritchie, Paul Burkhardt, Tasneem Hanfi Brögger, John Ainger, Karoline Kan, William Mathis, Jennifer Ryan, Ewa Krukowska and Alan Crawford.
Share This:
---
More News Articles