(Bloomberg) 

OPEC said the global oil market will switch from being under- to over-supplied as early as next month as the economic rebound from the coronavirus pandemic falters.The group's Secretary-General Mohammad Barkindo comments come in the shadow of U.S. politicians putting pressure on President Joe Biden to bring down gasoline prices, possibly by banning crude exports and releasing oil from the government's strategic reserve. Biden's next move has been a key topic in Abu Dhabi, where some of the world's biggest oil and gas companies and many energy ministers are attending the Adipec conference.The four-day gathering that started on Monday is taking place in the wake of the COP26 climate talks and with energy prices soaring. Brent crude has climbed almost 60% this year to above $80 a barrel, while natural-gas prices in Asia and Europe hit record highs recently.
Key developments:
OPEC Sees Oil Market Switching to a Surplus as Early as December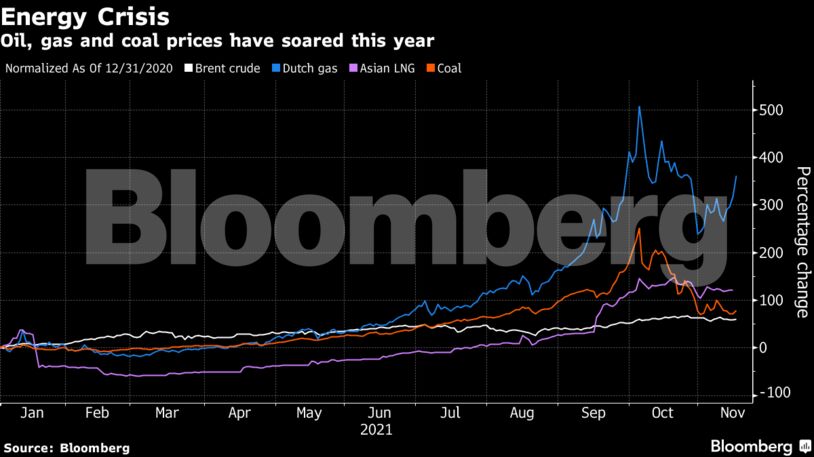 (Timestamps UAE)
Murban Exchange May Get Hydrogen, Carbon Futures (4:27 p.m.)
Abu Dhabi's Murban exchange is considering giving participants the option to deal in carbon and hydrogen futures, Philippe Khoury, executive vice president at Adnoc Trading said. At the same event, ICE Futures Europe President Stuart Williams said the operator of the exchange, ICE, wants to add new products and is looking at carbon trading.
OPEC Sees Oil Market Switching to Surplus Next Month (2:30 p.m.)
OPEC said the global oil market will switch from being under- to over-supplied as early as next month as the economic rebound from the coronavirus pandemic falters.
That outlook means OPEC is justified in only raising production gradually, according to Secretary-General Mohammad Barkindo. The comments are another signal that OPEC and its partners will continue resisting U.S. pressure to pump faster, and will stick to their strategy at their next meeting early next month.
"It's a very fragile recovery," Barkindo told reporters. "All this uncertainty further buttresses our commitment that we keep our hands firmly on the steering wheel."
He added that oil stockpiles have been rebuilding for the past six weeks.
IEF Says OPEC+ Is Unlikely to Change Plans (2:15 p.m.)
OPEC+ will probably stick to its strategy of only gradually raising oil output, according to the Riyadh-based International Energy Forum. The group's unlikely to change course before next year, it said.
"I don't see any changes," Joseph McMonigle, secretary-general of the IEF, said in an interview. "Some of the ministers are saying they may revisit the plans in the next quarter to accommodate any changes in the market."
Most of the 23 members are satisfied with the current plan.
"They don't like to get in front of things, they like to respond to things," McMonigle said. "They have to act on consensus and I think it would be extremely difficult to reach another deal."
UAE May Ship LNG From Fujairah to Boost Exports of Gas (1:45 p.m.)
The United Arab Emirates may build a plant to export liquefied natural gas from the oil hub of Fujairah on the Gulf of Oman Coast, according to Sharif Al Olama, undersecretary of the Ministry of Energy.
The plan hasn't been signed off yet, but would be part of the country's efforts to boost sales of gas, he said in an interview.
The UAE shipped 5.1 million metric tons of LNG last year, according to data compiled by Bloomberg, about half the volumes of Algeria. It currently sends exports from Das Island in the Persian Gulf.
Yergin Says U.S. Oil-Export Ban Would Hurt Americans (11:50 a.m.)
The U.S. would "create a price shock" if it blocked crude exports, Daniel Yergin told Bloomberg Television. "Other countries would be scrambling for supplies. It would end up not bringing gasoline prices down, which is the political objective of the Biden administration, but would send them up."
Such a move would mean even higher gasoline prices for Americans, according to the oil historian.
It's strange that Biden is focusing so much on OPEC+ rather than trying to boost crude output at home, he said.
"Here in Abu Dhabi, I hear various ministers say: 'Isn't the U.S. the world's largest producer of oil? Why are they asking us for more oil?'" Yergin said.
Mitsui, GS Energy Join Abu Dhabi's Blue Hydrogen Project (11:45 a.m.)
Japan's Mitsui and South Korea's GS Energy will partner with Adnoc and Fertiglobe to develop blue ammonia at the Ta'ziz industrial zone in Ruwais, Abu Dhabi.
Mitsui and GS Energy will take "significant volumes" of blue ammonia to "meet growing demand in the energy and industrial sectors in Japan and Korea," Adnoc said.
Major state energy firms in the Persian Gulf, including Adnoc and Saudi Aramco, are in talks with companies in Asia about long-term supply contracts for blue hydrogen. The fuel is made by converting natural gas and capturing the carbon emissions. It's usually shipped as ammonia to make it more stable.
Hydrogen is seen as crucial to the shift away from oil, coal and gas as it's a much cleaner fuel. But it's expensive to make and the global market is tiny today. It could be worth $700 billion annually by 2050, according to BloombergNEF.
Nigeria Says It Can Raise Oil Output, Even If OPEC Will Struggle (10:30 a.m.)
Nigeria will be able to raise its crude oil production from around 1.45 million barrels a day to 1.7 million or 1.8 million by the end of the year, Mele Kyari, head of the Nigerian National Petroleum Corp., said to Bloomberg Television.
Including condensate — a light form of oil — Nigeria's output can reach 2 million barrels daily by then, he said.
Still, OPEC members as a whole will struggle to hit their full quotas any time soon, he said.
"I'm not sure it'll be possible to fill the gap" quickly, partly due to a lack of financing for investment in oil fields, he said.
Crude's likely to stay above $80 a barrel for "a while to come" and $100 is "within sight," he said.
Any sell-down of the U.S. Strategic Petroleum Reserve will probably have a small impact on prices "because demand's above pre-Covid levels and supply's not matching that."
India Says It's Made 'Concerted Push' With OPEC+ (10:10 a.m.)
"I have spoken to my counterparts from Saudi Arabia, the UAE, Russia" and made a "concerted push" on oil production, India's Energy Minister Hardeep Singh Puri said in an interview with Bloomberg Television.
He doubts that a co-ordinated sale of strategic petroleum reserves by major consumers would help.
Strategic oil reserves weren't "ever intended for a situation like this," he said. "It's for force majeure situation, if there's an earthquake, a global outbreak of hostilities, and oil supplies are shut up."
Schlumberger Among Firms Winning $6 Billion of Adnoc Contracts (10:10 a.m.)
Abu Dhabi National Oil Co., known as Adnoc, will invest almost $6 billion in drilling projects to boost its crude-oil production capacity to 5 million barrels per day by 2030.
Schlumberger, Weatherford, Baker Hughes are among the companies that have won contracts.
Share This:
---
More News Articles