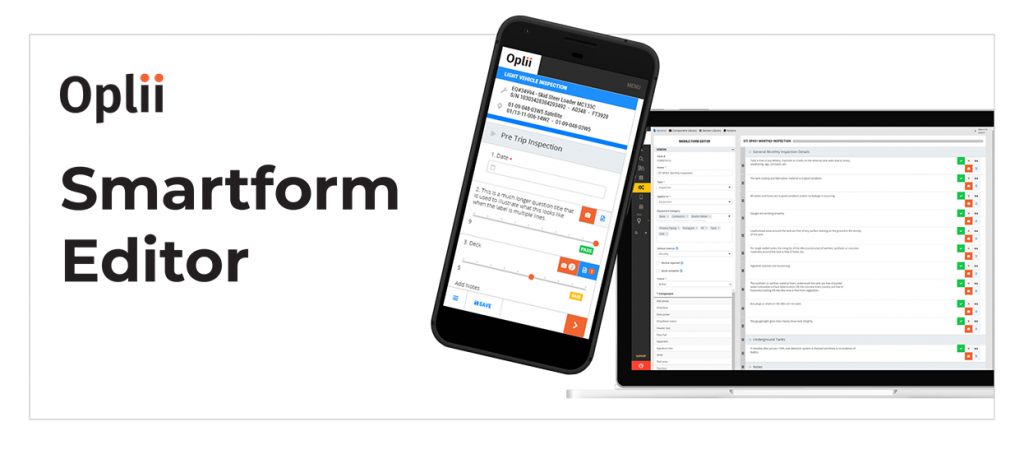 Oplii has released a DIY editor that lets users design smartforms in mere minutes.
"These forms are much more than simple checklists," says Product Manager Jessica Hallam. "They can be assigned as inspections or attached to work orders, used to improve asset data, completed on or offline. And they're pretty fun to design, too."
Why "smartforms"?
This isn't your run-of-the-mill form designer.
"Our forms are integrated with the larger platform for three main reasons: to improve data, and to support advanced reporting and regulatory compliance."
With the data reconciliation options turned on, for instance, data collected by inspectors or technicians that differs from what's in the database is flagged and processed for review by system administrators. This review process provides a safeguard against typos and other mistakes.
"Let's say a piece of equipment's serial number is corrected via form, or an equipment status has changed," says Hallam. "The review process serves as a precaution to ensure only verified changes make it to the official database."
In terms of reporting, most digital form solutions culminate in saved PDFs, which are great for printing but not much else. With Oplii's smartforms, users can dig into the actual form data for analysis and forecasting purposes.
"And when it comes to regulatory compliance, our forms can be used alongside inspection scheduling tools and calendars," says Hallam. "Further, clients can respond nimbly to changes in requirements by changing form content in just a few minutes."
Creation process
The new editor exists in Oplii's administration module.
When a user creates a form, they set:
the form name,
its purpose (whether it's an inspection or for use on work orders,)
the kind of asset to which it applies—a site, pipeline or equipment, and
for inspections, the default inspection interval and review requirements.
Building out the actual content of the form is as easy as dragging and dropping elements. The component library offers users a selection of Oplii's famously user-friendly fields, along with cached data options that help automate form completion in the field.
For more information about Oplii's smartform editor, visit www.oplii.com or call 1-888-994-9337.
---
Oplii is a proudly Canadian company leading the way in operations management software for O&G.
The Oplii enterprise platform is powerful and easy to use, and includes integrated solutions for the management of assets, asset integrity, maintenance, HSE, MOC, NCR and more – with industry-leading proprietary mobile tools that truly connect the office and the field.
Share This:
---
More News Articles