(Bloomberg) 

California beaches in Northern Orange County were closed and wetlands contaminated by a huge oil spill caused by a broken pipeline off the coast. About 3,000 barrels of oil leaked from the pipeline and washed up on beaches and wetlands in Huntington Beach, a popular spot for Southern California surfers and beach goers. The beach's ocean and shoreline have been closed indefinitely, the city said in a statement Sunday.Beta Offshore Co., which operates three offshore oil platforms in the area, is responsible for the spill and is working on repairs and cleanup. The oil slick plume stretched 5.8 nautical miles as of Saturday, from Huntington Beach Pier to Newport Beach, Orange County Supervisor Katrina Foley said in a statement.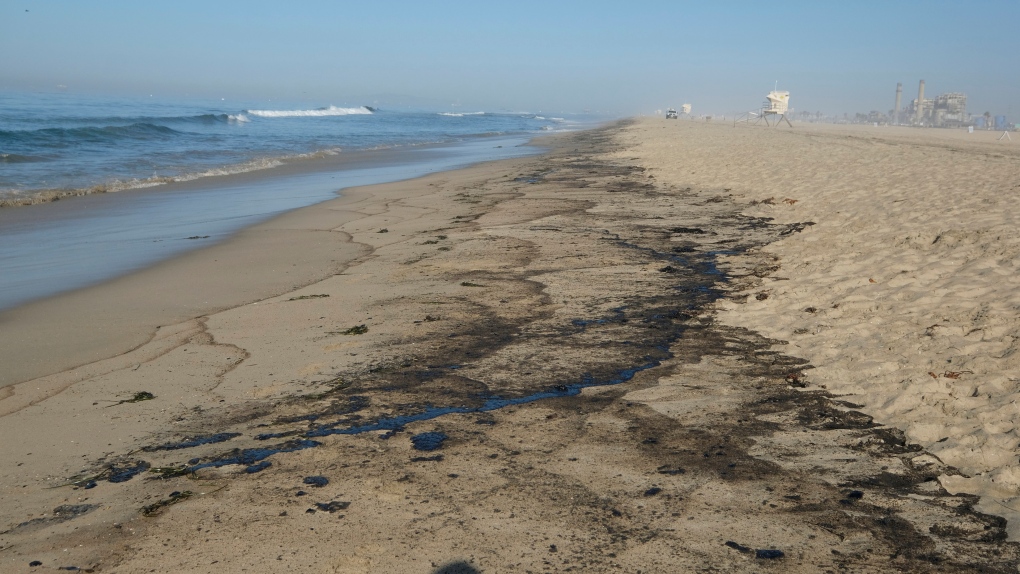 The ruptured pipeline connected to an offshore oil platform known as Elly, that is operated by Beta, Foley said on Twitter. Elly processes oil produced by two nearby platforms that are also operated by Beta and began production in the 1980s called Ellen and Eureka, according to the Bureau of Safety and Environmental Enforcement.
An email to Amplify Energy Corp., the parent of Beta, wasn't returned. The company told the Associated Press Sunday that the pipeline had been shut off and crude oil was no longer leaking from it.
Oil production off the California Coast has dwindled in recent years following major spills that have drawn environmental opposition. A pipeline spill on a beach near Santa Barbara in 2015 prompted the shutdown of Exxon Mobil Corp.'s last operating oil platforms off the California coast.
Ellen, Eureka and Elly are located in federal waters more than 8 miles from the shoreline. U.S. West Coast oil production in federal waters fell to 13,000 barrels a day in July from a peak of more than 200,000 barrels a day in the mid 1990s, Energy Department data show.
Share This:
---
More News Articles