(Bloomberg) 

U.S. natural gas futures soared to a seven-year high amid escalating concerns about tight supplies heading into the winter-heating season.Gas prices are soaring across the northern hemisphere as anxiety mounts about the prospects of a supply crunch in coming weeks when cold weather begins to descend and homeowners switch on furnaces. A confluence of production and processing disruptions are running headlong into robust demand for the fuel in some of the world's biggest economies.

The rally in North America and Europe is heightening inflation concerns and worries about ripple effects that could roil gas-intensive industries from fertilizers to steel and food producers. Gas for October delivery settled up 7.6% at $4.914 per million British thermal units in New York on Wednesday, a level not seen since unprecedented cold gripped the U.S. and Canada during the Polar Vortex of early 2014.

U.S. futures have advanced 94% this year, on track for the best annual performance since 2000.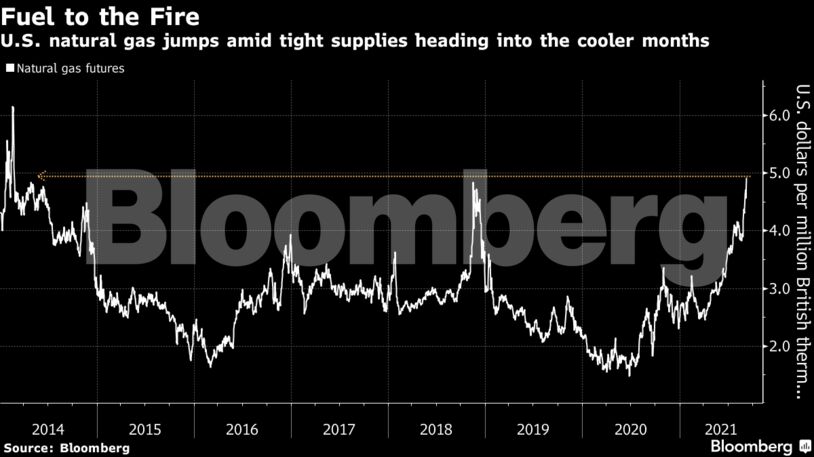 In a sign of just how acute the supply crunch could get, traders are paying a steep premium for supplies in March — usually the tail end of the U.S. winter — relative to the following month. The trade known as the widowmaker for its extreme volatility more than doubled on Wednesday.
In Phoenix and Los Angeles, so-called spot prices jumped to $30 and $20, respectively, according to a source who asked not to be identified. Demand for the fuel is climbing in the U.S. West amid a heat wave that's lifting consumption of electricity to run air conditioners.
What BloombergNEF Says

Assuming a base case scenario in which gas prices follow the current forward curve, BNEF exepcts U.S. output to increase 92.3 billion cubic feet per day (Bcf/d) in August 2021, to 94.9 Bcf/d by December 2022.

Tai Liu, BNEF analyst

Read the full report here.
European prices are in the midst of a record-setting ascent because deliveries from key producers have been stymied at a time of meager stored supplies. U.K. futures are trading at the equivalent of more than $19.
Gulf Shut-ins
"We're probably going to go into this coming winter, just the way things were already setting up, with the lowest level of gas in storage since 2014," said John Kilduff, founding partner of Again Capital LLC.
In the U.S. sector of the Gulf of Mexico, about 78% of gas production remains offline more than a week after offshore crews fled to safety ahead of Hurricane Ida's arrival.
Meanwhile, European energy executives are warning of a difficult winter as already-tight supples are stretched by post-pandemic economic reopenings.
Share This:
---
More News Articles