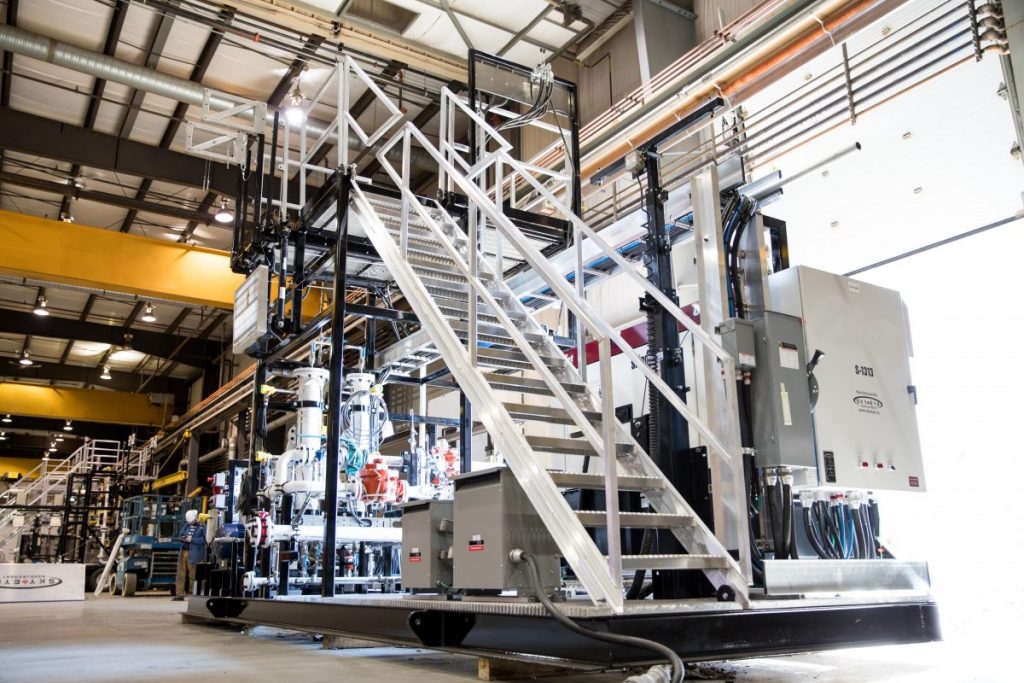 A multi-functional bio-diesel blending solution provides quick, cost-efficient way to distribute an environmentally friendly product to the market.
In early 2021, a client contacted the Sky Eye team about an on-site bio-diesel blending solution to bridge the gap between a refinery, transport trucks and rail transport in Edmonton, AB. Sky Eye was awarded this project in late 2019, and kicked off in mid-February; this product was fabricated and on-site within four weeks.This client was hauling diesel via truck from a nearby refinery to a rail site, where bio-diesel was shipped in via rail and required a solution to blend the diesel and bio-diesel to their client's exact blend specifications.
Ultimately, Sky Eye's solution was to design and build a blending solution that simultaneously removed diesel from the trucks and bio-diesel from the railcars, blending it to create the final product.
Sky Eye's modular solution and rapid delivery times meant that our client's end user could avoid the cost associated with installing permanent infrastructure on location at their refinery; a build of this type could take up to two years, plus the cost of design and install. This blending solution enabled the distribution of the finished product to gas stations quickly and cost-effectively. Ultimately, this product enabled our client to implement a solution that was cost-effective, modular and simple to install.
This unit is entirely self-sufficient and has a generator built into the skid itself, which allows for simple, quick integration on-site. No additional cables are on this unit – once it was on-site, it was designed to drop in, hook it up to the railcar or truck and start-up. Start-up time was drastically expedited, and the client had minimal downtime; installation and set-up were completed by our team in under three days.
We fondly refer to this unit as the "swiss army knife" of blenders as a nod to just how multi-purpose it is.
Through design, our client expressed how important it was to them to have a multi-purpose unit on site. They wanted to conduct various configurations between transportation mediums (rail to truck, truck to rail, truck to truck) with multiple fuel types (ethanol, gasoline, diesel and bio-diesel). In response to this need, our Engineering and Design team created a solution with various configuration capabilities and abilities – we fondly refer to it as the "swiss army knife" of blenders as a reference to just how multi-purpose it is.
The quality piping design meant that this unit was able to meet this need.
Our design incorporated insulated and heat-traced piping through the entire system to maintain optimal temperature and had special electric valves on the air elimination system (mechanical ones often used are liable to coat with fats in the bio-diesel and malfunction).
This project showcases Sky Eye's ability to save an end-user time and money by mitigating costly shut-downs and the need for infrastructure. Our significant expertise in blending solutions translates perfectly to increased demand for sustainable fuel sources.
Share This:
---
More News Articles