(Bloomberg) 

Oil steadied near $74 a barrel in New York while the International Energy Agency warned that deadlock in OPEC+ may cause global markets to "tighten significantly."

The Paris-based IEA said that crude traders are braced for a "deepening supply deficit" as the dispute between the United Arab Emirates and Saudi Arabia prevents OPEC+ from boosting supplies. Both countries have locked in stable crude output for next month even as demand rebounds.

"It's a market that, unless they put more oil in, is very, very tight," said Ed Morse, head of commodities research at Citigroup Inc.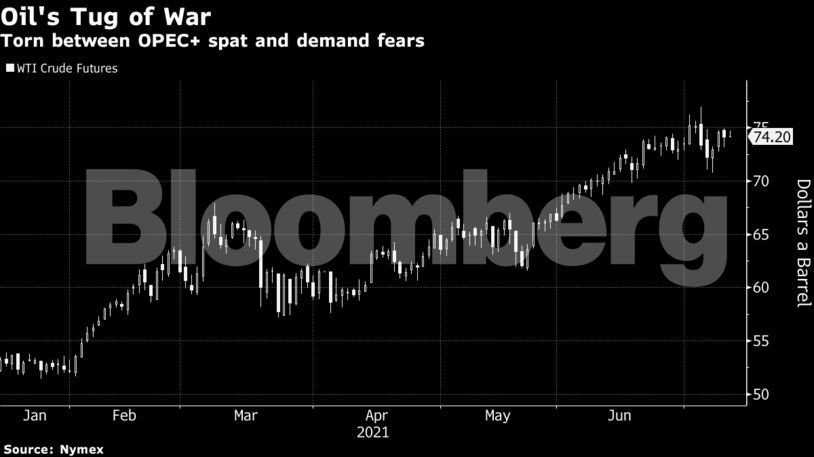 See also: OPEC+ Will Miss Out on Highest Demand Month of 2021: Citigroup
Oil has rallied more than 50% this year as as the vaccine roll-out accelerates the demand recovery. Chinese refiners are stepping up imports, and futures curves show a premium for near-term deliveries — known as backwardation — that's associated with tight supplies.
Prices
West Texas Intermediate for August traded at $74.37 a barrel on the New York Mercantile Exchange at 12:56 p.m. in London.
Brent for September settlement added 0.5% to $75.54 on the ICE Futures Europe exchange after losing 0.5% on Monday.

The prompt backwardation for Brent was 77 cents a barrel in backwardation, compared with 95 cents a week earlier.
Nonetheless, the demand rebound is imperiled by the swift spread of the virus' delta variant, which is forcing restrictions on work and mobility as it spreads through a largely unvaccinated Southeast Asia.
Indonesia, Southeast Asia's biggest economy, is being wracked by a particularly brutal wave of Covid-19, with movement curbed in the industrial heartland of Java and the tourist enclave of Bali. Malaysia is still in the midst of a nationwide lockdown, while Thailand has just stepped up restrictions. Cases in the U.S. have also soared, recording the biggest weekly jump since April 2020.
Other market news:
Penn Virginia Corp., the shale driller whose shares have more than doubled this year, agreed to purchase rival Lonestar Resources US Inc. just months after the target emerged from bankruptcy.
The Biden administration is preparing to release a blueprint for limiting sales of U.S. drilling rights that falls short of the outright ban sought by some environmentalists.
Food for thought for anyone hoping that the fight against climate change will all but end fossil fuel burning by the middle of this century: an oil tanker company is making the opposite calculation.
Share This:
---
More News Articles