(Bloomberg) 

Oil headed for the biggest weekly loss since mid-March as a resurgence of Covid-19 threatened the outlook for global fuel demand demand.Futures traded around $72 a barrel in New York, and are heading for a weekly decline of 3.5%. The fast-spreading delta variant is triggering renewed restrictions on movement as it sweeps across the globe, eroding fuel consumption in several Asian countries that had buoyed the recovery.



At the same time, crude markets face the prospect of extra supplies from the OPEC+ coalition, as the United Arab Emirates and Saudi Arabia repair a rift that has stymied the group's decision-making process. A stronger dollar has also dimmed the appeal of commodities priced in the U.S. currency this week.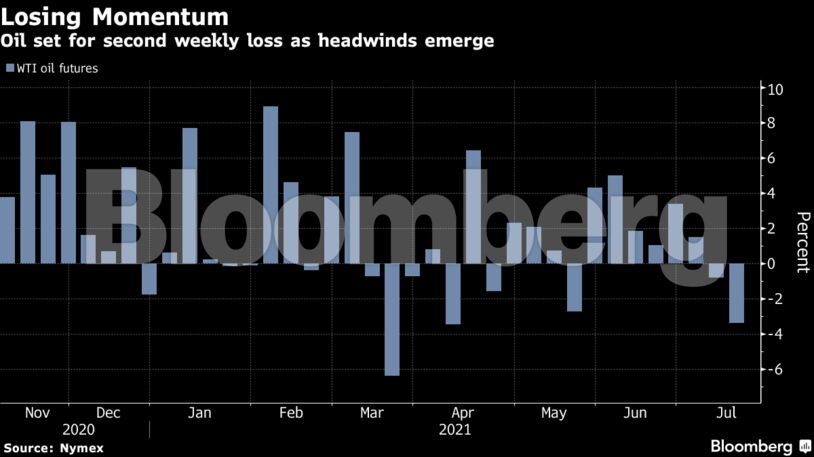 Amid the concerns over demand, the structure of U.S. crude prices has faltered. While there's still a premium on the most immediate contracts — a condition known as backwardation that signals tight supplies — it has eased significantly in some parts of the forward curve. The prompt premium stands at just 22 cents a barrel, from 75 cents a week ago.
"Oil prices have been under pressure," said Carsten Fritsch, an analyst at Commerzbank AG in Frankfurt. "We could quickly end up with too much oil being placed on the market."
Prices
West Texas Intermediate for August rose 0.5% to $71.97 a barrel on the New York Mercantile Exchange at 1:31 p.m. in London after sliding 2% in the previous session.
Brent for September settlement gained 0.3% to $73.68 on the ICE Futures Europe exchange after losing 1.7% on Thursday.

Futures are down 2.7% this week, set for third weekly loss.

The prompt timespread for Brent was at 65 cents in backwardation, compared with 81 cents a week earlier.
The Bloomberg Spot Dollar Index climbed to the highest level since early April on Tuesday.
Still, crude has rallied almost 50% this year as the vaccine rollout helps restore economic activity, and forecasters from the International Energy Agency to Citigroup Inc. predict that the market will get tighter in coming months. The Organization of Petroleum Exporting Countries itself expects the recovery in demand for its crude will continue into next year.
See also: Key Oil Spread Falls Amid OPEC+ Output Deal Uncertainty: Chart
Other market news:
Trading has begun in China's national carbon market, a system that's now the world's biggest emissions exchange hub in the top polluting nation.
Indian gasoline sales during the first half of July were 3.4% higher than the same period in 2019, prior to the pandemic, according to preliminary data from officials with direct knowledge of the matter.
Share This:
---
More News Articles