(Bloomberg) 

Enbridge Inc. returned workers to an oil-pipeline construction site in Minnesota a day after it was occupied by protesters, leading to violent confrontations with law enforcement officers.The Canadian pipeline giant, which had evacuated 44 workers on Monday, said they have returned to the Two Inlet pump station, the only construction site disrupted by protests. "Construction is continuing without pause at all other work sites 

on Line

 3 in Minnesota," company spokesman Jesse Semko said by email Tuesday.More than a thousand people descended onto two locations along Enbridge's controversial Line 3, which they say is a threat to indigenous land and the environment. About 200 people have been arrested, Cory Aukes, Hubbard County sheriff, said by phone.

Producers in the Canadian oil sands, the world's third-largest crude reserves, have struggled to ship their output to refineries in the U.S. and abroad due to a shortage of export pipelines. But efforts to build new ones have faced fierce opposition. In January, President Joe Biden canceled a permit to build TC Energy Corp.'s Keystone XL pipeline, forcing the company to stop work that had already begun.

Line 3 is one of two Canadian oil export pipelines currently under construction and is scheduled to enter operation this year. Indigenous groups and local communities have expressed concern about the impact to their land and waters.

About 70 people were still holding out at a location where the pipeline crosses the Mississippi River on Tuesday, Clearwater Sheriff Darin Halverson said by phone. The protesters by the river, numbering as many as 1,000 Monday, have been peaceful and no arrests have been made, he said.

"We are working with Enbridge and the group that's there, and maybe negotiate some deal where they will leave the area," he said. "They are kind of in prayer and ceremony. They will listen to their spirits to tell them when its time to leave."

The situation was different at the pump station in Hubbard County. Protesters had chained themselves to equipment and some were still at that site early Tuesday after spending the night there. The activists, who clashed with law enforcement, included actress Jane Fonda, Big Wind, a member of the Northern Arapaho Nation and the Giniw Collective, said by phone.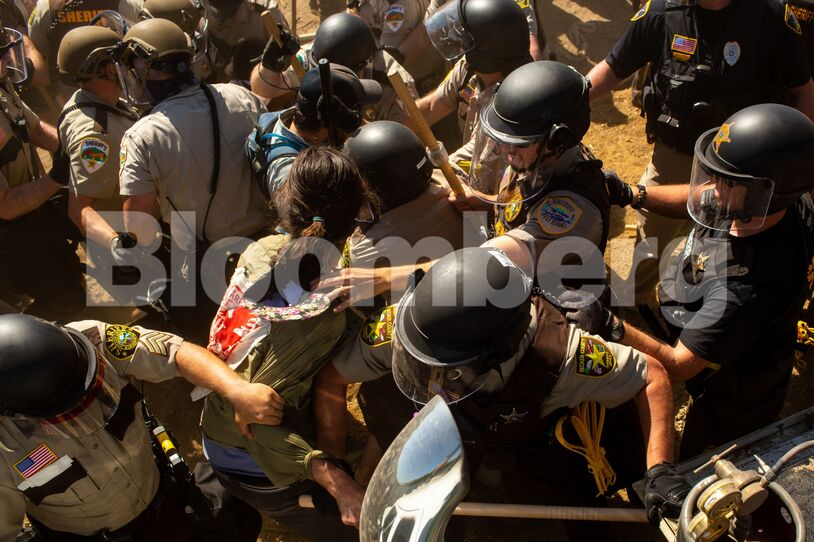 At one point on Monday, a U.S. Customs and Border Protection helicopter hovered low over the protesters at the pump station, kicking up dust, according to the Facebook page of the Northern Lights Task Force, a group of law enforcement agencies handling the Line 3 protests.
The coalition of indigenous and environmental protesters are asking the Biden Administration to intervene and stop Line 3's construction, Big Wind said. Otherwise, the protesters are prepared to hunker down and keep blocking Enbridge's work, just as indigenous groups in the Standing Rock Sioux Reservation did several years ago, delaying completing of the Dakota Access Pipeline.
"The administration doesn't want another Standing Rock to happen, but if they don't stop this line, they are going to get another Standing Rock," he said.
Share This:
---
More News Articles