(Bloomberg) 

It's the postponed weddings and family reunions. It's meeting newborn grandchildren and attending memorial services for loved ones lost to the pandemic. It's the rebooked trips to Maui and adventures in new cities.

All that travel demand has been piling up for more than a year, and now it's about to burst out into one hot summer for U.S. domestic flights — and the jet fuel producers hammered by 2020's lockdowns.

Jet fuel use is expected to jump 30% this summer from where it was in the first quarter, the government projects. The extra demand comes as airlines revamp routes to offer more nonstop flights and boost capacity to reach more leisure destinations like beaches in Florida and national parks in the West. Executives from Hawaiian Airlines, Boeing Co. and U.S. oil refiner Valero Energy Corp. are all looking at the explosion of pent-up demand as an "inflection point." United Airlines is adding hundreds of flights, and in June will fly its largest schedule since the pandemic hit.

With travelers switching on the spending, it'll be a boon to reopening economies as money pours into restaurants, hotels, rental cars and attractions. But the big question is: What kind of staying power will the summer crescendo have? To truly get things moving again, the domestic leisure trips will need to turn into a recovery for business and international flights, the real money makers for airlines and the crude refiners who produce jet fuel.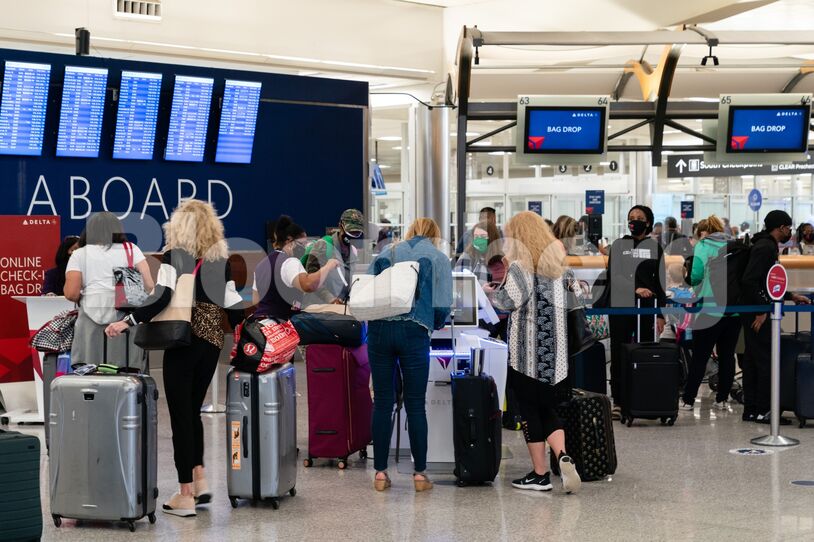 For many Americans, their first flights in the pandemic era will serve as a litmus test for future travel. If the summer trips go well — and there's no accompanying spike in Covid infections — the real surprise could be that demand stays at elevated levels into the fall and beyond as consumers clamor for a return to normal life.
Lindsay Crosby, a 36-year-old commercial banker and morning radio show host, is flying with his wife and two kids from Atlanta to Dallas in late June. It'll be their first trip since the pandemic started, and he's feeling confident because not only are he and his wife vaccinated, but so are the other family members he'll be reuniting with in Texas.
"It was $1,000 to fly four of us to Texas and back, but I have the money to spend. I didn't take any vacations last year, so we have no problem spending the money so I don't have to be behind the wheel for 12 hours," he said.
"Knowing that this is going to be a normal summer has been very, very much needed — like for our mental health."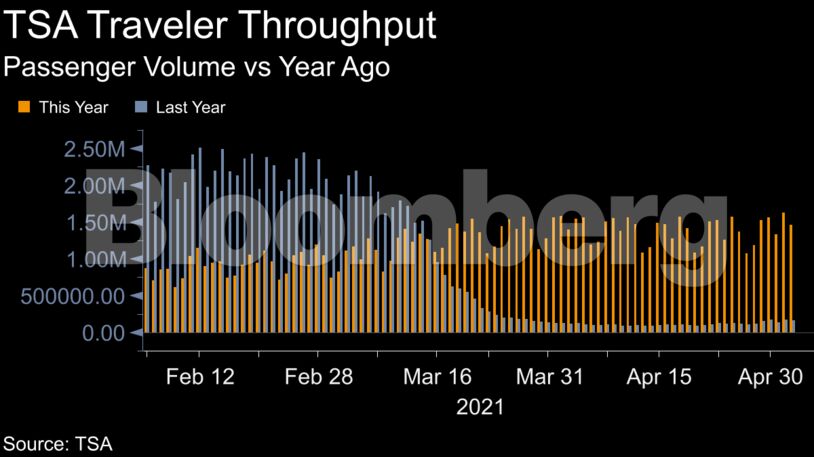 Airline passenger numbers in the U.S. have already grown steadily from the pandemic lows, with a fast acceleration in recent weeks. At first the demand rebound just meant that planes were filling up again, but now additional flights are being added to schedules. U.S. departures in March were being added at a rate of dozens of flights per day, including large gains in Denver and Las Vegas, according to the latest data compiled by BloombergNEF.
The added travel means signs of life are appearing in the market for jet fuel, the corner of the oil market that's so far had the slowest recovery. If jet fuel can come back to even close to normal levels, it will give crude prices more room to surge, further fanning global inflation prospects.
Soybean Oil and Crude Lead Best-in-a-Decade Commodities Rebound
In the third quarter, jet fuel demand is projected to reach 1.47 million barrels a day, up from 1.13 million in the first quarter and more than 50% higher than a year earlier, according to the U.S. Energy Information Administration.
U.S. airlines in March used 33% more fuel than in February, reaching the highest monthly consumption level since March 2020, U.S. Department of Transportation figures showed Wednesday.
Jet fuel for pipeline loading outside Houston to serve major airports like Atlanta's and New York's has been trading about 20 cents a gallon below Nymex diesel futures since mid-April. A year ago, the discount was closer to 30 cents. Still, there's a long road to a full recovery: In April 2019, the figure was about 8 cents.
Even the small recovery for prices is helping to boost profits for the refiners who turn crude oil into fuel products. Jet fuel in April provided 7% of U.S. refinery margins, BloombergNEF data show. That's up from 3% at the start of the pandemic, but still down from 10% in April 2019.
"We're getting to an inflection point where now they're starting to add flights," Valero Executive Vice President and Chief Commercial Officer Gary Simmons told analysts in April. "You can see that in jet fuel nominations and also the fact that airlines are calling their pilots and their crews back."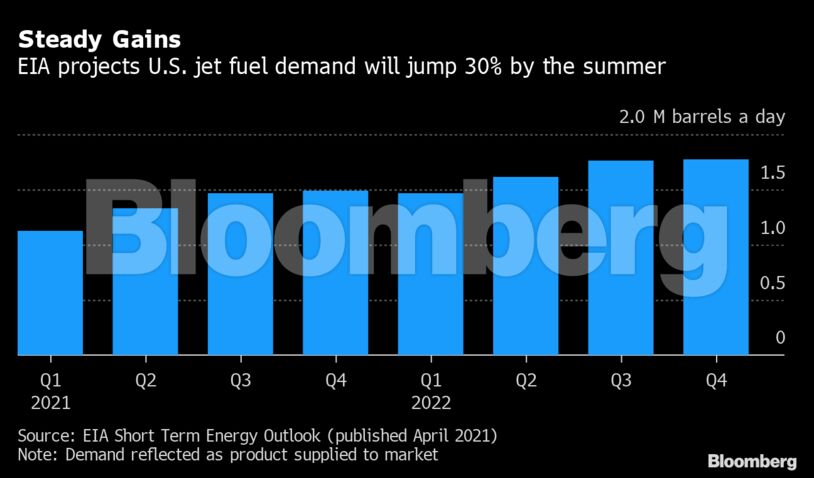 The big wildcard for both the airlines and the fuel market: What happens after the Labor Day holiday? That's when many U.S. schools reopen and airline traffic becomes much more dependent on business demand.
While domestic leisure traffic is nearly back to 2019 levels for many airlines, U.S. business traffic remains nearly 80% below pre-pandemic levels, holding back a broader rebound. At United Airlines Holdings Inc., for example, even with the added flights for June, the company will still be at just 67% of its domestic schedule compared with June 2019.
Airlines could get squeezed if that trend continues. Leisure-goers usually pay for cheaper seats, while business travelers are the big-money ticket buyers. Accelerating vacation demand would likely mean a continued recovery for jet fuel, raising airline costs without margins getting beefed up from the higher fares.
Already, the average gallon of jet fuel has increased 23% since late January to $1.79 a gallon on April 28, according to the Argus U.S. Jet Fuel Index.
A lack of "higher-quality traffic," as Airlines for America, the carriers' trade group puts it, will cause the industry's financial recovery to lag as average fares remain 29% below pre-pandemic levels. The group predicts that total passenger volumes won't return to those of 2019 until 2023.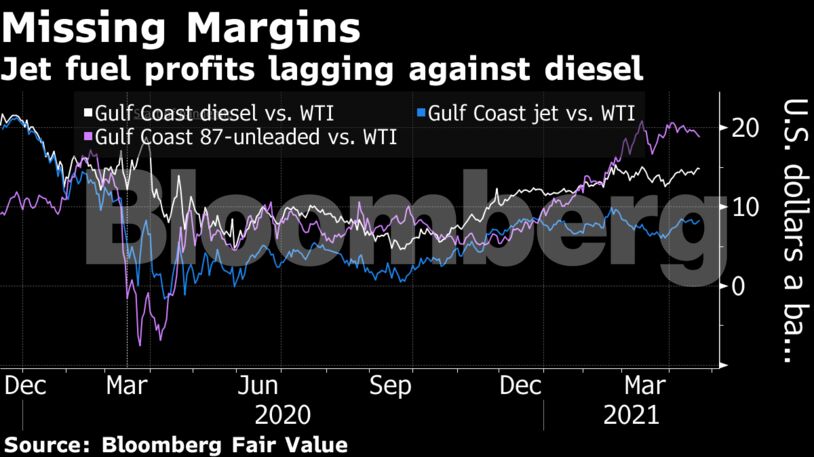 Energy industry consultant FGE has a similar outlook for jet fuel demand, forecasting that it won't return to 2019 levels until 2024. That estimate is also factoring in that airlines are replacing old jets with fuel-efficient models, said Krista Kuhl, a Houston-based oil consultant with FGE.
Other thorns for the industry: Jet fuel inventories have built up in the past year, and global travel isn't recovering at the same pace as U.S. domestic demand.
That will make it hard for the Gulf Coast refining industry "to export as much jet as it did in the past," said Robert Campbell, head of oil products research at Energy Aspects.
But the U.S. jet fuel market is about 80% dependent on domestic demand, Simmons of Valero estimates. So even if exports lag for some time, the industry can see a healthy recovery as long as Americans keep flying.
And there's at least some anecdotal evidence that if travelers feel comfortable on their first flights back, they'll keep taking more.
Crosby, the commercial banker who's flying to Dallas, said he expects he'll feel safe at the airport and on the plane, but he'll also be on alert: "Because you always see horror stories about people flying right now who don't want to wear their mask or refuse to leave it on," he said. Still, he's already thinking about more flights, including a fall trip to see his sister in Washington D.C., and his wife has her sights on a vacation in Mexico in September.
"I'm actually making plans to travel and go somewhere. I can go buy concert tickets. I bought sporting event tickets, and it's like 'Okay, we're getting back to life now,'" he said.
Share This:
---
More News Articles