(Bloomberg) 

Oil switched between gains and losses after Saudi Arabia said it was confident that OPEC+ was right in agreeing to raise output, while India posted its strongest oil consumption in 15 months.

West Texas Intermediate fluctuated, though prices remained within the $5 range they've been holding since around mid-March. India's oil-products demand in March was the strongest since late 2019 — with gasoline use jumping the most since 2013 — even as the country saw Covid-19 cases soar.

Oil is headed for a weekly decline, with the demand backdrop still mixed. While the rollout of vaccines has shown signs of boosting consumption in places like the U.S. and U.K., cases continue to spread elsewhere. Japan is set to reimpose lockdowns in Tokyo, Kyoto and Okinawa.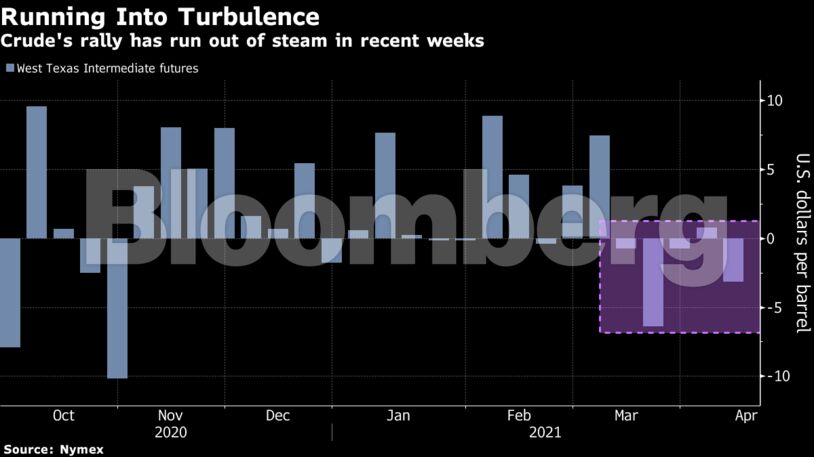 Saudi Energy Minister Prince Abdulaziz bin Salman said Thursday he's yet to see anything disturbing in the market after the Organization of Petroleum Exporting Countries and its allies agreed to hike output last week. While consumption remains patchy, the market is indicating possible supply tightness with Brent crude futures' nearest timespread surging on Thursday.
The market's structure has firmed as limited OPEC+ supply additions contribute to a reduction in oil inventories, said Kevin Solomon, an analyst at brokerage StoneX Group. Nevertheless, "it has been a quiet week for the oil complex with respect to price action."
Crude in New York has been hemmed into a narrow range around $60 a barrel since mid-March. OPEC+ plans to reintroduce more than 2 million barrels a day to the market over the coming months and, further out, there's concern Iranian barrels may also return to swell supplies.
Prices
WTI for May delivery fell 0.6% to $59.26 a barrel at 8:51 a.m. in New York
Brent for June dropped 0.7% to $62.74 a barrel
With OPEC+ reinstating some of its output cuts, "upside potential for oil prices seems limited," said Hans van Cleef, a senior oil analyst at ABN Amro. Still, with demand set to recover, "investors see the light at the end of the tunnel, and thus keep some of their long positions."
Related news
U.S. gasoline consumption is set to take off this summer, boosted by pent-up travel demand
Iran's chief negotiator at nuclear talks in Vienna said the sides were focusing on removing U.S. sanctions in a single step.
Mexico is "comfortable" with its oil hedge price at the 2021 level, according to Deputy Finance Minister Gabriel Yorio.
Share This:
---
More News Articles