(Bloomberg) 

Oil rose as the dollar declined amid signs of recovering fuel demand in some parts of the globe.

Futures in New York climbed above $65 a barrel. U.S. gasoline consumption expanded last week to the highest level since November, while U.K. road use has also been climbing. Profit from producing the motor fuel has soared, a move which could drive a crude rally over the summer, according to RBC Capital Markets.

There are risks to the outlook though. OPEC downgraded its oil-market outlook over the next two quarters as the pandemic's effects will continue to be felt, the group said in its monthly report. Output from the Organization of Petroleum Exporting Countries fell last month as Saudi Arabia implemented extra cutbacks to speed the market's rebalancing.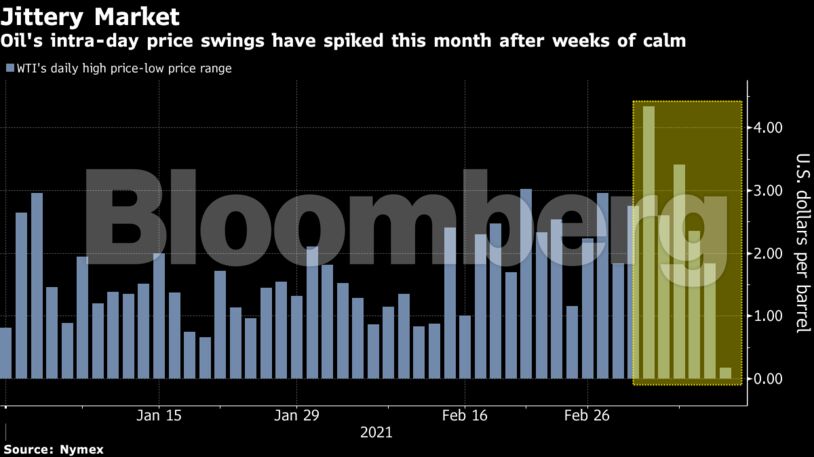 Oil's rally of more than 30% so far this year has taken a breather in recent days. Still the market has been tightening amid output cuts from OPEC+ members and as the outlook for demand improves with the rollout of Covid-19 vaccines.
"The rise in oil prices today looks to come on the back of positive risk sentiment on global financial markets," said Jens Pedersen, senior analyst at Danske Bank. "With the next OPEC+ meeting less than three weeks away there is a limit to how high prices can go due to the potential for OPEC+ to start normalising output."
See also: The Winners and Losers From Surging Oil and Commodity Prices
Prices
West Texas Intermediate added 1.6% to reach $65.49 a barrel at 8:49 a.m. London time
Brent for May settlement rose 1.7% to $69.06 a barrel
It's possible that U.S. crude may have to trade at a bigger discount to the global Brent benchmark, according to consultant Energy Aspects. That comes as the Brent market faces headwinds form refinery maintenance and sharp cuts to Saudi OSPs, forcing U.S. crude to trade even lower in turn, the consultant said.
Other oil-market news:
When OPEC+ unveiled its bold move to tighten crude markets last week, the oil world was united in surprise. But on the merits of the plan, it's starkly divided.
After months of being battered by a demand-killing pandemic and then a rare Gulf Coast freeze, U.S. refiners are being greeted with the best margins on turning crude oil into gasoline and diesel since the summer of 2019.
Share This:
---
More News Articles