Leveling cylinders are used in many applications to stabilize a rig's working position. Replacing traditional methods of manual jacking and blocking, hydraulic leveling cylinders provide a precise, time saving method of stabilizing a working platform for increased operator safety and productivity.
Also referred to as outriggers, stabilizers, leveling jacks and landing gear, leveling cylinders provide a solid, stable base by distributing the load over a wider base. Without them, lifting capacity would be reduced significantly.
Applications:
Mobile Cranes – Stiff booms, knuckle booms, aerial buckets
Oil and Gas Equipment – Service rigs, Drilling rigs, coiled tubing units, flushby units
Transportation – Custom trailers for on and off-highway use
And more…
Mechanical vs. Hydraulic Locking
Leveling cylinders utilize an extended stroke to raise a working platform to a desired height. Once the platform has been raised and leveled, the system is locked in place to perform the required work. The locking mechanism is either mechanical or through hydraulic means. This locking method divides leveling cylinders into two categories: mechanical locking and hydraulic locking.
Mechanical Lock
A mechanical locking cylinder features external threads on the cylinder barrel and a locking nut. Once the desired height is reached, a locking nut is threaded up the barrel until it meets the sleeve, holding the cylinder's extension in place. The weight of gravity on the nut eliminates deflection (slippage from set position). The major advantage to a mechanical lock is the compressive load strength is 3-5 times the lifting capacity. This can be a major advantage in certain situations.
PROS – No deflection, 3-5 times compressive strength to lift capacity
CONS – It takes time to position the lock nut in place (See splitnut section below)
Hydraulic Lock
A hydraulic locking leveling cylinder features counterbalance valves. This design is the industry standard and because there is not lock nut to set, offers the benefit of reduced time for setup and tear down.
PROS – Reduced setup and tear down time, ease of use
CONS – Limited by hydraulic push force, cylinder drift over time
Combination
In certain situations, leveling jacks are designed to feature both mechanical and hydraulic locking mechanisms. This offers versatility in performance when an application requires it.
A common example of a combination design is a hydraulic locking leveling cylinder package outfitted with mechanical lock to ensure no extension during transport.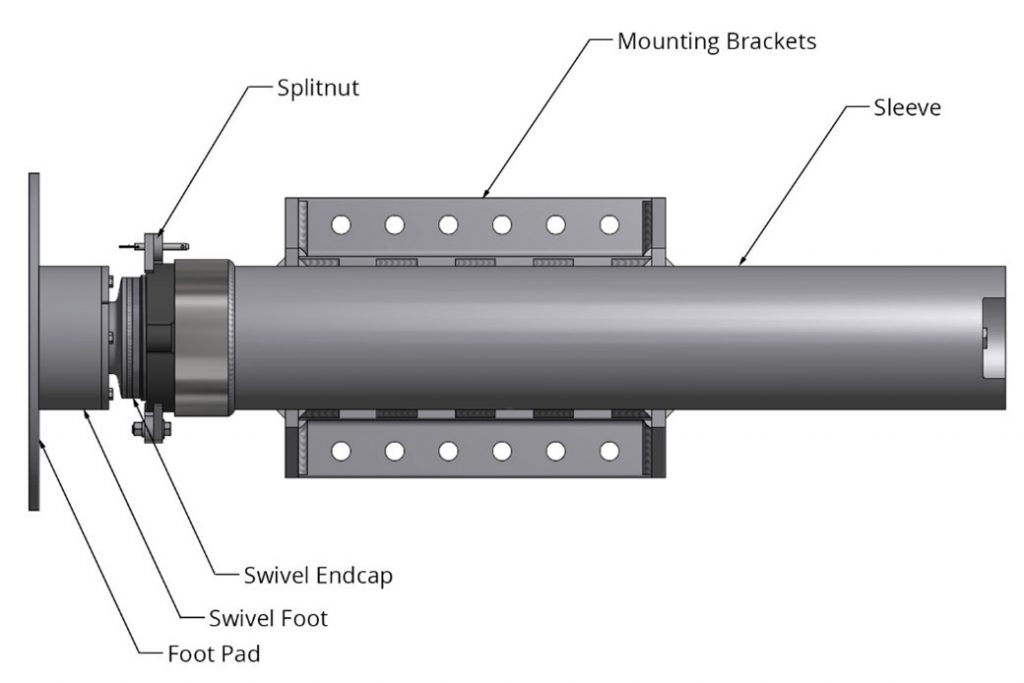 Leveling Cylinder Features
Locknut vs Splitnut
When it comes to a mechanical locking leveling cylinder, there are two options: the original Standard Locknut and a Splitnut.
Standard Locknut
A standard locknut is a solid, single piece, machined from high-tensile strength steel. The main advantage to this nut is its simplicity. No moving parts to get damaged or lost in the field.
Splitnut
A Splitnut is essentially a locknut split down the center with welded hinges and a locking pin. Instead of threading the nut the entire length of a cylinder barrel, a splitnut can be inserted and threaded the few last threads. This type of nut is especially common for longer cylinders.
Mounting Options
Leveling cylinders can be integrated into equipment in several ways. First off, they can be welded directly to a frame. And secondly, they can be bolted onto a frame with mounting brackets.
Mounting brackets can be designed to accommodate any configuration and provide the benefit of easy removal later for service or upgrade.
Swivel Foot
A swivel foot assembly enables a certain degree of pivot to ensure a solid connection with sloped ground. The assembly consists of 2 mating parts: a dish and a ball end. The two parts fit together and are held in place with removeable foot pins or more permanent bolted foot clamps.
Footpad
A leveling cylinder puts force on the ground to lift and stabilize the working platform. A foot pad is typically placed between the cylinder and the ground, to distribute the load over a larger area, especially where unstable ground conditions are present. Various sizes of foot pad are available for use in all types of soil conditions.
Load Holding Valves
Counterbalance valves are required in a hydraulic locking leveling cylinder to hold a load in place but can also be integrated into a mechanical locking cylinder for additional safety or for specific purpose. They are typically located in the rodcap, next to the porting, but can essentially be positioned anywhere to integrate into equipment.
Pilot Controlled Check Valves can also be integrated for particular applications.
Coatings
Various coatings can be applied to components for rust protection, durability and longer life.
Custom Designed Leveling Cylinders
Do you have an application that requires the custom design of custom leveling, outrigger, or stabilizer cylinders? We have the experience and in-house manufacturing capability to meet the toughest demands.
Do you need a leveling cylinder fast? We stock a standard lineup of pre-engineered leveling cylinders ready to ship. Get in touch today.


Share This:
---
More News Articles