(Bloomberg) 

The U.S. government is forecasting oil production to rise about 3.5% next year spurred by higher crude prices and a rebound in shale drilling.Oil output will average 11.49 million barrels a day in 2022, according to the Energy Information Administration. The agency, which left its production estimate for this year unchanged at 11.1 million, said that recent crude price increases and rig additions will help production in the Lower 48 states begin to rise in the second quarter of this year.

U.S. crude production is hovering at about 11 million barrels a day, after climbing above 13 million early last year before the pandemic crushed demand. The U.S. oil rig count has climbed for seven straight weeks and is at the highest level since May, Baker Hughes data show.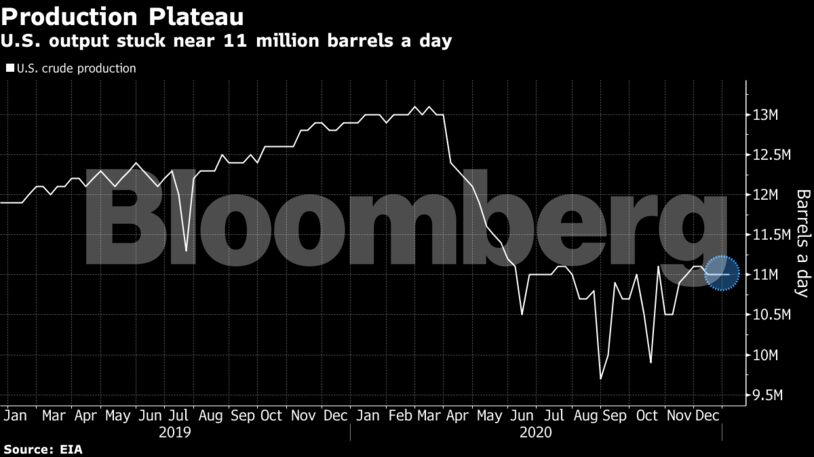 But a comeback will likely be gradual. While oil prices surged above $50 a barrel after Saudi Arabia last week surprised the market with a plan to unilaterally slash production in the coming months, many drillers say they may resist the temptation to turn on the taps so quickly. Most shale producers are now more focused on clearing debt and honoring investor pledges to keep fiscal discipline.
Pioneer Natural Resources Co. CEO Scott Sheffield said earlier this month that U.S. oil output is expected to remain roughly flat at about 11 million barrels a day for the next several years.
The EIA raised its 2021 price forecast for West Texas Intermediate to $49.70 a barrel from its December estimate of $45.78 a barrel, and introduced its 2022 price forecast at $49.81 a barrel, according to the agency's Short-Term Emergy Outlook released on Tuesday. Brent prices are forecast to average $52.70 a barrel and $53.44 a barrel in 2021 and 2022, respectively.
Even though the EIA boosted its price forecasts, it expects further gains to be limited by high global inventories and surplus crude production capacity. Rising global production will likely emerge as a moderate downward price pressure in the second quarter of the year, the agency said.
The EIA also sees U.S. petroleum demand this year at 19.51 million versus 19.79 million barrels a day forecast previously. Global supply for 2021 will average 97.13 million barrels a day versus 97.42 million previously. World demand is seen at 97.8 million, down from a prior forecast of 98.2 million.
Share This:
---
More News Articles