By Elena Mazneva

(Bloomberg) 

Premier Oil Plc will be swallowed by Chrysaor Holdings Ltd. in a reverse takeover, creating the largest listed independent oil and gas producer in the U.K. North Sea.

The deal, which was first reported by Bloomberg, marks the end of the road for one of the oldest independent oil explorers. After years laboring under a mountain of debt Premier has finally bowed to pressure from creditors, with Chief Executive Officer Tony Durrant abandoning his plan to acquire some of BP Plc's North Sea assets and agreeing to step down.

The transaction will create a stronger company, pumping more than 250,000 barrels of oil equivalent day. Yet Premier's current shareholders will end up with just a sliver of the combined group — no more than 5.45%, while Chrysaor's backers will get at least 77% and Premier's other stakeholders the rest.

After "years trying to recover Premier from its debts and set the company back toward growth," the company had few other options, Arden Partners Ltd analyst Daniel Slater said in a note. Recommending the merger is a decision "we don't believe it would have done lightly."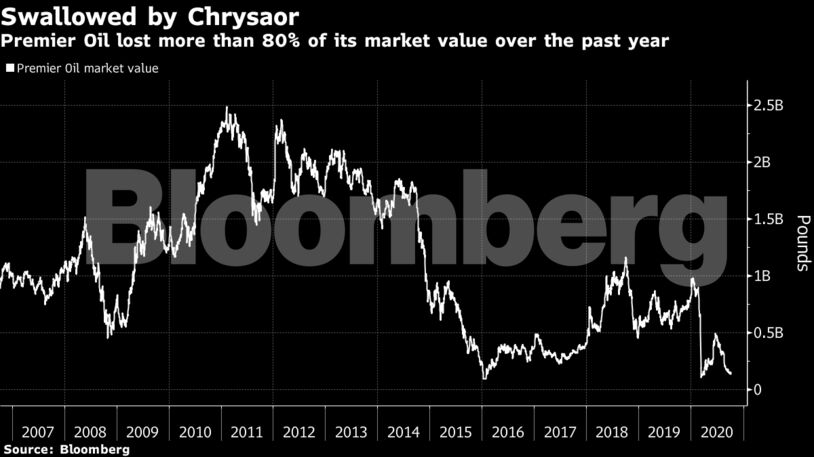 For Chrysaor, the transaction offers a potential exit for its private-equity backers after the oil-price slump due to the coronavirus pandemic prevented a wave of anticipated initial public offerings for North Sea producers. Linda Cook, currently CEO of Harbour Energy Ltd., Chrysaor's largest shareholder, will lead the combined group.
Premier jumped as much as 24.4%, and shares were up 6.6% at 16.195 pence as of 12:07 p.m. London time.
Premier's $2.7 billion of total gross debt and certain hedging liabilities will be repaid and canceled on completion of the deal, according to the statement. A cash payment of $1.23 billion will be made to Premier's creditors, who will also be offered shares in the combined group. Premier's $400 million of letters of credit will be refinanced.
Like most other oil companies, Premier — which traces its history back to 1934 — has had a tough year as the Covid-19 pandemic hammered energy demand. There was the possibility of a breakthrough over the summer, when Premier came up with a plan to restructure its debt and buy some BP assets to gain additional cash flows. But it was blocked last week by the company's creditors, who preferred the deal with Chrysaor.
BP said by email it would retain ownership of the assets and consider options for their future.
Going Public
Chrysaor, which was founded in 2007, made a big splash in the region ten years later when it paid $3 billion for a package of assets owned by Royal Dutch Shell Plc. The company has since become the No. 1 oil and gas producer in Britain, having bought assets from Spirit Energy in 2018, as well as ConocoPhillips's U.K. division.
It was one several companies backed by private money — including Siccar Point Energy Ltd., Wintershall Dea GmbH and Neptune Energy Group Ltd. — which assembled new North Sea oil producers from assets no longer wanted by the majors.
Many had planned IPOs in 2020 as a way to realize the returns on their investments, but that strategy was already running into trouble before the pandemic struck.
For now, many of these firms say they are still ready to scoop up assets from Big Oil, or look at smaller distressed players. Chrysaor will be looking at new opportunities both in the North Sea and around the word, CEO Phil Kirk said by phone.
Premier's deal with Chrysaor is subject to approval by regulators, shareholders and creditors. RBC Capital Markets served as a financial adviser to Premier, while Barclays, BMO Capital Markets were joint financial advisers to Harbour and Chrysaor.
Share This:
---
More News Articles