By Brian K. Sullivan
(Bloomberg) 

Hurricane Laura is poised to become a roof-ripping Category 3 storm when it comes ashore along the Texas-Louisiana coast, threatening to inflict as much as $12 billion of damage on the region and potentially shutting 12% of U.S. refining capacity for months.

Laura's winds will likely peak at 115 miles (185 kilometers) per hour as it comes ashore late Wednesday or early Thursday, the National Hurricane Center said. The storm has already disrupted offshore oil and natural gas production, shuttered refineries and export terminals and prompted mandatory evacuations. It would be the first major system to hit the Gulf Coast since Michael in 2018.

On its current track, Laura will likely cause about $5 billion in losses, but if the intensity or track shifts for the worse, the total could run as high as $12 billion, according to Chuck Watson, a disaster modeler with Enki Research. About 10% to 12% of U.S. refining capacity could be shut for more than six months, he said.

"Laura will continue to rapidly intensify over the next 24 hours before making landfall," said Elizabeth Palumbi, a meteorologist with commercial forecaster Maxar. "Models have been inching westward on where exactly Laura will approach, so any location from Corpus Christi to west-central Louisiana is currently at risk."

The tropical threat has prompted more than 84% of oil output and nearly 61% of natural gas production in the Gulf of Mexico to be shut, according to the Interior Department's Bureau of Safety and Environmental Enforcement.

Gulf Coast refineries and petrochemical plants are often located in low-lying areas vulnerable to flooding. In 2017, an Arkema SA chemical plant about 25 miles east of Houston had a fire and explosion after it was flooded by Hurricane Harvey. Last September, Exxon shut its Beaumont refinery in Texas because of flooding from Tropical Storm Imelda.

Laura could push sea levels 6 to 10 feet (2 to 3 meters) higher where it comes ashore, and if conditions are right, storm surge could be as high as 15 feet, said Rob Miller, a meteorologist with AccuWeather Inc.

Laura almost certainly won't be as damaging as Harvey, the last major hurricane to hit Texas. Harvey came ashore as a Category 4 storm and then got pinned in place by larger weather patterns, causing it to send record rains across the eastern half of the state for days. Laura may pack a severe punch at landfall, but it will quickly exit the area, reducing the potential for lingering effects. The last hurricane to hit Texas was Hanna in July.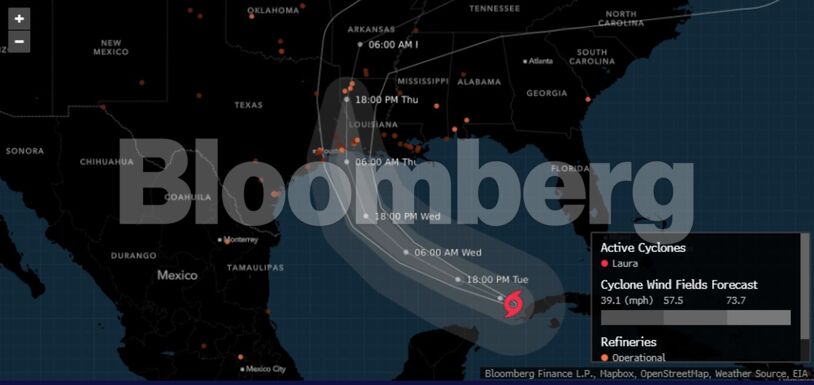 Energy platforms in the Gulf of Mexico that account for as much as 17% of America's oil production and about 3% of gas output are designed to withstand storms of this magnitude; they regularly shut and restart as systems pass through.
Some of the largest U.S. refineries are winding down in advance of Laura, which could become a major hurricane before landfall, shutting in nearly 2.9 million barrels a day of capacity. That's about 30% of U.S. Gulf Coast refining capacity, according to Lipow Oil Associates.
The energy industry is "very well prepared for this type of storm," U.S. Energy Secretary Dan Brouillette said in an interview with Bloomberg TV. President Donald Trump has ordered him to make the Strategic Petroleum Reserve available for such situations, he said.
The city of Port Arthur will order some residents to flee the storm starting Tuesday, according to the city's website. Jefferson County put in place a mandatory evacuation order for all except essential personnel such as employees of oil terminals, pipelines, oil-supply facilities, hospitals and utilities, it said in a statement.
Houston-area government officials urged resident of the city's eastern suburbs to evacuate as Hurricane Laura approaches the U.S. Gulf Coast.
There might be some hesitation to flee Laura because of Covid-19, "but if you live in a low-lying area near the coast, this storm is a bigger threat than the virus," Watson said.
Costliest U.S. Tropical Cyclones
| Tropical Cyclone | Year | Category | Adjusted Costs (Billions) |
| --- | --- | --- | --- |
| Katrina | 2005 | 3 | $170 |
| Harvey | 2017 | 4 | $131.3 |
| Maria | 2017 | 4 | $94.5 |
| Sandy | 2012 | 1 | $74.1 |
| Irma | 2017 | 4 | $52.5 |
| Andrew | 1992 | 5 | $50.5 |
| Ike | 2008 | 2 | $36.9 |
Source: National Oceanic and Atmospheric Administration. Cost values are based on the 2020 Consumer Price Index adjusted cost
Laura is poised to menace the epicenter of the U.S. liquefied natural gas export industry, where terminals are located. Cheniere Energy Inc. said it was temporarily suspending operations at its Sabine Pass terminal in Louisiana, the nation's largest. Sempra Energy's Cameron LNG in Louisiana will operate at reduced rates.
Share This:
---
More News Articles