By Olivia Raimonde and Alex Longley
(Bloomberg) 

Oil extended its rally after the U.S. government lowered its output forecast for the year.

Futures in New York gained as much as 8.7% on Tuesday and are set to close at a five-week high. The Energy Information Administration revised down its 2020 and 2021 crude output forecasts in its monthly Short-Term Energy Outlook. Pockets of demand are starting to emerge in India and China and, while a huge glut remains, the increase in global stockpiles is slowing. Saudi Arabia plans to cut production by an additional 1 million barrels a day, easing concerns over storage capacity hitting limits worldwide.

"Production is indeed dropping and it might stay down for longer than people thought," Bart Melek, head of commodity strategy at Toronto Dominion Bank said.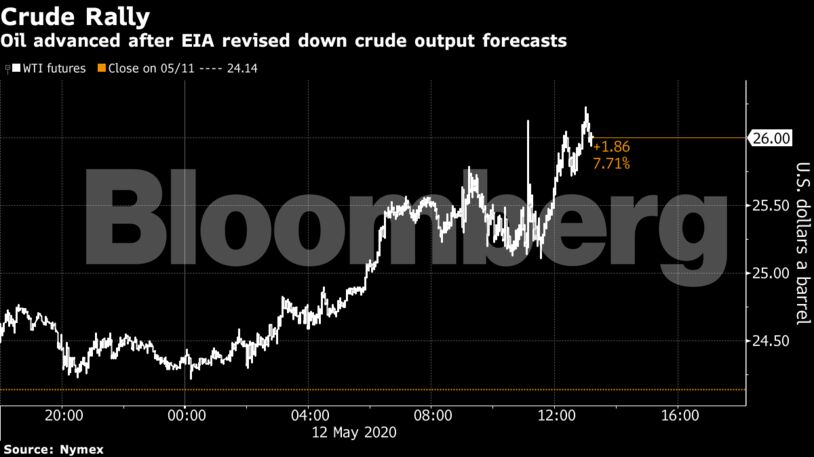 Saudi Arabia's move to reduce output by more than required under the OPEC+ deal was followed by pledges from the United Arab Emirates and Kuwait. The decision prompted U.S. President Donald Trump to tweet that the production cuts are raising oil prices and that "Our great Energy Companies, with millions of JOBS, are starting to look very good again."
Still, oil is down almost 60% this year with little clarity about when, and if, global consumption will fully return. Consultancy IHS Markit doesn't see oil recovering to pre-virus levels until the second half of 2021. The U.S. also lowered its global petroleum demand forecast to 92.6 million barrels a day from 95.5 million a month ago. That compares with a supply outlook of over 95 million barrels a day.
See also: Wuhan to Test Whole City of 11 Million After New Cases Emerge
"The road to an oil price recovery will likely be choppy and plagued with stop-and-go rallies and selling cycles until some level of price certainty is restored," said Roger Diwan, vice president of financial services at IHS Markit.
Prices
West Texas Intermediate for June delivery gained $1.99 to $26.13 a barrel at 1:03 p.m. in New York.
Brent for July settlement climbed 72 cents to $30.35 a barrel.
See also: Saudis in 'Whatever It Takes' Mode to Fast-Track Recovery: RBC
Saudi Arabia aims to pump just under 7.5 million barrels a day in June, compared with an official target of about 8.5 million a day. Kuwait and the U.A.E. also plan additional daily curbs of 80,000 barrels and 100,000, respectively.
Other oil-market news
Saudi Arabia's economic downturn is about to worsen. Already reeling from the slump in oil prices and lockdowns to halt the spread of the coronavirus, the kingdom has now increased taxes and cut spending.
Some drillers in the biggest North American oil field are reopening wells shut in response to the pandemic-driven price collapse, according to pipeline giant Energy Transfer LP.
Nigeria's oil exports for May have been cut to the lowest level in two years, while information known so far on June's shipments indicate those will be below average, according to tally of loading programs seen by Bloomberg.
Share This:
---
More News Articles