(Bloomberg) 

For the first time in more than a decade, U.S. natural gas is set to be the world's most expensive as Covid-19 lockdowns wallop demand in other regions.

Gas futures in the U.S. have rallied about 10% this month as traders bet that a historic crash in oil prices will drive American shale companies to halt more drilling and curb output of gas, which is extracted as a byproduct. In Europe and Asia, meanwhile, prices are sliding to fresh lows due to a supply glut and languishing consumption amid the pandemic.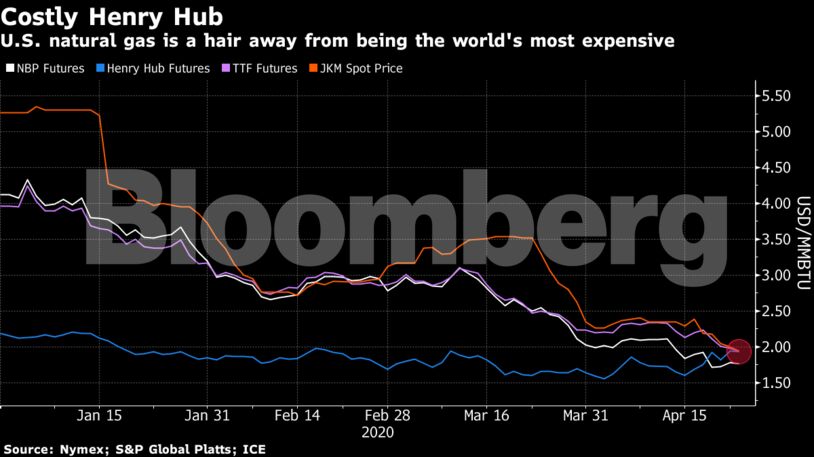 U.S. gas had consistently been the cheapest since the shale revolution, which flooded the country with fuel and turned it into the world's biggest producer. Giant export terminals were financed and built by attracting customers through contracts linked to cheap American gas prices.
That edge is eroding as prices in Asia and Europe confront the twin forces of rising supply and plunging demand. A shipment of liquefied natural gas for delivery to North Asia was sold this week in the high-$1 per million British thermal units range, likely to be the cheapest spot cargo ever transacted in the region.
Asia's benchmark LNG price, the Japan/Korea Marker, fell to $1.94 per million Btu on Thursday, according to S&P Global Platts. U.S. gas futures ended the day at $1.815 while U.K. prices were at $1.71.
The move is significant as it shifts the premium that gas in Asia and Europe has historically commanded over U.S. prices and adds a hurdle to American LNG exporters looking to boost sales to those regions. Buyers of U.S. fuel have canceled at least 12 cargoes for June loading, and traders estimate that more than 20 shipments could have been canceled for the month.
"The relative richness of Henry Hub clearly puts additional cancellations as a very real threat," said Nina Fahy, head of North American natural gas for Energy Aspects Ltd.
Share This:
---
More News Articles