By Saket Sundria and Alex Longley
(Bloomberg) 

Oil was anchored near $20 a barrel as concerns over virus-led demand destruction outweighed an agreement by the world's biggest producers to curb supply.Futures rose Thursday but remained near their lowest closing level in 18 years, and there are signs that stockpiles are growing globally. U.S. crude inventories ballooned by a record 19.2 million barrels last week. In a key European hub, they jumped by the most in a year, while fuel reserves in Singapore are the highest since August 2016. The glut is looking so severe that the Trump administration is considering paying American companies to leave crude in the ground.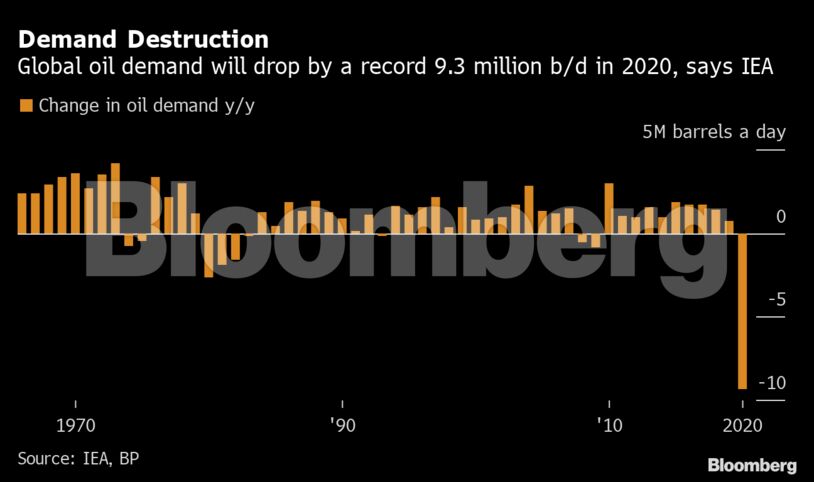 The stockbuilds come as consumption falls off a cliff amid lockdowns globally to curb the spread of the coronavirus outbreak. The International Energy Agency said Wednesday that output cuts by OPEC+ won't counter the drop off in demand, adding that 2020 may come to be known as the worst year in the history of the oil market. All the while physical oil prices, particularly in Europe, are trading far below those of futures.
"What will be the most important determinant for oil markets in the short term is how quickly governments relax social distancing measures," boosting consumption, said Rystad Energy AS's head of analysis Bjornar Tonhaugen.
Prices:
West Texas Intermediate gained 27 cents to $20.14 a barrel as of 10:41 a.m. London time
Brent for June delivery rose 2.3% to $28.33
The physical oil market is also showing signs of strain. Key North Sea crude swaps are trading at the biggest discount to the headline Brent futures price in almost a decade. The critically important Dated Brent benchmark, which shapes the price of millions of barrels, was assessed at $20.65 on Tuesday, with cargoes across Europe trading at a discount to that value.
Indian refiner Bharat Petroleum Corp. is seeking to cut its crude oil imports from Saudi Arabia by half in May as the world's biggest lockdown hurts demand for fuel in the country. It follows a plunge in consumption in the U.S. last week that saw gasoline demand at barely 5 million barrels a day.
"Our tanks are almost full, and we also have some cargo already in transit," Ramamoorthy Ramachandran, director of refineries at BPCL said.
Other oil-market news
At least five Chinese refiners are seeking full contractual crude volumes for May from Saudi Aramco, according to traders who asked not to be identified.
The Kremlin may have succeeded in ending its oil war with Saudi Arabia, yet the pain of crude's crash is only just starting to hit Russia's budget.
Royal Dutch Shell Plc plans to eliminate all net emissions from its own operations and the bulk of greenhouse gases from fuel it sells to customers by 2050.
Share This:
---
More News Articles