By Javier Blas and Jackie Davalos
(Bloomberg) 

Goldman Sachs Group Inc. became the first major Wall Street bank to anticipate that global oil demand will contract in 2020 for only the fourth time in nearly 40 years.

The dire forecast came just as influential oil-market consultants, Facts Global Energy and IHS Markit, also published similar warnings, creating an ominous backdrop for the meeting of OPEC and its allies in Vienna this week.

The group faces a steep challenge: getting countries to agree on a deep enough production cut to keep the market from sinking into a glut, while the outlook for demand grows dimmer by the day as the coronavirus spreads.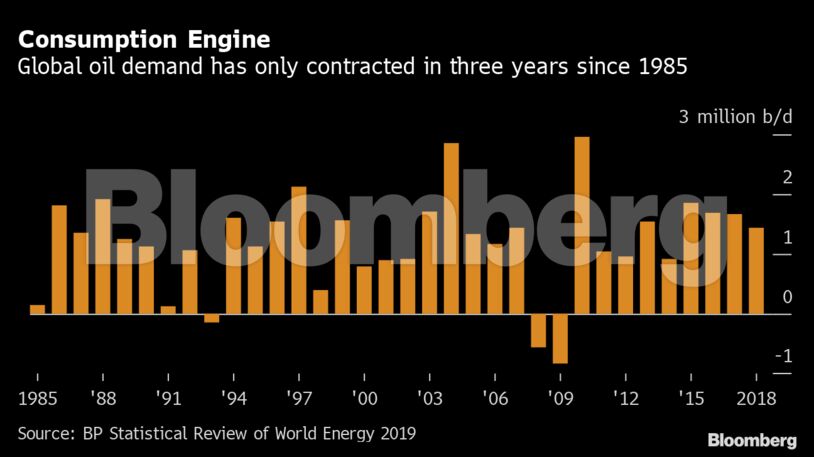 Goldman sees global oil demand falling 150,000 barrels a day, while FGE expects consumption to shrink by 220,000 barrels a day. The spread of the coronavirus from China across the world is threatening economic growth — and fuel demand — as companies ban travel and supply chains are disrupted. The U.S. Federal Reserve implemented an emergency interest-rate cut Tuesday to combat the economic impact.
Global oil demand will fall by 3.8 million barrels a day in the first quarter from a year earlier, which would be biggest decline in history, IHS Markit said in a report. Even if there's a recovery in the second half, it appears that full-year consumption will be less than in 2019, the consultancy said.
Other firms, while still calling for higher demand, are getting more pessimistic. Morgan Stanley reduced its growth forecast to 500,000 barrels a day due to deeper refinery run cuts in China than previously thought. Energy Aspects Ltd. trimmed its outlook by 200,000 barrels a day, but said it's not ruling out a scenario where global oil demand doesn't grow at all.
China, the world's biggest oil importer, will see fuel demand decline by 36% in the first quarter, according to researchers affiliated with China National Petroleum Corp., the state-owned oil giant. That will result in an excess of about 200 million barrels in the market, the researchers said in a Feb. 28 report.
After a meeting on Tuesday, OPEC+'s Joint Technical Committee suggested an additional reduction in supply of between 600,000 and 1 million barrels a day during the second quarter, said delegates. That's potentially a larger cut than it recommended last month, but falls short of some estimates of the demand hit from the outbreak.
Since 1984, oil demand has grown every year barring three occasions: 2008 and 2009, during the global financial crisis, and in 1993 as the U.S. recovered from recession.
So far, the International Energy Agency anticipates oil consumption growth of about 800,000 barrels a day in 2020, a third less than forecast before the outbreak, and well below the 10-year average of 1.3 million barrels a day. But that outlook, based on containing the virus in China, was released on Feb. 13 and since then the crisis has taken a turn for the worse.
Share This:
---
More News Articles