By Saket Sundria and Alex Longley
(Bloomberg) 

Oil slumped as Russia resisted pressure from its OPEC allies to make deeper production cuts during high-stakes negotiations in Vienna.Brent fell as much as 5.9% in London to its lowest level since July 2017, extending Thursday's slide. Russia, the biggest non-OPEC producer in the alliance, doesn't want to reduce output further and is ready for lower prices, according to a person familiar with the matter.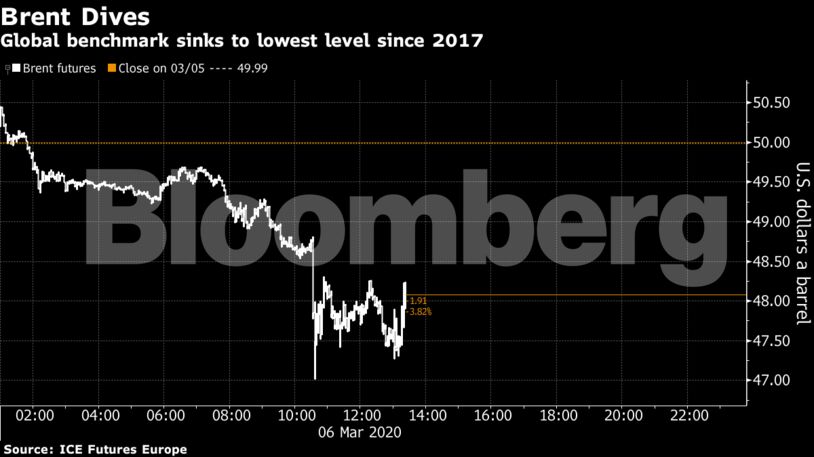 Ministers from the Organization of Petroleum Exporting Countries and its partners gathered in the Austrian capital Friday, but their formal meeting got under way hours behind schedule as Russian and Saudi positions remained entrenched. Russia favors maintaining supply reductions at current levels until June, while the Saudis are pushing for a group cut of 1.5 million barrels a day.
Brent for May settlement fell as low as $47.02 a barrel on the ICE Futures Europe exchange, and traded down 3.3% at $48.33 a barrel as of 2:20 p.m. in London. West Texas Intermediate futures for April delivery lost $1.75, or 3.8%, to $44.15 a barrel on the New York Mercantile Exchange.
Crude has plummeted more than 25% since the start of the year as the coronavirus outbreak roils economies, and a growing number of analysts forecast a contraction in demand this year. Should OPEC and its allies fail to reach an agreement to bolster the market, Saudi Arabia has more to lose than Russia as it needs higher oil prices to fund its budget.
"Should there be a failure, then it seems set to be Russia's fault," said Paul Horsnell, a commodity analyst at Standard Chartered Plc. "They do not seem to have the understanding of the market and the experience of market stabilization that the key OPEC members have."
The standoff is the biggest crisis since Saudi Arabia, Russia and more than 20 other nations created the OPEC+ alliance in 2016. Amid collapsing prices, the risks for Friday's discussions are high, not just for the alliance, but for oil-rich nations and the energy industry as a whole.
Other oil-market news
Consultant FGE now sees a decline in oil demand of 480,000 barrels a day this year, while Redburn says demand may drop by 1.5 million barrels day.
Oil exports from the neutral zone between Kuwait and Saudi Arabia will resume 

from next month

, adding more supply just as OPEC tries to cut.
China's seaborne oil imports fell 13% month-on-month in February to the least since Bloomberg began tracking the data.
Share This:
---
More News Articles