By Jackie Davalos and Alex Longley
(Bloomberg)

Oil declined for a fifth straight week amid a one-two punch from collapsing demand due to the coronavirus crisis and ballooning supply from producers vying for market share.

Futures in New York slumped 4.8% on Friday and are poised for the biggest quarterly drop on record as weak demand and an onslaught of supply roil markets. Refineries across the globe are curbing consumption as fuel use declines with people staying home. Meanwhile, major trader Trafigura Group expects as much as 1 billion barrels to be sent into storage tanks.

More oil is headed into stockpiles as the Russia-Saudi war for market share that exacerbated crude's crash this month shows no sign of abating. The kingdom held firm on Friday, saying it hasn't had any contacts with Moscow about output cuts or on enlarging the OPEC+ alliance of producers. Russia also doubled down, with Deputy Energy Minister Pavel Sorokin saying oil at $25 a barrel is unpleasant, but not a catastrophe for Moscow.

"There's no doubt this is the swiftest and largest shock to oil since it was discovered in the 1800's," said Leo Mariani, equity research analyst at KeyBanc Capital Markets. "For demand, we are looking at multi-standard deviation demand destruction. There's no good playbook for investors on how to handle this."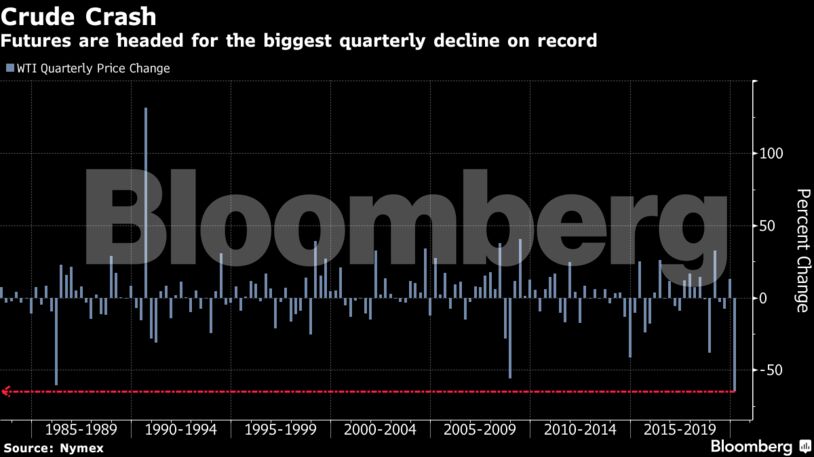 U.S. crude has tumbled about 65% so far this quarter. The crash has crippled domestic producers who are forced to cut production for the first time in 35 years. The International Energy Agency this week warned that global demand was in "free fall" amid coronavirus lockdowns.
"Demand destruction exacerbates the shock of a massive amount of barrels hitting the market," said Peter McGinn, market strategist at RJ O'Brien & Associates LLC in Chicago. "OPEC needs to get back to the negotiation table and hammer out an agreement."
"There's no doubt this is the swiftest and largest shock to oil since it was discovered in the 1800's," said Leo Mariani, equity research analyst at KeyBanc Capital Markets. "For demand, we are looking at multi-standard deviation demand destruction. There's no good playbook for investors on how to handle this."
Meanwhile, Iraq — OPEC's second-biggest producer — will allow national oil companies to boost their output and export without imposing any ceiling. Algeria has asked for an emergency OPEC board meeting to discuss the cuts. It comes as one of the world's largest supertanker owners said that ships are being filled with crude at a record pace, as land storage rapidly diminishes.
Prices:
West Texas Intermediate fell $1.09 to settle at $21.51 a barrel in New York on Friday. Prices dropped 4.1% this week.
Brent crude lost $1.41 to settle at $24.93 a barrel

Swaps markets show that physical crude is selling several dollars below benchmark prices
The signs of storage starting to fill are growing, too. Inland tanks for heating oil in Germany are now full, while Pakistan banned oil imports on Thursday because its stockpiles are now sufficiently built up.
"We'll all be writing about this time for the next 30 years," said Paul Horsnell, head of commodities research at Standard Chartered. "Anybody who does barrel counting or has a supply demand model cannot close the huge surplus without a lot of supply being forced off."
Other oil-market news
In an obscure corner of the American physical oil market, crude prices have turned negative — producers are actually paying consumers to take away the black stuff.
When Saudi Arabia kicked off its oil-price war and triggered the worst crude crash in a generation, U.S. President Donald Trump lauded the ensuing decline in pump prices, saying it would be "like a tax cut" for Americans.
The coronavirus pandemic is delaying vital maintenance across the oil and natural gas industries in Europe and North America.
Share This:
---
More News Articles