By Kevin Crowley
(Bloomberg) 

Mike Wirth didn't beat around the bush this past week: Chevron Corp. won't go carbon neutral anytime soon.Wirth, chief executive officer of the second-largest U.S. oil company, called the goals set by many European rivals "aspirational." Instead, he said, Chevron will take a more realistic path for a major producer of fossil fuels with "concrete actions" to reduce carbon emissions within its own operations."We've not set long-term targets that we're not exactly sure how we will get to," Wirth said in an interview with Bloomberg TV. "Our approach has been, get on the path, start taking actions, set short-term accountability metrics, make progress and start marching in that direction."By contrast, BP Plc last month committed to being carbon neutral by 2050, while Royal Dutch Shell Plc, Repsol SA and Eni SpA have pledged to make large reductions in carbon emissions over the long term. Those promises have won favor with environmentalists and investors. But, according critics, the companies have avoided the difficult truth that no large oil major has yet worked out how to produce carbon-free energy and also turn the big profits associated with oil and gas.

Still, Chevron's modest climate goals could signify of a lack of ambition, said Jennifer Rowland, an analyst at Edward Jones. "For a business that measures not in years but in decades, you have to question, are they doing enough?"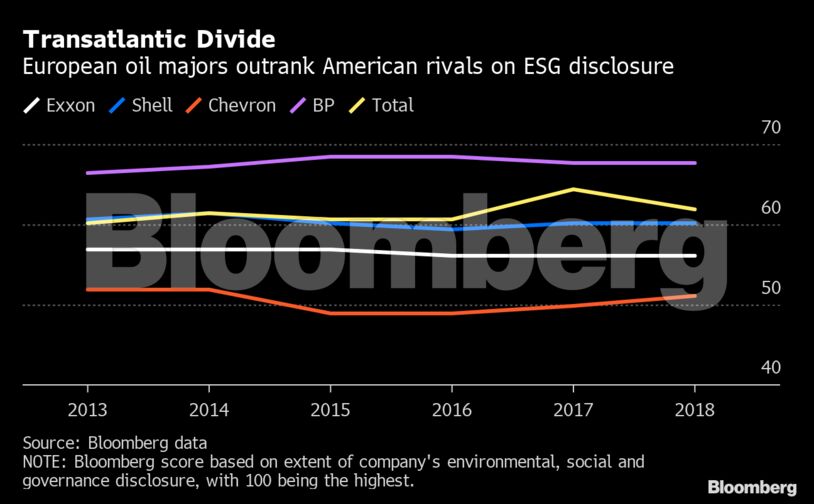 At its annual investor meeting in New York on Tuesday, Chevron committed to financial targets for the next five years and outlined projects for the next decade. Its targets for "lower carbon intensity" emissions end in 2023.
Wirth's comments could be a reality check for executives thinking they can have it all. The world's supermajors are among developed markets' most prodigious dividend payers. So far, solar, wind and battery storage projects haven't shown they can fund such payouts over the long term.
At some point, oil and gas companies face a choice, according to Wirth. He said shareholders' top priority is seeing improving returns in Chevron's oil and gas business, and the company responded Tuesday by promising to shower them with $80 billion in cash over the next five years.
"If we do things that are only good for the environment and not good for shareholders, that's not sustainable," he said. "If we do things that ignore the environment and are only good for shareholders, that's not sustainable either. It's finding that intersection — that is the challenge."
Both long-term aspirations and short-term targets are needed to reduce emissions to net zero by mid-century, according to Kathy Mulvey, a campaign director at the Union of Concerned Scientists. That is what the Paris accord says the world needs to prevent catastrophic climate change.
"It's totally legitimate for people to focus on how to get to these targets," she said. It's hard to give Chevron the "benefit of the doubt" when its own goals are so limited.
Like Exxon Mobil Corp., Chevron isn't concerned about peak oil demand, because a surging global population will need all forms of energy, including oil and gas, many decades into the future, Wirth said. Companies with the lowest-cost assets will be the ones to produce those fossil fuels and Wirth said he is positioning Chevron to be in that category.
European energy companies expect that renewables will become a greater part of their overall production over time.
Chevron will only invest in renewable energy to "support" its oil and gas business for the time being, according to its presentation at the conference. It will continue to invest in novel early-stage technology that could replace oil and gas over time. Its previously announced emissions targets refer to intensity, meaning pollution per unit of energy, as opposed to total emissions, allowing oil and gas production to rise over time.
"It's the dual challenge of more energy for a growing world and reducing the carbon footprint," Wirth said. "People are going about it a little bit differently. I don't think that's a bad thing."
Share This:
---
More News Articles