By Grant Smith and Nayla Razzouk
(Bloomberg) 

OPEC members are discussing holding an emergency meeting next month, bringing forward a gathering originally scheduled for March, as oil prices sink on concern the coronavirus outbreak will hit demand.

Algerian Energy Minister Mohamed Arkab — who currently holds the ceremonial post of Organization of Petroleum Exporting Countries president — said the cartel will make a decision within days, the Algerie Presse Service reported. Saudi Arabia, the group's biggest producer, has held consultations with fellow members to change the dates amid growing alarm about this month's 14% price plunge, according to delegates who asked not to be identified.

Oil is trading near a three-month low under $60 a barrel in London, far below the levels most OPEC members need to cover government spending. Still, several delegates said they thought it would be difficult to change the upcoming meeting from its scheduled March 5-6 slot at such short notice.

There's good reason to be skeptical about the prospective change. If OPEC and its allies convene an emergency meeting without announcing new measures, the disappointment among traders could push prices even lower.

The 23-nation coalition already unveiled deeper production cuts just over a month ago, and as these are put into effect, Saudi Arabia — which has borne the greatest burden in reducing supply – has slashed output to the lowest since 2014.

"Will OPEC+ have the appetite to do more? That is not obvious," said Harry Tchilinguirian, head of commodity markets strategy at BNP Paribas SA. "And will Saudi Arabia have the appetite to do more than its official mandate? That is not obvious either."

Perhaps the biggest obstacle though would be securing Russia's support. Though not an OPEC member, it has exerted immense influence on the alliance's policy since its formation three years ago, and is usually reluctant to restrict production unless absolutely necessary.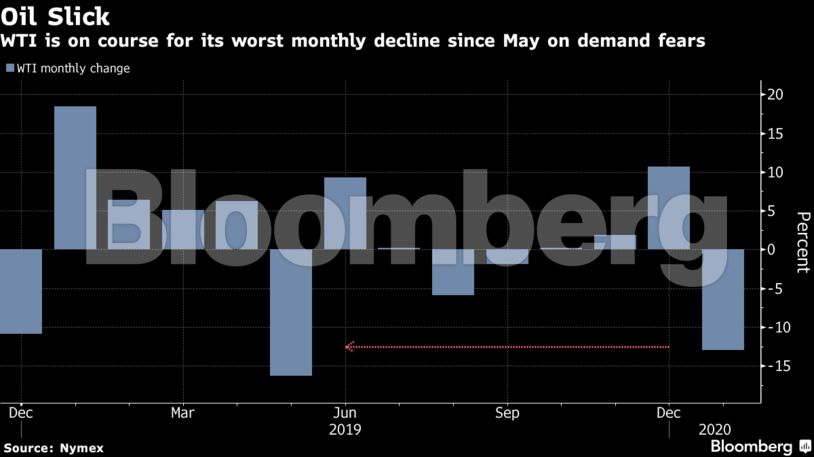 One delegate said Moscow wasn't convinced of the need to accelerate the meeting, while another noted that the availability of Russian Energy Minister Alexander Novak would be a factor in deciding whether an early meeting could be called. Novak's schedule has been an obstacle to meetings in the past, and he is due to participate in a Russian Investment Forum from Feb. 12 to 14 in the coastal resort of Sochi.
There were mixed signals on what the revised dates could be. Two OPEC delegates said privately it could happen as soon as next week, and another floated mid-February as a date.
Oil demand is certainly vulnerable enough for the OPEC+ coalition, which pumps about half the world's supply, to be concerned.
The outbreak of the pneumonia-like coronavirus has left 7,800 people infected and 170 dead since the first case was reported on Dec. 30 in Wuhan, the capital of China's Hubei province. As airlines across the globe suspend flights to China, oil prices have slumped, adding to the pressure on OPEC to extend or deepen the group's production cuts.
Yet the proposal for an earlier meeting had little impact on crude prices, which slumped by a further 2.6% on Thursday. Oil traders have learned to regard reports of potential OPEC action with skepticism, considering them an attempt by members to shore up the market through "verbal intervention" rather than genuine measures.
Share This:
---
More News Articles