By Sharon Cho and Grant Smith
(Bloomberg) 

Oil fell from a three-month high in London as traders waited to see whether the clash between the U.S. and Iran would lead to a disruption in Middle East crude supplies.Brent futures retreated toward $68 a barrel after a two-day surge following a U.S. airstrike that killed a top Iranian general pushed prices above $70 for the first time since September. While Iran's semi-official Fars news agency said the Islamic Republic is assessing 13 retaliation "scenarios" against America, and the White House ordered additional forces to the Middle East, oil flows out of the region continue unimpeded for now.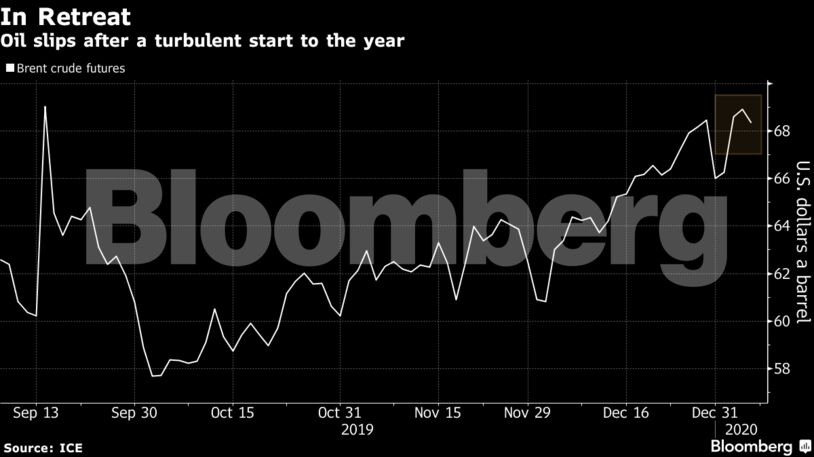 The oil market has had a turbulent start to 2020 as the U..S. attack — coming after months of tension between Washington and Tehran, and the strike in September on Saudi Arabia's Abqaiq processing facility — reignites fears of conflict in the world's most important oil producing region. Crude remains about 3% higher since the attack, but it'll take a major disruption to output to keep prices elevated, according to Goldman Sachs Group Inc.
"While there have been no additional barrels taken offline as a result of the rising conflict between the U.S. and Iran, the situation remains ever fluid," said Michael Tran, commodity strategist at RBC Capital Markets LLC.
Brent crude dropped 55 cents, or 0.8%, to $68.36 a barrel on the ICE Futures Europe exchange as of 1:33 p.m. in London. It ended Monday just 0.5% higher after earlier rising as much as 3.1% in intraday trade. West Texas Intermediate futures lost 0.7% to $62.82 on the New York Mercantile Exchange on Tuesday.
Crude markets have a comfortable supply cushion should there be a disruption. OPEC is sitting on huge amounts of spare capacity after reducing supplies for most of the past three years, while the U.S. recently reported its first months as a net exporter of petroleum in about seven decades.
But oil buyers are wary that Iraq's entanglement in the dispute could disrupt shipments from OPEC's second-biggest producer. While there's been no material threat to output, U.S. President Donald Trump has threatened heavy sanctions against the country if it follows through on a vote by parliament to expel foreign forces. The U.S. defense secretary has since insisted America hasn't made a decision to leave Iraq.
The country, together with Saudi Arabia and Iran, pumped more than 16 million barrels of oil a day last month. Most of their exports leave the Persian Gulf through the Strait of Hormuz, a narrow waterway that Iran has repeatedly threatened to shut down if there's a war.
"The year is starting with what could amount to a big bang of bullish factors and sentiment for oil as geopolitical risk is finally pricing into the market," analysts Ed Morse and Francesco Martoccia at Citigroup Inc. said in a report. The bank boosted its forecasts for oil prices this year.
Share This:
---
More News Articles