By Grant Smith
(Bloomberg) 

OPEC's crude production fell before ministers gather to discuss their strategy for next year, though more by accident than design.Angola, which has been suffering a decline for the past four years, saw output slide to the lowest in more than a decade. Iran's production, already squeezed to the lowest since the 1980s by U.S. sanctions, dwindled even further.

Total output from the Organization of Petroleum Exporting Countries consequently slipped by 110,000 barrels a day to 29.7 million a day last month, according to a Bloomberg survey of officials, ship-tracking data and estimates from consultants including Rystad Energy AS and JBC Energy GmbH.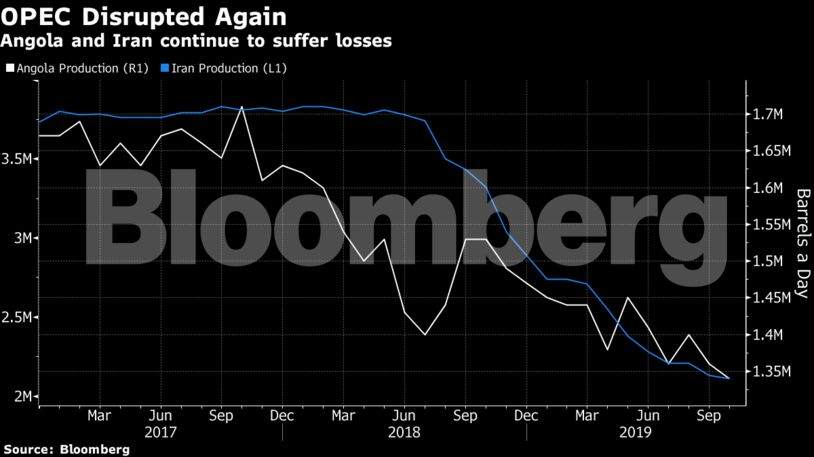 The group and its allies, a 24-nation alliance known as OPEC+, will meet in Vienna this week to consider output levels for the year ahead. Though the coalition — which pumps about half the world's oil — cut supply by 1.2 million barrels a day this year, it's forecasting a renewed surplus in early 2020.
Iraqi Oil Minister Thamir Ghadhban said on Sunday that OPEC+ could consider deepening the cutback by 400,000 barrels a day. However, his comments conflict with signals from the rest of the group, and data for November showed that Iraq had again failed to deliver any of the curbs it promised under the existing deal.
Saudis Steady
Saudi Arabia, the group's biggest member, indicated last week that it's tired of shouldering most of the burden of the curbs while others — such as Iraq, Nigeria and Russia — fail to live up to their promises.
The kingdom kept production steady last month at 10.01 million barrels a day, the survey showed. While it's still cutting far more than obligated under the terms of the OPEC+ deal, output is up from the levels produced for most of this year.
The decline in the group's overall volumes last month was instead the result of unintended disruptions, which have beset many OPEC members for several years.
While Angola started pumping from a new ultra-deep offshore project this summer — the Kaombo unit operated by Total SA — the West African nation has struggled to make up for years of under-investment at aging oil fields. Output fell last month by 60,000 barrels a day to 1.28 million a day.
Iran has also been under strain this year as U.S. President Donald Trump pressures Tehran to renegotiate an agreement on its nuclear program by squeezing the economy with sanctions. Iranian production fell by 40,000 barrels a day to 2.07 million.
Despite the losses, OPEC's total output remains higher than the levels it expects will be needed in the first half of next year. If the group holds at 29.7 million barrels a day, the surplus would amount to about 650,000 barrels day, potentially pushing prices lower and hurting members' revenues.
Share This:
---
More News Articles