By Serene Cheong, Alex Longley and Catherine Ngai
(Bloomberg) —

The turmoil caused by U.S. sanctions on Chinese shipping companies in the global seaborne freight market is now impacting the way oil is purchased and traded.

Measures against units of China's COSCO Shipping Energy Transportation Co., the world's largest vessel owner, have sent rates to haul crude surging. What's followed are a series of aftershocks affecting everything from oil refineries to arbitrage flows across the world. Below are some of the unintended consequences as the Trump administration seeks to crack down on Iran's oil shipments — and those who facilitate them.
Soaring Freight
The cost of chartering a ship to transport oil across the world surged to its highest level in at least a decade. One ship was booked to sail from the Gulf of Mexico to Asia at a lump-sum cost of more than $13 million at the end of last week, according to lists of charters seen by Bloomberg.
Daily earnings from the industry's benchmark Middle East-to-Asia route surged above $100,000 for the first time in years.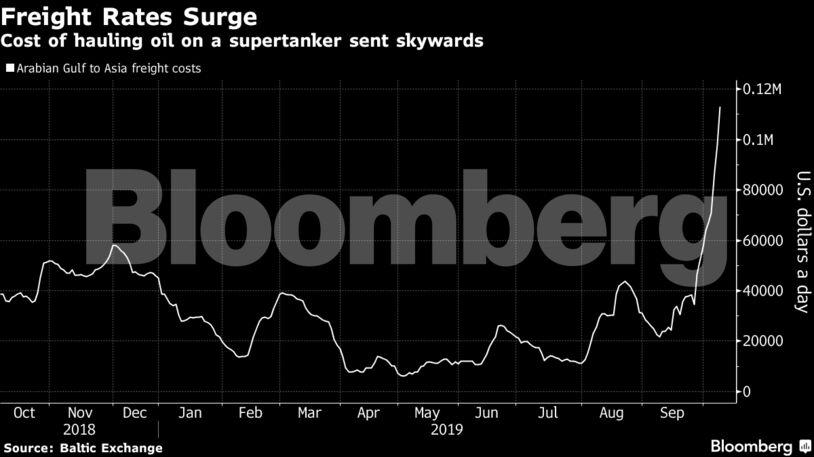 The strength comes against a backdrop of an already tight tanker market as ships wait at dockyards to get sulfur scrubbers installed before new fuel rules come into effect in January. "The recent U.S. sanctions on Chinese tanker companies have just added fuel to the fire and should support even higher rates as long as these disruptions last," Clarksons Platou analysts including Frode Moerkedal wrote in a report.
Margins Eroded
Soaring shipping costs boost the price refineries pay for crude. Last week's jump in freight coincided with a plunge in profits for refineries in Asia for turning crude into consumable refined products. That slide was driven in part by higher crude costs, analysts at consultant JBC Energy GmbH wrote in a report, also noting that the cost to export the fuels the refiners make is rising too.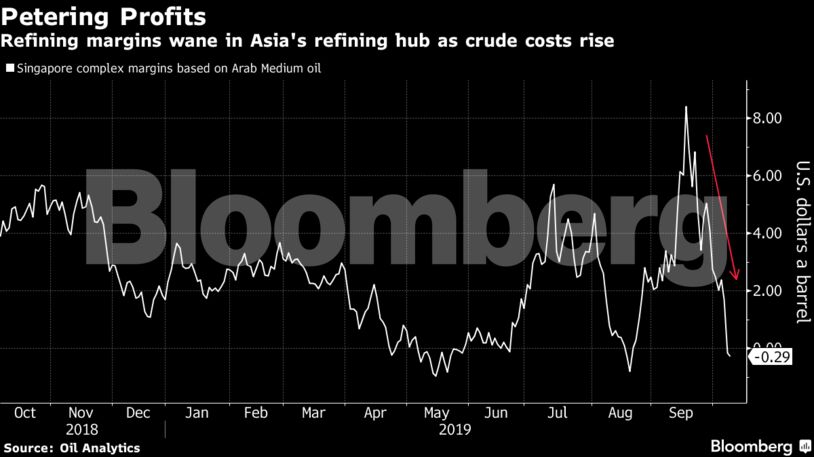 Higher oil prices set by Saudi Arabia, the world's top oil-exporting nation, also lift the cost of refinery feedstock. State-owned Aramco set November official prices for the sale of Arab Light crude to Asian buyers at the strongest level since 2014, while Arab Medium was priced at a more than seven-year high. Abu Dhabi's Murban crude was also priced at a its strongest level against Middle Eastern benchmark crude since at least 2015.
U.S. Discounts
With the U.S. now exporting about 3 million barrels a day of crude, some of the most expensive tanker bookings have also been for shipments out of America because of the distances involved in getting the cargoes to Asia.
As rates continue to soar, it's likely that exporters will have to discount crude in order to continue to send it abroad, according to Andy Lipow, president of Lipow Oil Associates LLC in Houston.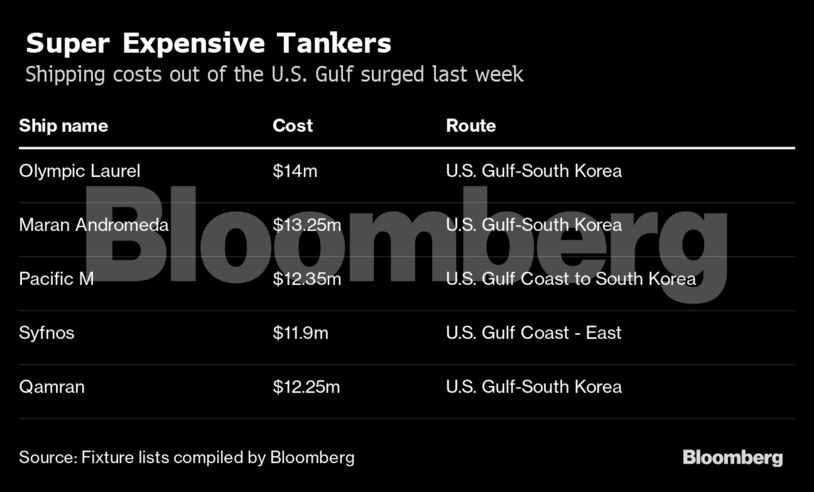 "It means either the price on the Gulf Coast has to go down, or the price elsewhere has to go up to absorb that increase in freight," he said. "The U.S. is exporting over 3 million barrels a day because our refineries are already satisfied with the amount of oil they're getting."
The price of West Texas Intermediate crude has slipped since a surge in freight costs. The grade was valued at a free-on-board basis in Houston at a discount of $1.48 a barrel against Brent crude on Monday, according to oil-pricing agency Argus Media. U.S. crude was priced at a discount of 70 cents two weeks ago, before the sanctions were imposed.
Going Dirty
It's not just crude-tanker rates that have been jumping — those for refined fuels such as gasoline have also been advancing. That has partly come as ships that would normally carry clean products switch to hauling dirty ones because of the higher returns that are available.
"The recent strength of the crude market has also attracted a number of product tankers to 'dirty up', which may constrain product tanker fleet supply and thus support clean freight rates," analysts at EA Gibson Shipbrokers wrote in a report.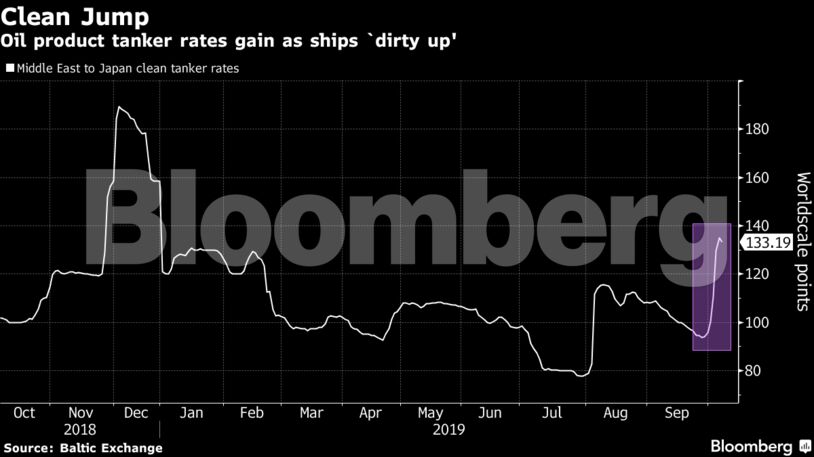 Arbitrage Killer
The other issue with rising shipping costs is what it does to so-called arbitrage windows — where a commodity is so much cheaper in one location than another that traders can profit from the gap by shipping it between the two if freight is cheap enough.
Traders of West African oil, for example, say it's become much less attractive to ship the region's crude to Asia because of soaring freight costs.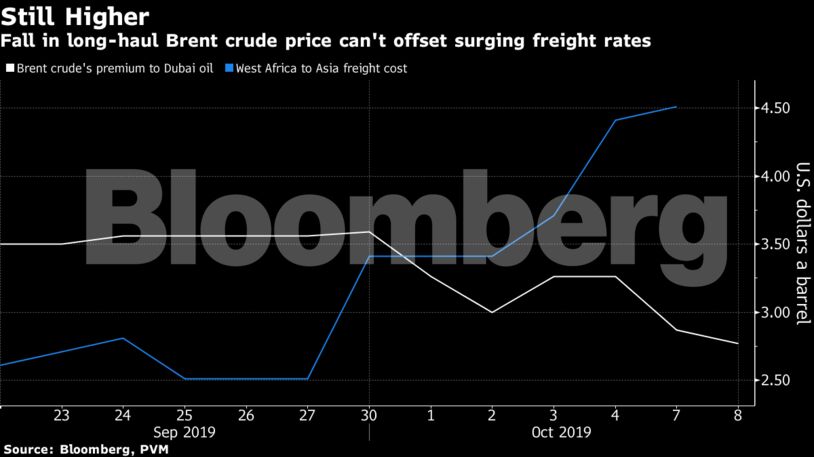 Shipments from the North Sea, Africa and the Mediterranean regions may become relatively costlier for refiners in countries such as South Korea and China, as compared with cargoes that are geographically closer, such as those from the Middle East.
So-called timespreads, which indicate supply and demand tightness, have slumped in northwest Europe, a possible sign that it's getting harder for the region to export its crude due to prohibitively high freight costs, according to PVM Oil Associates.
Share This:
---
More News Articles