By Morten Buttler

(Bloomberg)

Vestas Wind Systems A/S is scaling back part of its business to adjust to market demand and will cut about 590 jobs as part of the strategy.

"To meet the manufacturing requirements of our changing product portfolio," which includes its EnVentus platform and 4 MW platform variants, Vestas said it "intends to scale down the production of V136 blades and invest in other blade types and capabilities according to market demand," the company said on Friday.

The cuts will affect facilities in Germany and Denmark, "where we intend to reduce our workforce at the two sites by a total of approximately 590 hourly-paid employees," the company said.

The news comes a day after reports that Siemens Gamesa was planning to cut as many as 600 jobs in Denmark.

Shares in Vestas fell and were trading about 2.5% lower after the announcement.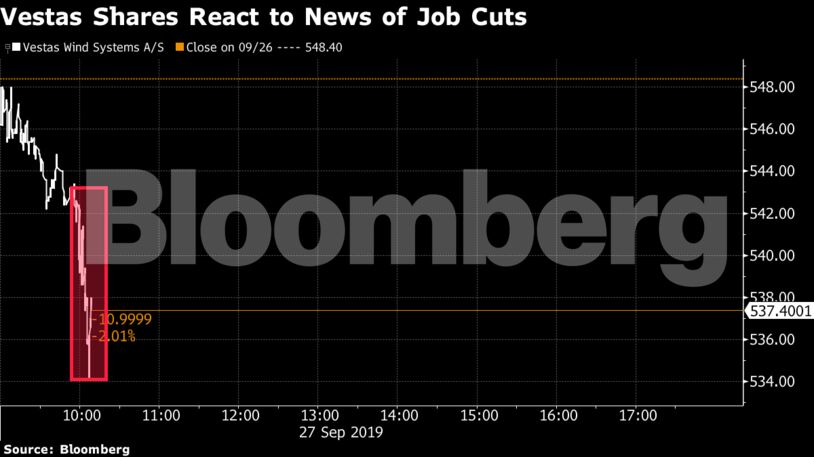 What Bloomberg Intelligence Says:
Vestas' plan to cut 590 temporary and third-party employees at blade plants in Germany and Denmark (about 2% of total employees) may reduce a cost base that has recently compressed profitability. Group Ebit margins narrowed to 6% in 2Q vs. 11.5% a year earlier. The action is needed to pare output of V136 blades to prioritize V117 and V150 blades, due to a changing product mix as interest in Vestas' new Enventus platform builds.
— James Evans, BI clean energy analyst (09/26/19)
Link to Statement: Vestas Wind Systems A/S: To meet the manufacturing requirements of our changing product portfolio, Vestas intends to scale down
Share This:
---
More News Articles