By Sheela Tobben
(Bloomberg)

Oil edged lower on Friday but still posted the biggest weekly gain in months, days after an attack on a key Saudi Arabian facility roiled markets.Brent rose 6.7% this week, the largest weekly gain since January, while West Texas Intermediate oil registered the biggest weekly rise since June. The weekly increases held even after both benchmarks fell in late trading Friday as investors grew more confident of Saudi Arabia's ability to restore production to pre-attack levels.

"Gains this week are dependent on promises that the Saudis have made," said Gene McGillian, a senior analyst and broker at Tradition Energy in Connecticut. "There is a little more faith that the Saudis will do what they have said."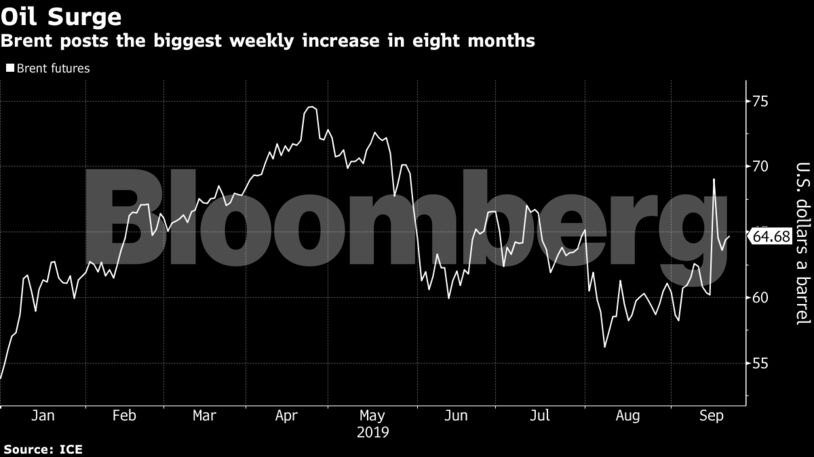 Earlier, Brent rose as much as 1.3% while WTI increased 1.7% after President Donald Trump tightened the screws on Iran by sanctioning the Islamic Republic's central bank in retaliation for an attack that crippled Saudi Arabian oil production.
Saudi Arabia, which has blamed Iran as the source of weapons used in Saturday's aerial attacks is depleting stockpiles to meet export commitments and operating without its usual buffer of spare capacity, increasing risks for the market should there be other emergencies.
While state-oil company Saudi Aramco Co. is optimistic in meeting its post-attack targets for restoring supply, there are skeptics including Rystad Energy and FGE. Earlier Friday, Aramco hosted a media tour that showed equipment at the Khurais field and Abqaiq processing plant that were badly damaged from the drone attacks. The kingdom resorting to obtaining supplies from other sources has also fanned concerns about the length of the disruption.
Brent crude for November settled down 12 cents to $64.28 a barrel on the ICE Futures Europe Exchange. Options traders have become the most bullish on Brent in eight years, with the price of one-month benchmark calls relative to puts at the highest since 2011.
West Texas Intermediate for October delivery, which expired Friday, fell 4 cents to $58.09 a barrel on the New York Mercantile Exchange. The November contract declined 10 cents to $58.09. Brent crude was at a $6.19 premium to the same-month U.S. marker.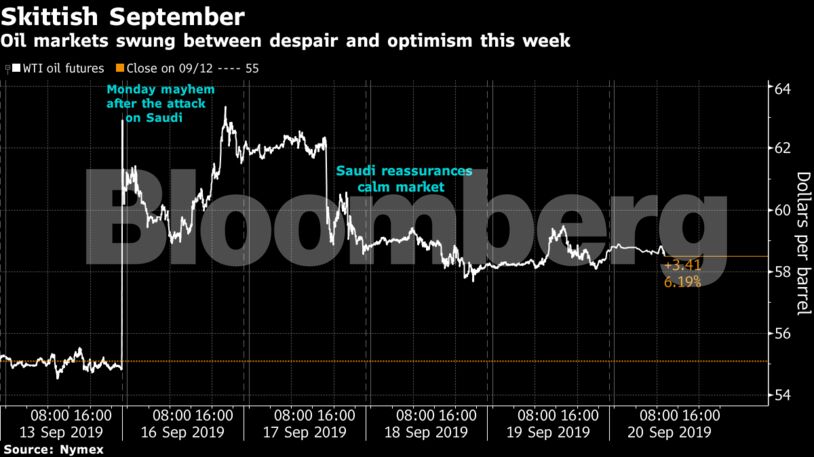 In the U.S., investors will be monitoring the aftermath of a tropical storm that inundated large swaths of South Texas and affected oil facilities from refineries to pipelines. The shutdown of refineries and oil terminals will reduced domestic oil demand and curtail exports of crude oil
Other oil-market news:
Saudi Arabia's Khurais field resumed 30% of output within 24 hours of last weekend's attack and will return to previous levels of 1.2 million barrels a day by the end of September, according to Fahad Al Abdulkareem, general manager for Saudi Aramco's southern area oil operations.
Oil producers drilling so-called parent-child wells in the Permian Basin are risking the loss of 15% to 20% of the crude that can ultimately be recovered from those wells by spacing them too close together, according to a Houston-based investment bank.
Share This:
---
More News Articles