By Naureen S. Malik
(Bloomberg)

The nine-month battle for control of America's largest natural gas producer has come down to a choice: The old guard, or the "shalennials."

Absent a settlement before EQT Corp.'s annual meeting in Pittsburgh on Wednesday, shareholders will decide between competing rosters of candidates for the board of directors. One slate was nominated by EQT, while the other is backed by Toby and Derek Rice, the thirtysomething brothers leading a group of dissident investors who want to overhaul the company.

Less than two years after EQT took the top spot among U.S. gas producers with its $6 billion purchase of the Rices' former company, Rice Energy Inc., the two sides are locked in a bitter dispute. The brothers, who say EQT has underperformed since the acquisition, want a board majority and aim to install Toby Rice as chief executive officer.

Though activists rarely grab a board majority through a proxy battle, the Rices' push may be an exception: They've already won the backing of several large investors and two shareholder advisory firms. The brothers, who have used the term "shalennial" to describe their management style, own about 3% of EQT.

The conflict between the Rices and EQT hinges on a wider issue for the industry. While U.S. gas drillers have been remarkably successful at ramping up output and turning the country into a net exporter, their track record of doing so profitably has been mixed at best, causing many investors to sour on the sector. The Rices say they'll implement better technology and revamp EQT's organizational structure to drill wells more efficiently.

If investors "vote the Rice brothers in, the kind of change they are voting for is a pretty dramatic shakeup," Sameer Panjwani, an analyst at Tudor Pickering Holt & Co. in Houston, said in a July 3 telephone interview. "The message they have been campaigning for has been enhanced free cash flow, and that is really the main thing the market is looking for today. That's definitely why they have traction."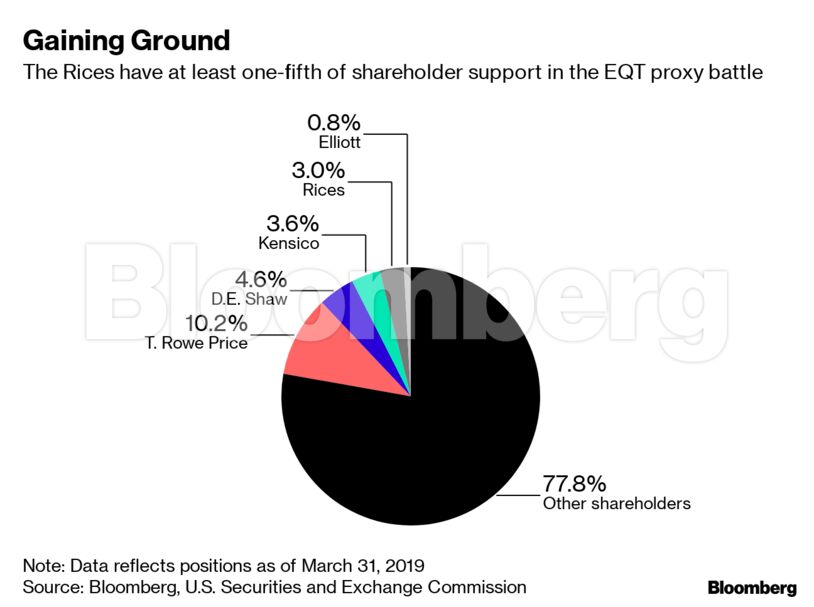 The Rices have cast EQT, founded in 1888 as Equitable Gas Company, as a driller hearkening back to a "bygone era" by offering its top brass lavish perks like company-paid country club dues and the use of a private aircraft for an interim chief executive officer. They say that EQT is the highest-cost producer in the Appalachian Basin — an area that includes the Marcellus shale play, the biggest U.S. gas formation.
EQT's shares tumbled 39% last year as the company lowered production targets and boosted its budget, citing operating inefficiencies after the Rice acquisition. The driller underperformed the S&P exploration and production index, which fell 29%.
The Rices' push for changes at EQT "started because the largest shareholders reached out to us and they wanted us to help fix the business," Toby Rice said in a June 28 phone interview. "We are innovators, there is no doubt about it, and we continue to stay on the cutting edge."
Another Rice brother, Daniel, is already on the EQT board after having gained a seat with EQT's purchase of Rice Energy in 2017.
The Rices have the support of at least one-fifth of EQT investors, including the largest shareholder, T. Rowe Price Group Inc. The brothers have also won the backing of D.E. Shaw & Co., Kensico Capital Management Corp. and Elliott Management Corp., along with proxy advisory firms Institutional Shareholder Services Inc. and Egan-Jones Ratings Co.
'Managerial Chaos'
For its part, EQT says it's already taken steps to transform the company and refresh its board since the Rice deal, replacing nine of its 12 directors since 2017. The driller cut debt by more than $500 million in the fourth quarter of last year and first quarter of 2019, and last month said that it was on track to generate as much as $400 million of free cash flow this year.
Electing the Rice slate would result in "a weaker board and managerial chaos," according to EQT, which has also said Toby Rice isn't fit to lead a public company.
"The plan that we have put forward is one that's based in reality," EQT CEO Rob McNally said in an interview in May. "The Rice plan really ignores some business fundamentals."
EQT's board slate has the backing of proxy advisory firm Glass Lewis & Co., as well as the five independent board candidates supported by both EQT and the Rice group.
Regardless of the outcome of the proxy battle, the dispute underscores how explorers are struggling to attract capital amid concerns about profitability, according to Katie Bays, co-founder of Washington-based consulting firm Sandhill Strategy.
"The proxy fight with EQT could ultimately be a negative for the industry overall," Bays said in a July 3 interview. "You create an Icarus problem where companies get bigger, they fly closer to the sun and they get more scrutiny from investors."
Share This:
---
More News Articles