June 11, 2018
(Reuters) – Shares of Tesla Inc (TSLA.O) rose as much as 5 percent on Monday after Chief Executive Officer Elon Musk tweeted that its Autopilot driver assistance system will get full self-driving features following a software upgrade in August.
Autopilot, a form of advanced cruise control, handles some driving tasks and warns those behind the wheel they are always responsible for the vehicle's safe operation. But a spate of recent crashes has brought the system under regulatory scrutiny.
"To date, Autopilot resources have rightly focused entirely on safety. With V9, we will begin to enable full self-driving features," Musk tweeted here on Sunday, replying to a Twitter user.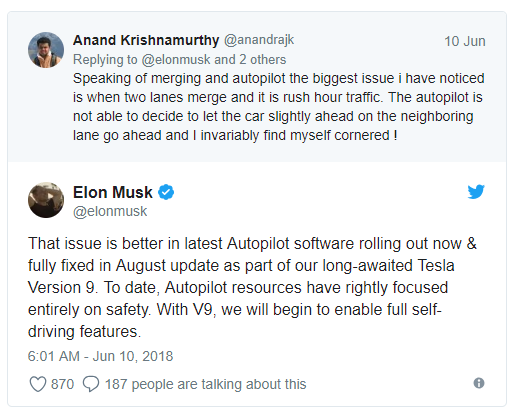 Musk said the autopilot issue during lane-merging is better in the current software and will be fully fixed in the August update.
However, it was not clear what self-driving features would be included in the August update.
Tesla has been gradually upgrading its Autopilot features with regular software updates.
Tesla's documentation on its website about the "full self-driving capabilities" package says that it is not possible to know exactly when each element of the functionality will be available, as this is highly dependent on local regulatory approval.
A consumer advocacy group on Friday urged Tesla to fix what it termed as "flaws" in Autopilot after a preliminary government report said a Model X driver did not have his hands on the vehicle's steering wheel in the final six seconds before a fatal crash on March 23.
"The software update is good news," said analyst Chaim Siegel from Elazar Advisors, adding the stock was still benefiting from last week's prediction by Musk that it would finally hit its production target for its Model 3 sedan.
Tesla's shares were last up 3.3 percent at $327.93 on Monday after touching a high of $333.
The company's future profitability hinges on ramping up Model 3 output, and the company has suffered from a series of failures to hit its weekly target.
General Motors Co (GM.N) said last week that its driver assistance feature, Super Cruise, will allow drivers to take their hands off the steering wheel for extended periods, but will stop the vehicle automatically if drivers are not attentive.
GM had said it will expand the roll-out of Super Cruise to all its Cadillac models beginning 2020.
Reporting by Sonam Rai and Arjun Panchadar in Bengaluru; Editing by Saumyadeb Chakrabarty and Maju Samuel
Share This:
---
More News Articles