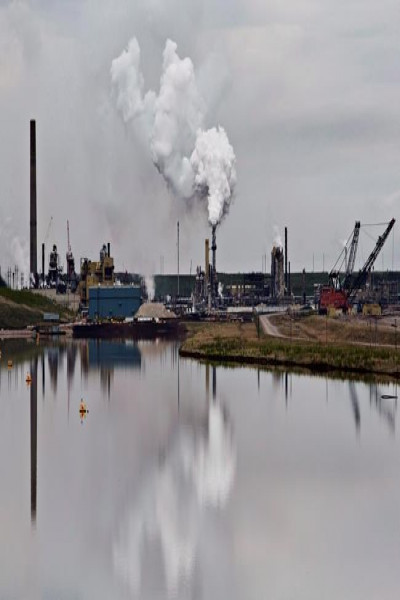 FORT MCMURRAY, Alta. — One of the country's largest oilsands companies is facing federal charges in the death of 31 great blue herons at one of its mine sites in northern Alberta more than two years ago.
The charges against Syncrude Canada under the Migratory Birds Convention Act are in addition to provincial charges already laid.
In August 2015, Syncrude revealed that 29 carcasses from the large shorebirds were discovered near a pump house at an abandoned sump pond at Mildred Lake north of Fort McMurray.
Additional birds were euthanized on the order of Alberta Fish and Wildlife.
Despite initial reports that bird deterrents at the facility were fully working, a Syncrude spokesman later acknowledged that no such equipment was in operation.
Syncrude installed fencing, sound cannons and bird-scaring statues, including a robotic falcon. Human observers were also stationed at the site around the clock.
Syncrude appeared in provincial court in Fort McMurray on Wednesday to answer to the federal charges.   
The provincial charges relate to failing to properly store a hazardous substance. The maximum fine is $500,000 per count.  
Great blue herons, which feed on fish and frogs along shorelines and riverbanks, are Canada's largest heron. They stand more than a metre tall with a wingspan of up to two metres. Their numbers are considered secure.
In September, 123 dead and dying songbirds were discovered at Suncor's nearly complete Fort Hills oilsands mine. The Alberta Energy Regulator is investigating those deaths.
Suncor is also investigating why the birds were in the area despite the presence of working bird deterrents, including cannons, radar and scarecrows.  
In 2010, 550 birds had to be destroyed due to an early winter storm that forced them to land on ponds at Syncrude and Suncor. No charges were laid.
In 2008, Syncrude Canada was fined $3 million when more than 1,600 ducks were killed after they landed in a tailings pond.
The Canadian Press
Share This:
---
More News Articles