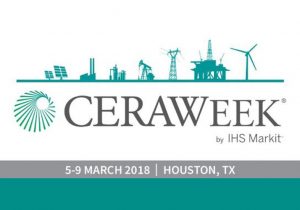 CERAWeek by IHS Markit is the premier annual international gathering of energy industry leaders, experts, government officials and policymakers, as well as top executives from the technology and financial sectors. 2018 marks the 37th anniversary of this influential event, ranked among the top five "corporate leader" conferences in the world. From March 5 through 9 in Houston, Texas, CERAWeek 2018 will provide new insights and critically-important dialogue and an unmatched opportunity to engage with key decision-makers from around the world.
CERAWeek 2018: Tipping Point: Strategies for a New Energy Future will examine the changing dynamics of the energy markets, the impact of technology, government policies, the environment, and the global economy and explore strategies to navigate the opportunities and challenges ahead for energy. 2018 marks the 37th anniversary of the event, produced by business information provider IHS Markit (Nasdaq: INFO).
For the most up-to-date program information and registration, please visit www.ceraweek.com. 
|||::
1600 Lamar St, Houston, TX 77010, USA