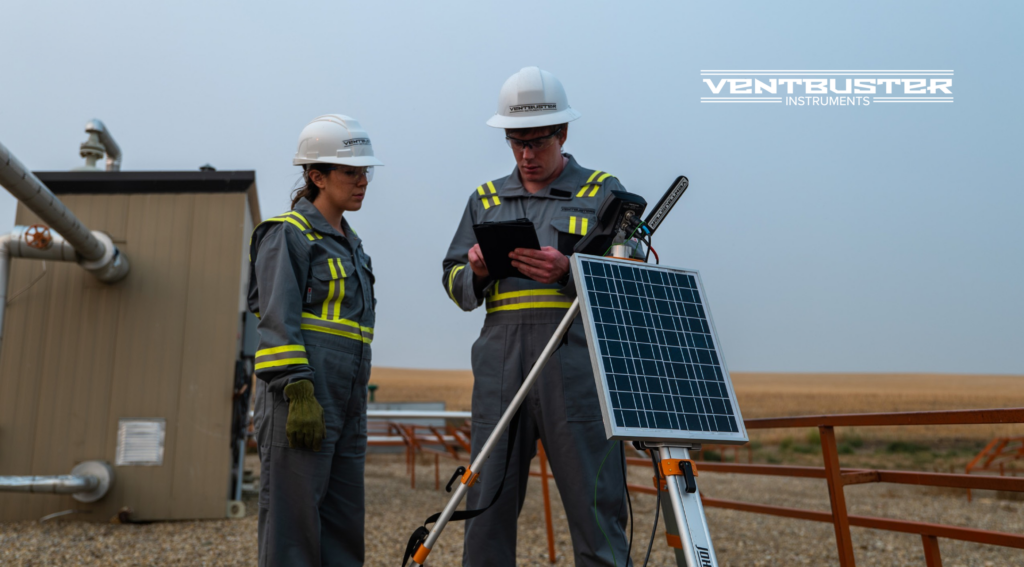 SUMMARY
A client in southeast Saskatchewan operates a carbon capture and underground storage (CCUS) facility, supplying anthropogenic CO2 for its enhanced oil recovery operation. With an existing infrastructure of wells and gathering system in-place, they turned select wells into CO2 injectors and reversed the respective     flow lines to transport CO2 to each injector.
The client needed to ensure the CO2 would not corrode the existing steel flow line infrastructure.
APPLICATION
The client installed a polyliner inside the existing steel lines to prevent corrosion and failure from the acid gases being pumped to each wellhead. To safeguard the gathering system the client needed to regularly monitor, measure, and report any evidence of CO2 leakage from the liner.
THE CHALLENGE
Conventional gas metering technology could not accurately detect, continuously measure, monitor, and record any ultra-low leak rates in this application. The client approached Ventbuster Instruments to provide the best solution for this project.
CLIENT BENEFITS
Early detection of acid gas leaking to prevent steel flow line corrosion and potential failure.
Accurate and reliable digital data transmitted for real time monitoring.
Continuous measurement.
Ability to measure ultra-low to high leak rates and pressures.
Regulatory compliance.
PROBLEM SOLVED
We supplied and installed our portable Ventbuster® gas flow meters on select high-point vents (HPVs) strategically placed along the client's CO2 injection lines. Our communication units digitally record and transmits any detected CO2 leak and resultant flow rates, temperatures, and pressures to our secure IoT platform. The client was able to view and record the monitoring system in real time.
The Ventbuster® system was adeptly moved along to various HPVs, successfully completing the testing schedule and confirming the integrity of the polyliner system.
The client now has a proven and reliable methodology to periodically test, monitor and confirm the integrity of its CO2 injection pipeline infrastructure.
MOVING TOWARDS NET-ZERO
Ventbuster Instruments customizes its equipment to measure a vast array of methane (CH4) emitters. Using the Ventbuster® technology to measure emission flow rates and CH4 mass volumes, assists not only in effective management but has proven invaluable in carbon trading and the carbon offset market.
By taking on this responsibility to precisely quantify and acknowledge our carbon footprint, together the energy industry and Ventbuster Instruments, can make significant steps along the path to achieving net-zero.
For further information about Ventbuster Instruments and our technology, please visit our website at www.ventbusters.com. Gain insight into our technology, its function and deployment and review our technical data sheets and other information documents.
Share This:
---
More News Articles