Hawaiian Electric Co.'s chief executive officer told Congress Thursday that the deadly Lahaina wildfire wasn't the company's fault, adding that it may take 12 to 18 months to understand the cause.During a hearing before House lawmakers, Shelee Kimura testified the company wasn't to blame for the blaze that killed at least 97 people last month. Although an earlier fire on Maui that same day was caused by downed power lines, Kimura said it's still not clear what started the so-called "Afternoon Fire" that broke out several hours later."We all want to learn about what happened on Aug. 8 so that it never happens again," Kimura told a House panel, reading from prepared testimony released ahead of the event. "We are working tirelessly to figure out what happened, and we are cooperating fully with federal and state investigators."

The utility has come under scrutiny for its possible role in the wildfire, which caused more than $5.5 billion in damages. Attorneys for victims' families have filed suits alleging Hawaiian Electric was negligent for the blaze because the utility didn't turn off the power despite forecasts of wildfire risk. The County of Maui has also sued the utility, asserting that the company failed to properly prepare equipment for the threat of wildfires.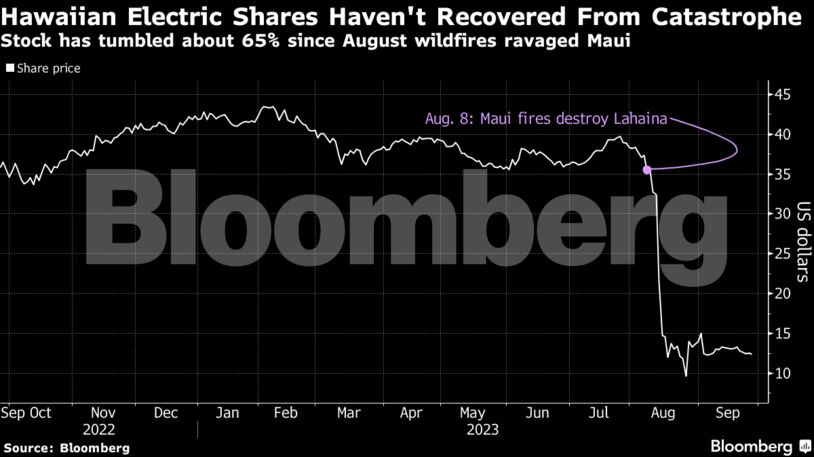 Kimura told the House Energy and Commerce Committee's Oversight and Investigations Subcommittee that all of Hawaiian Electric's power lines in West Maui had been de-energized for more than six hours by the time the Afternoon Fire began. Firefighters had already extinguished the "Morning Fire" and left the scene.
Asked why the company only shut down power after the Morning Fire, not when the forecasts of high winds and wildfire risk were first made, Kimura said that the company was following established protocols. The company is now reexamining those protocols, she said.
Hawaiian Electric's shares have tumbled about 65% since the catastrophe. The company's credit rating has been cut to junk on concerns about its potential financial exposure to the blaze. The company has suspended its dividend and drawn down its credit lines to preserve cash.
(Adds timeline of investigation)
–With assistance from Sophie Caronello.
Share This:
---
More News Articles